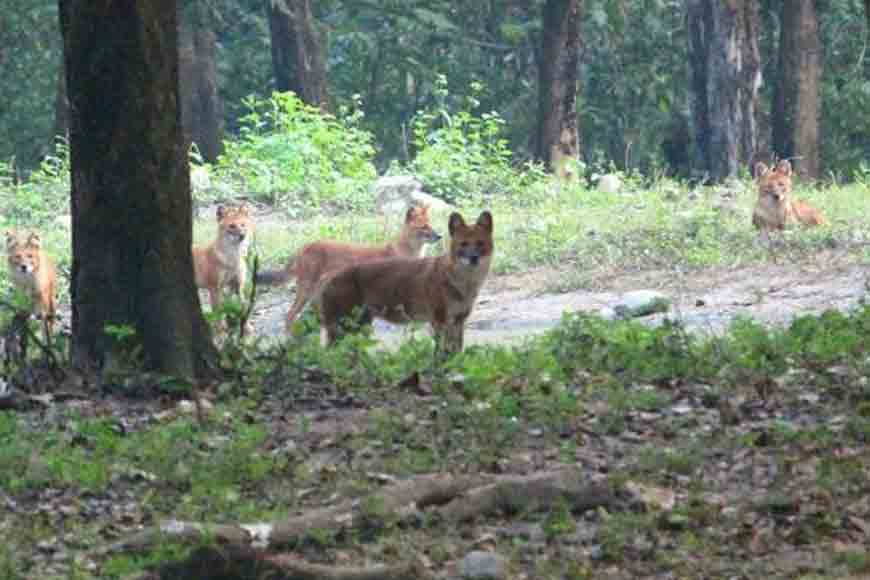 This is great news for all nature and wildlife lovers of India and surely of Bengal as sightings of Indian Wild Dog or Dhole have been reported from Buxa Tiger Reserve of North Bengal recently. Camera of a tourist caught these animals that belong to a species of the Asiatic wild dog (Cuon alpines), commonly known as the Indian wild Dog or Dhole. It seems these endangered species found their newest home in the dense jungles of Buxa Tiger Reserve Forest the Alipurduar district of West Bengal. The International Union for Conservation of Nature (IUCN) Red List categorizes these canines as endangered species and their first time ever sighting in Buxa is indeed encouraging.
According to the IUCN data, there are fewer than 2,500 mature Asiatic wild dogs remaining in the wild, and that the population of the endangered species may continue to decline in the future. The chief threats to their survival include ongoing habitat loss, inter-species competition, depletion of prey base, indiscriminate persecution, and also possible disease transfer from feral and domestic dogs.
Last month, Tubai Manna, a tourist from Dankuni, captured some images of Dhole on his camera. Forest department officials confirmed the images of Dhole. The director of Buxa Tiger Reserve, N. S Murli said the presence of the Indian Wild Dogs in the area was a very good sign and it would enrich the biodiversity of the forest. He also informed that his department would seek expert advise on breeding of Dhole. A detailed survey will be carried out to collect details of this endangered species. Manna has been to Buxa many times and had spotted elephant herds, leopards and deer but this was the first time he noticed the pack of wild dogs on two consecutive days in the core area at Jayanti. There was a ditch and the pack congregated close to the ditch. The moment the dogs felt human presence, they vanished in the blink of an eyelid.
Dholes are quite effective as predators when hunting in packs. When in packs they can even steal a kill from tigers and even killing the big cat. The dog is found throughout most of northeastern region of India, particularly in the states of Assam, Meghalaya, Arunachal Pradesh, and now in West Bengal. The presence of canines like Dholes indicates the status of animal food chain is good in Buxa Tiger Reserve Forest because, for the dholes, it is necessary to have a strong prey base or presence of herbivores.
Dhole combines the characteristics of the grey wolf and the red fox. It has rust-coloured fur with a paler throat and underbelly, amber eyes and a dark tail. They have similar traits with their counterparts, the wild dogs of Africa.