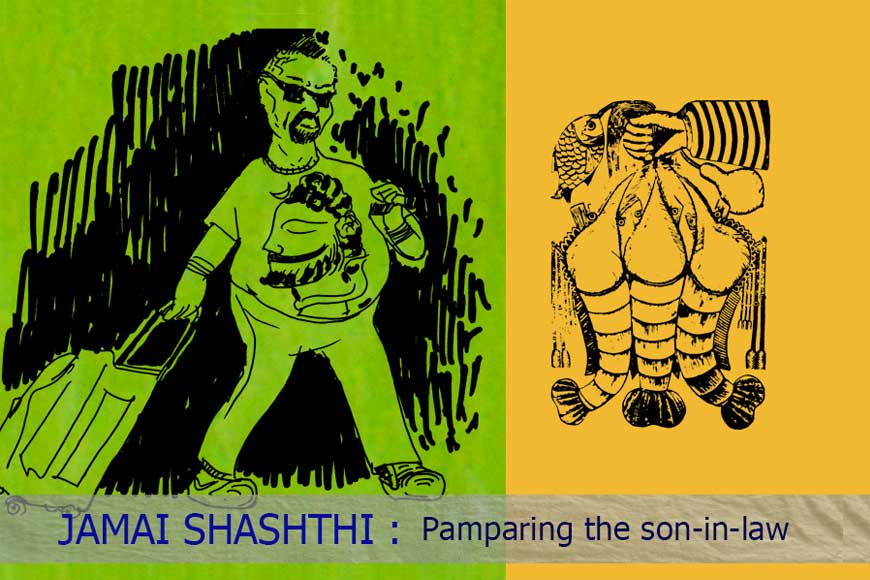 Well, it all began in the first year of our marriage when I realised my husband is being royally ignored on Jamai Shashthi, a day when a son-in-law in Eastern India, particularly in Bengal is supposed to enjoy all the attention from his in-laws, showered with gifts and pampered to a royal feast. I had never seen my father as a typical jamai. But with my husband's married siblings and cousins celebrating the day in pomp and splendor, I wondered if my dear husband felt left out on his first Jamai Shashthi.
I knew for sure my mother regarded such occasions as shameless show of money, not love and would never even think of treating him on such a day, let alone buying him gifts or inviting him home. For me too, a quiet love talk was more important than what we call 'days'. Frankly pampering a jamai was extremely foolish in my view.
Yet, when my husband revealed that even his office might have a half-day closure with all the jamai babus leaving early or bunking work to visit their in-laws and be treated to sumptuous meals on a scorching summer noon, I decided to treat him myself. My shy life partner blushed at the idea of his wife pampering him to a five-star jamai shashthi thali at a star hotel, most of which organised special menus for the eclectic and rich mothers-in-law to treat their sons-in-law to exorbitantly high-priced meals. I convinced my husband to accompany me after a little bit of coaxing.
Little did we know the very first and very last Jamai Shashthi of our life would throw up hilarious circumstances. The minute we sat down in that luxurious dining hall and ordered the Jamai thali that had almost everything from fish to mutton to prawn and cakes, to sweets to rabri and mangoes, the waiter looked shell-shocked. Being a five-star facility, he was taught to be polite and thus stopped short of asking who was the jamai and who the mother-in-law. In our 20s, we looked like mere college kids in our T-shirts and trousers. Yes, we forgot to deck ourselves in saree and kurta, and kept gazing at the rows of jamai and sasuris with wives and extended families, seated all around in their typical Bong outfits of sarees and dhotis.
My husband suddenly declared he didn't know how to wear a dhoti and felt uncomfortable in a kurta. I smiled and replied even if he did, I wouldn't have bought him any, as I was already spending a large part of my salary for this royal treat. The spread made me wonder how many digestive concoctions would jamais around me need after dinner. Hopefully the mother-in-law was supplying antacids with her gifts. Though I'm not a foodie, I realised even the biggest foodie with the best metabolic rate wouldn't survive a mix of mutton, prawn and fish along with baskets of oil-soaked tempting luchis being served at regular intervals.
Yet, a glance to the right and I could see a coy jamai babu gorging on luchis, while his wife instructed him to run a few extra miles on his treadmill the next day. Even one firang son-in-law to my left in a jacket and tie in the middle of summer couldn't resist using his hands while picking up the best jumbo prawns, forgetting all table manners, while his ecstatic mom-in-law kept declaring loudly how her jamai had just landed a day ago from USA to attend this auspicious day!
As I almost choked trying to suppress my laughter at seeing another jamai trying to pick bones of a fish with his fork and failing miserably, I realised I had eaten very little and hardly paid attention to the man who was supposed to be pampered. But this husband of mine by then had finished what little he felt like eating, for he is always on a strict diet and had called the waiter for the bill. And as I was busy choosing from the dessert platter (considering my sweet tooth, I wanted to have all), my smart husband had already paid. I protested vehemently, so much so that I attracted a few curt glances from some sasuris who for sure felt my husband was treating his mistress to a sumptuous dinner. Else does a husband treat his wife on Jamai Shashthi? But my dear husband proudly held my hand and whispered: Happy Bou Shashthi (bou or bride). I squeezed his hands back and had a hearty laugh on the first and last Jamai Shashthi that we ever shared.