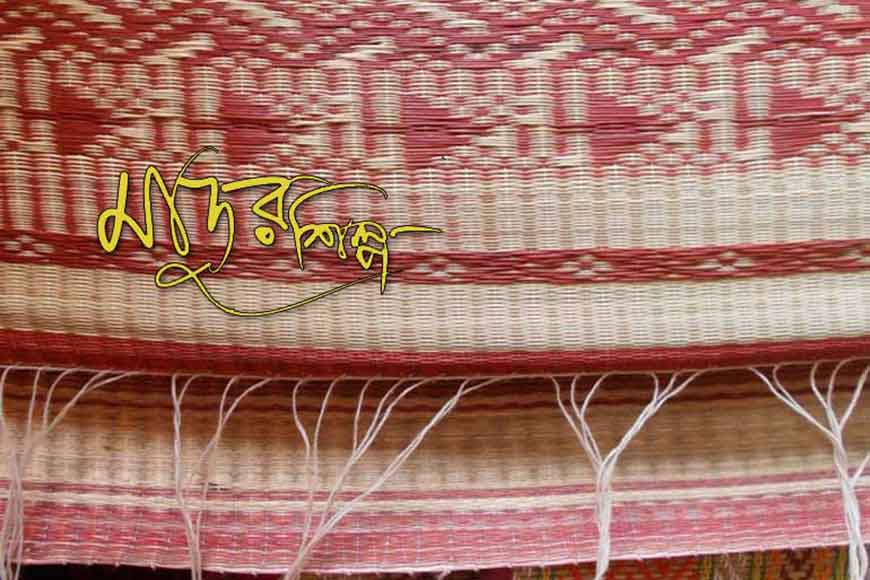 An age-old cottage industry of Bengal is making of floor mats, popularly known as madur. Men grow reeds in the fields, that are woven into exquisite and colourful patterns by women. Mats of Bengal are of two types: One in which two reeds are attached and a thread is passed over, another in which the reeds are tied on the top and bottom with colourful threads. At times two or three mats are interwoven to make them bigger.
Today, this industry is facing a stiff challenge from the plastic mat manufacturers. Plastic is cheap and using them in place of reeds make the mats lighter and cheaper. Hence this famous handloom industry of Bengal faces a survival threat. Midnapur district of West Bengal is famous for mat making. Every household in villages of Talda, Sarta, Datanda, Moyna, Beteshwar, Purushottampur, Chandanpur, Ramnagar, Kachuri under Sabang and Egra sub divisions are involved with this cottage industry. Even districts like Cooch Behar, Birbhum's Sriniketan, Udaynarayanpur and Amta of Howrah, villages of North and South 24 Parganas heavily depend on mat making as a source of income.
The famous 'Maslanda Madoor' of East Midnapur comes from the Sabang and Ramnagar sub-divisions. In Ramnagar, villagers call them 'Mashna.' Kholaberia village has opened mat making co-operatives and have self-supporting groups like Annapurna and Yashoda. Namita Giri (35) Yashoda Das (55) Malati Pal (45) Shiuli Pal (25) are famous weavers of this region whose handiwork on motifs like birds, moon, stars, leaves etc. are trendsetters. Their mats even depict tales of Bengal, epics of Radha-Krishna or Ram-Ravan. The motifs at times look like elegant Kantha work.
Some weavers from this region even go to other districts to teach this art. Khagendra Pradhan is a well- known teacher who won a prize from the council of district cottage and small-scale industries of West Bengal. He had exhibited his works in New Delhi and even gifted his palm leaf fans and mats to late Prime Minister Indira Gandhi. He was offered a teaching post in USA and the Middle East. Like him another famous mat weaver who got a National Award in 1988 is Sarajubala Giri of Kholaberiya village. But the way in which plastic mats are infiltrating markets, this dying art of Bengal might not survive the test of time. Tourists who frequent Digha will know how the markets have been flooded with cheap plastic mats. However, the reed mats of Bengal are still in demand. Especially during pujas and wedding ceremonies, they are used as an essential accessory.
Original Article written by Debdutta Gupta
on
www.bongodroshon.com
Translated by