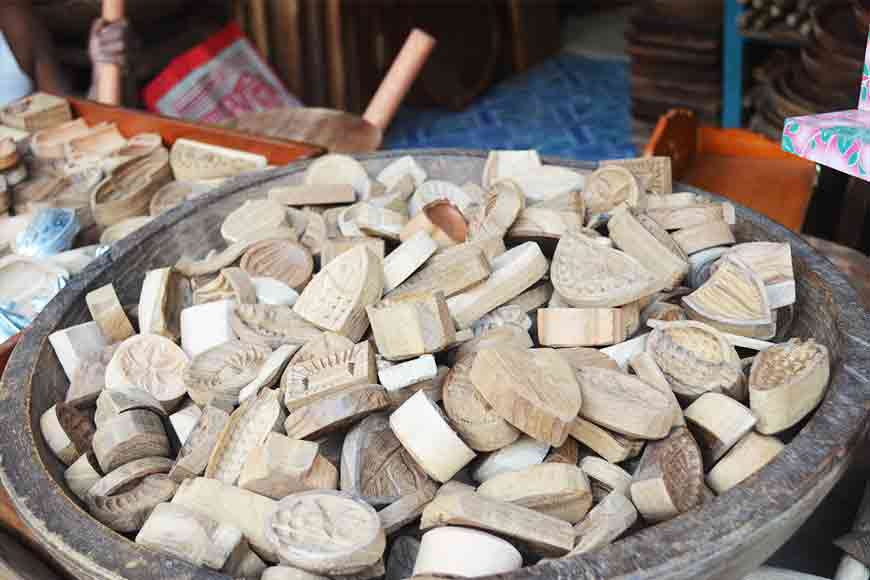 Remember that Padma Sandesh or Golap Bahar or even the Haansh Sandesh and Chandrapuli that your grandma made at home? Well, such sweets had one thing in common, they all looked grander and tasted heavenly. Bengal has always been the Land of Sandesh. From Nolen Gur er Sandesh to Pithe, Kolkata is considered the dessert pilgrimage. But nothing can beat the designs of the Sandesh that our grandmothers and mothers made.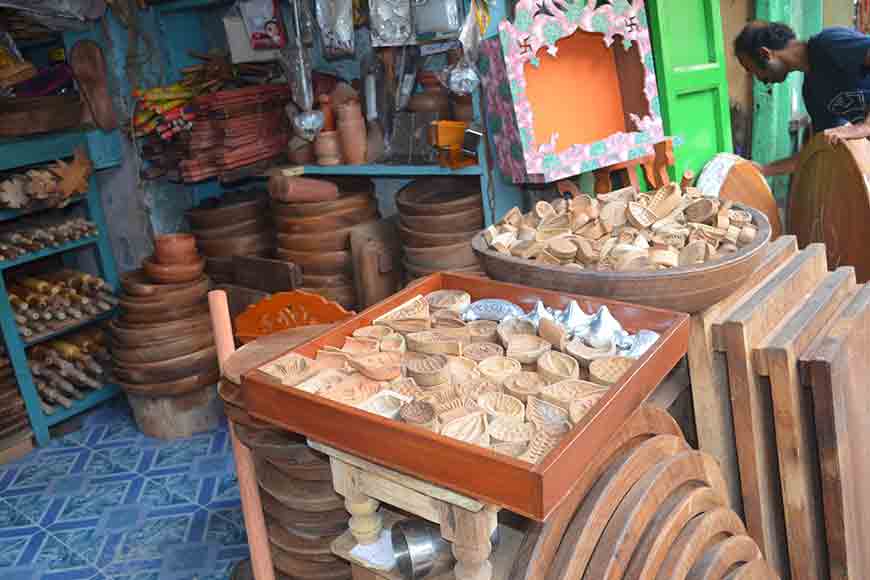 A shop at Pathuriaghata
From Kali Krishna Tagore Street and Rabindra Sarani, if you take a walk along the crossing of Nimtala Ghat Street and keep on walking straight, you will come across the grand Jorasanko Rajbati and the Watch House of Lohia Matsudan. On the left are several shops where wooden dices of sweet shapes are made. Some of these shops are 200 years old and dice-making has been the family tradition of many of these artisans, who have devoted their entire life in keeping this exquisite art alive. Most of these shops belonged to their forefathers and artisans of these shops have been carrying on with this legacy since time immemorial.
You will still get dices from here. The ones which are less than an inch cost around Rs 60, while ones used for special wedding sweets cost around Rs 500-600. Although the quality of wood used in the dice is not as superior as before, the quality is still good enough to sustain for six to seven years. From Shankh Sandesh to minute details, the sweets are highly artistic in design.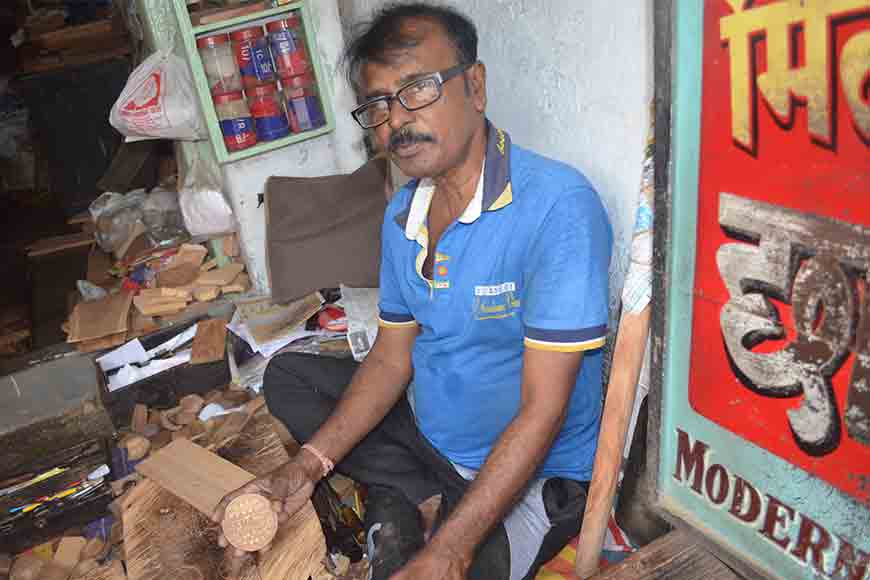 A worker of the shop
Asim Das, an artisan of a 60-year-old sweet dice shop said, "I do not have technical training. My father was also into this profession. Observing him was enough to adapt to the skills. Drawing helps me to conceptualize the patterns. Apart from creating designs on basis of client requirements, I also work on various other designs. Just like a painter does not know the origin of his creation, even I do not. These wooden dices are my canvas and I submit myself to my spontaneous creations."
Das also gave valuable insights about the entire process. Teak wood was used previously, but now it is not affordable. The texture of the wood used for dice-making needs to be smooth. So, now other kinds of wood are used including mahogany, kodui wood and chakunda wood. The wood is then sawed into tiny pieces and smoothened on either side. Then the design is drawn, cut out and decorative patterns incorporated.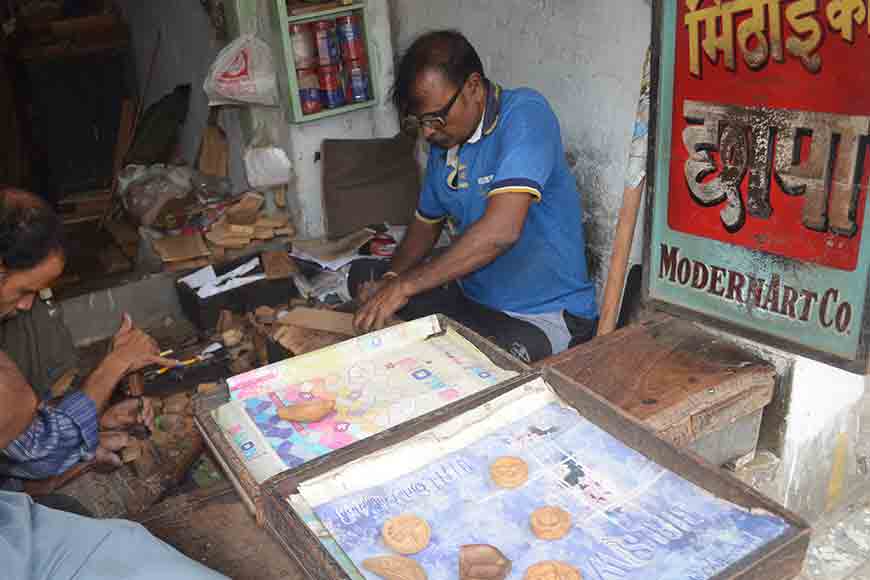 People at work
According to many artisans, dice making is an art which is slowly perishing, despite increasing demand of sweets. Rudra Deb Bas was seen making sweet dices in a lonely shop. He has no helping hand and works single-handedly. His descendants are in other professions and are reluctant to indulge in this form of artistry. With a deep sense of despondency, he said, "This art is not here to stay. There is a lack of skilled labour. We are the last generation in this trade. The elderly artisans are no longer alive and the next generation is not interested. The physical labour, time, patience and mental investment that this art demands, cannot be offered by them. Besides, the income and recognition offered in this profession is not lucrative enough."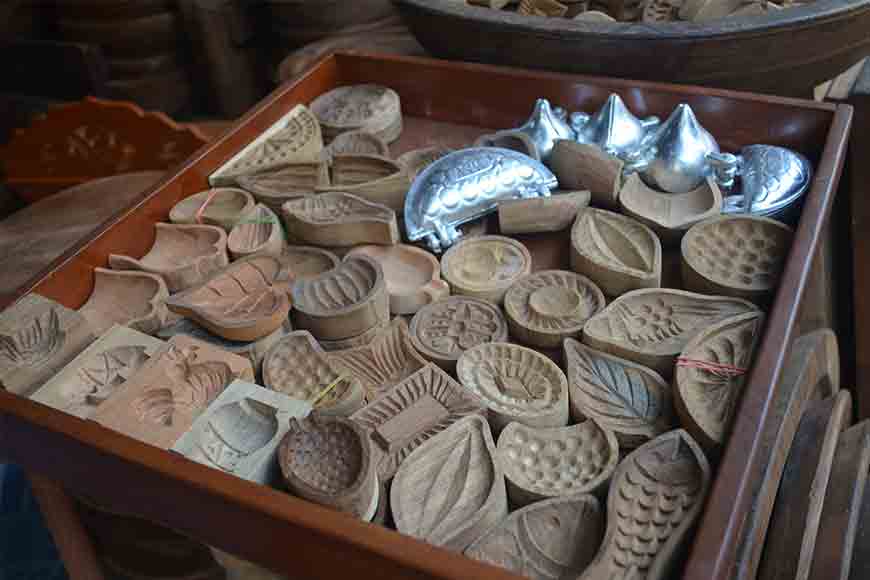 The variety of moulds
Kolkata has always been appreciative of every form of art. But we have been completely oblivious to the significance and beauty of this art of sweet dice making. Unless the city makes a sincere effort to give due recognition to this exclusive art form, we will end up losing yet an exclusive heritage which we should have taken pride in.