"It's late in God's house, but it's not dark' proves Malda's violinist Bhagaban Mali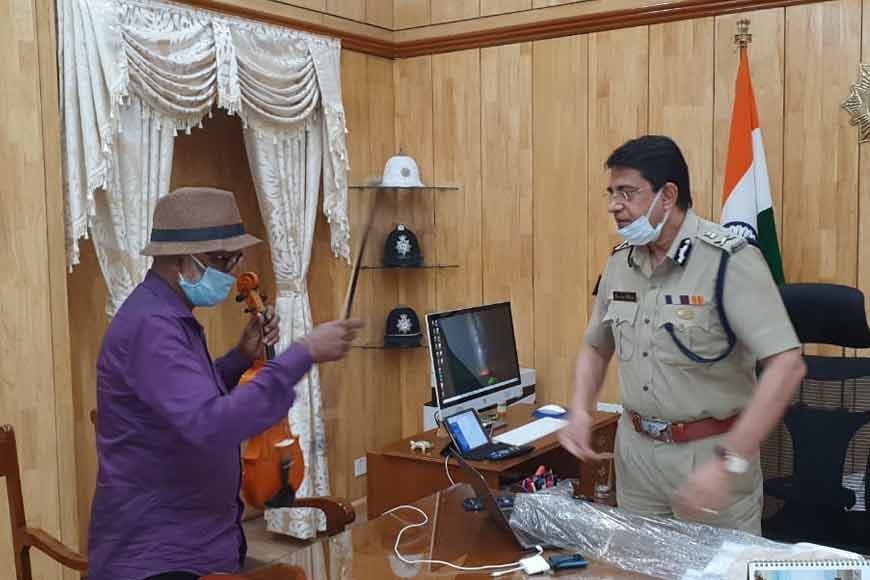 Tujhse naraaz nahin Zindagi… that heartwarming music of yesteryears floating through some non-descript local para of Kolkata. From the strings of a violin, played by an old man in semi-tattered boots. Not a Beethoven's symphony, nor a Van Gogh painting… he is Bhagaban Mali, the poor old man, who off late is roaming around localities of Kolkata, playing soulful music on his violin.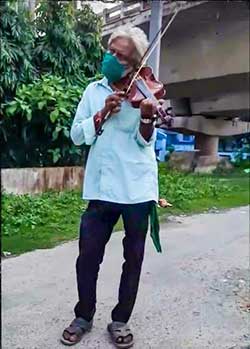 Why do you play on the streets? A natural question we asked when Bhagaban Mali gave GB an exclusive interview. "I have a family of 5 to support. I turned jobless during the Pandemic. My broken violin came to my rescue. I came to Kolkata from Malda and wanted to earn something with dignity. That's why I started playing on the streets as I feel Kolkata still has a respect for music. It touched so many people, they came to my rescue. I am so grateful to God and my violin."
While speaking with a smile on his wrinkled face, Mali strikes up a fresh whiff of melody from Kashmir. Deewana Hua Badaal, the rendition from Kashmir Ki Kali, that takes your breath away, even in the middle of trying times. A child shouts in the background, trying to attract attention of the elders of the houses around. She is visibly touched by a 'Dadu playing such good music in the middle of a workday.' Crowds gather around, some ask him to play numbers of their choice. Bhagaban Mali listens to all, and keeps playing at his heart's content.

A Facebook video got viral recently featuring him, the man from Malda, who stays at Girish Park and performs on various streets of North Kolkata. The video which was shared by Facebook user Anindita Ghosh has also made its way to Twitter and received thousands of likes. Probably that's the power of social media, but that's also the power of music, where one can touch a thousand lives even in the middle of death and disease.
Bhagaban's life like many of us changed due to COVID-19. "We came to Kolkata from Malda to meet our daughter who has given birth to a baby. Then the Lockdown happened and we couldn't return. I did not know how to support the family. Then I thought of playing on my broken violin, both to keep myself alive and to earn some money in the city that loves music."
Recently, Bhagaban Mali was felicitated by the Community Policing Wing at Academy of Fine Arts. Financial assistance was also provided to this impoverished artiste. Additional Commissioner of Kolkata Police, Sri Tanmay Ray Chaudhuri IPS graced the occasion by his presence, OC, Community Police, Sri Manas Jha and officials of the Maidan Police department were present. "I myself come from Malda and when I came to know about this man from Malda, I felt connected and had a strong urge to help him. After enquiring about his authentication our department took every possible step to help this mind-blowing violin artist. I think it is our duty as citizens of Kolkata to help such artistes in distress. Our ardent plea to the community is to come forward and help such people who are really in need live in dignity," said Manas Jha OC, Community Police.
As videos of Mali go viral, garnering over 9,200 shares and more than 8,800 reactions in minutes, with people showering blessings and appreciation, some asking for his address to extend a helping hand, the old man remains unaffected. He keeps playing old Bengali Adhunik songs taught by his father. At the end of the day, he and his family are happy after getting free rations, for even though the music fills the heart, it doesn't take care of hungry mouths. In case of Bhagaban Mali it however did. He signs off nodding his head, drowning in the depths of Phoolon Ki Rang Se and the rhythmic soul-searching music that his broken violin spreads around the quiet lanes of Beadon Street. His music brings positive vibes --- life goes on beyond death, music goes on beyond life.