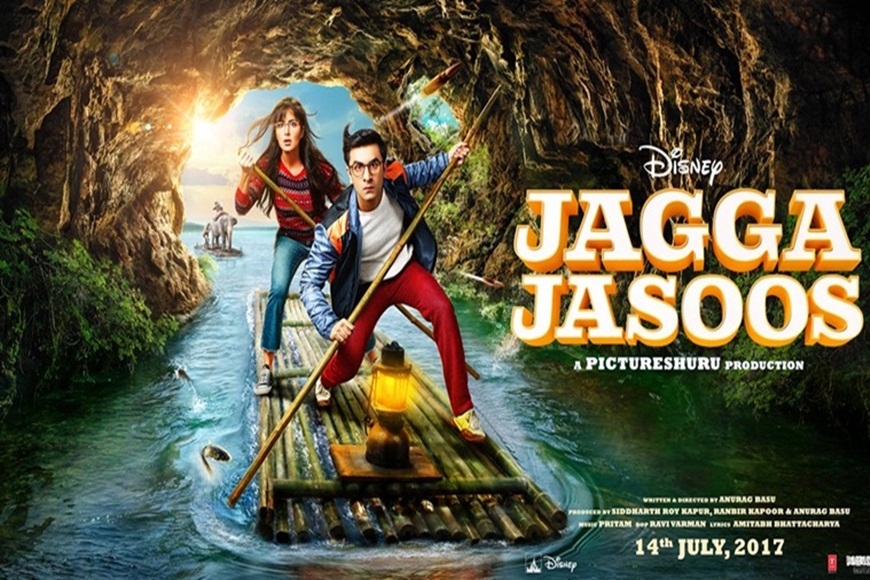 Jagga Jasoos, for all its flaws, is a heart warming film. Director Anurag Basu particularly impressed Bengalis and followers of Satyajit Ray and Herge, even if the rest of the country mostly remained cold to his adventurous and ambitious musical thriller.
Basu's hat tips to all his boyhood heroes were evident. There were plenty of references to comic book heroes, Goopy- Bagha (Shundi) Feluda (chasing the idiosyncratic baddies through a deserted landscape and trying to intercept a speeding train where villains play board games), and even a bit of Harry Potter thrown in (boy who sleeps under the staircase). But what would have escaped many uninformed viewers is how the 2 hour 49 minute film starring Ranbir Kapoor, Katrina Kaif and Saswata Chatterjee, borrows so much from Ray's Hirak Rajar Deshe, both in form and spirit.
Both films are about protagonists who are misfits in the real world and hence perfect for each other. In the film, Ranbir cannot speak unless he sings, and hence all his dialogues are in verse. He refers to Katrina as Bad Lucky- and hence useful to bring him good luck. They sing and dance their way through the adventures, much like the characters Ray had immortalized in his films.
The musical format of the dialogues – which most people feel is a tribute to Hollywood musicals – was used extensively in Hirak Rajar Deshe.
The underlying message of war mongering, again is a clever tribute to Ray's film. The idea of air dropping muffins instead of weapons on impoverished, indoctrinated soldiers, should remind you of the fantastic sequence of Goopi Gayen Bagha Bayen, where 'monda mithai' rains from the skies and the poor soldiers drop their weapons to feed their tummies instead.
Despite its technical wizardry, lavish scale, and a superb performance by both its male leads, Jagga Jasoos failed to live up to its inspiration. It was a fantastic effort no doubt, but somewhere Basu may have been a victim of his runaway ambition.
Ray's Hirak Rajar Deshe was not really a children's film, but intended for young adults and even adults. It was after all, a dark social and political satire, dressed up in song and dance and lovable characters. It handled as complex and contentious issue as the prevailing political regime, with a lightness of touch that was Ray's signature. Without the budget and infrastructure that Basu had at his disposal, Ray had created a masterpiece that was way ahead of its time and yet pertinent. The irony of the Mogoj Dholai Jantra and going down to the depths of the mine to look for diamonds was not lost on anyone. It remains relevant today, as it was at the time, thanks to Ray's genius. In Basu's film, the anti-war theme is drowned in the visual spectacle and the multiple plot threads. What was the heart of Ray's film is no more than a second-thought in Basu's work.
What is also important to remember that in Ray's film, none of the lyrics or the situations were to be taken at face value. The lines: Pete Khele Peethe Shoy.. Eto Kobhu Miche Noy resonate even today. Just as the war dance of the power hungry ministers and lackeys in Halla, should give you the chills even though it looked like child's play.
Also the music. None of the Goopy-Bagha films had complicated tunes. You were meant to follow the lyrics, hum the tunes that were inspired by folk, classical and popular music. In Jagga Jasoos, Pritam tries really hard to please everyone - the audience bred on Disney musicals and the Bollywood fan. The score makes no concessions for those who may not be attentive throughout the length of the songs that cone with complicated turns and changes. Great to watch. Tough to carry home.
That is what is the difference between a classic and a fan boy's attempts to reimagining it. As Bengalis we loved the fact that a film, which deals with characters and icons, so close to us, has been made on such a scale and given them a glamorous avatar. On the other, you feel let down by the end result. With such a rich treasure trove of inspirational material, a lineup of brilliant actors and a dream budget, Basu could have gone much more than tickling us occasionally with Agapashtala, Tiktiki and Khana Khake Daru Peeke Chale Gaye.