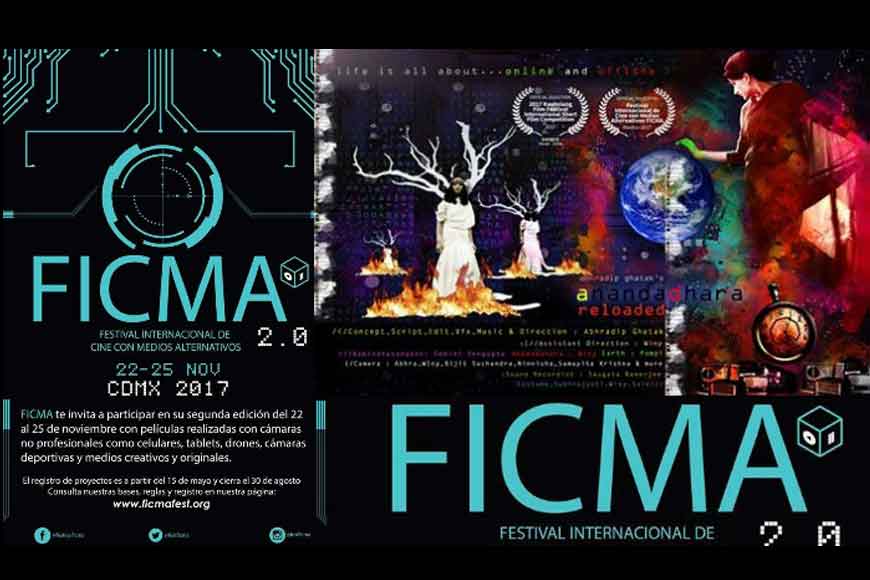 Abhradip Ghatak may not be a very familiar name but this independent docu-film maker from Jalpaiguri is a gutsy man who works hard and dreams big. His latest work, Anandadhara Reloaded, a seven-minute short film, might just be his magic key to enter the realm of Oscars.
The film has already made its way to the International Film Festivals of Mexico and China. The Festival at Mexico is scheduled to be held from November 22-24, and his film is one of the 12 entries shortlisted for the fest. Incidentally, his Anandadhara Reloaded is the only Asian entry at the fest. The Chinese Film Fest will begin in December and his workis one of the 67 films selected in the competition category. Abhradip is hopeful and says, if his feature can win a spot in the top three slot, at the Chinese Film Fest, he will automatically be entitled to enter his film for the Oscars.
A science graduate, Abhradip began his career in the ad world. Gradually, he shifted to video editing and worked for various television channels. It was then that he thought of making films. Consumed by his desire, he finally took the plunge. Within a short span he already made his mark with five short films before launching Anandadhara Reloaded. Three of his earlier films were selected and screened at various film festivals and Taan, received three prestigious awards. Taanis an off-beat film about Radha's eternal love for Sri Krishna. It's a collage of love shades of a monsoon river. The gurgling sound of the river is translated into words. The river flows interspersed by tide and ebb and time stands still. The wind passes whispering sweet nothings to the lonely boat anchored in the distance. It's a lyrical travelogue. Radhika describes death as her beloved Krishna and Taan, ultimately becomes synonymous with both death and destruction as well as birth and regeneration.
While, the theme of Anandadhara Reloaded is very contemporary. The duration of the film is only seven minutes but Abhradip took one year to shoot it at different locations including Bhutan, Nepal and Bangladesh. His friends came forward to help him in this project. The film centres around two characters: World and (mobile) Network. The film depicts World's relationship with Network. When Networkdescends on Earth, World feels very odd and ill-at-ease. It finds it difficult to make friends with Network. However, when it realizes how necessary Network is in the lives of earthlings, it negotiates with Network and accepts it as its friend. Since World is a character in the film and it was necessary to depict the various facets of the World and hence Abhradip had to go on a whirlwind trip from the placid river banks to turbulent seas, from mountain tops to valleys.
He now awaits with trepidation, as Anandadhara Reloaded goes on its sojourn to distant lands. If the film can bag a position at the International Chinese Film Festival, it will be his film's entry ticket to participate in the Oscars. Abhradip is also hoping to get a wide audience at the Mexican Film Fest because it is a very popular fest attended by a sizeable number of people.