Jogen Chowdhury, known as 'Jogen da' by his close friends and fans, was one of many who migrated from their roots in erstwhile East-Pakistan and made Kolkata their home. Many struggling painters dream about making their living as a painter and work tirelessly in the hope of making it big someday.
For Jogen Chowdhury, the reality was a bit different. He got himself a government job and it was a continuous struggle to balance his time between work and his passion of painting. Soon he gave up his job realising that though some people are born as artists, it still takes lots of practice to nurture that talent and develop high levels of painting skill and technique. He decided to pursue painting and the rest is history.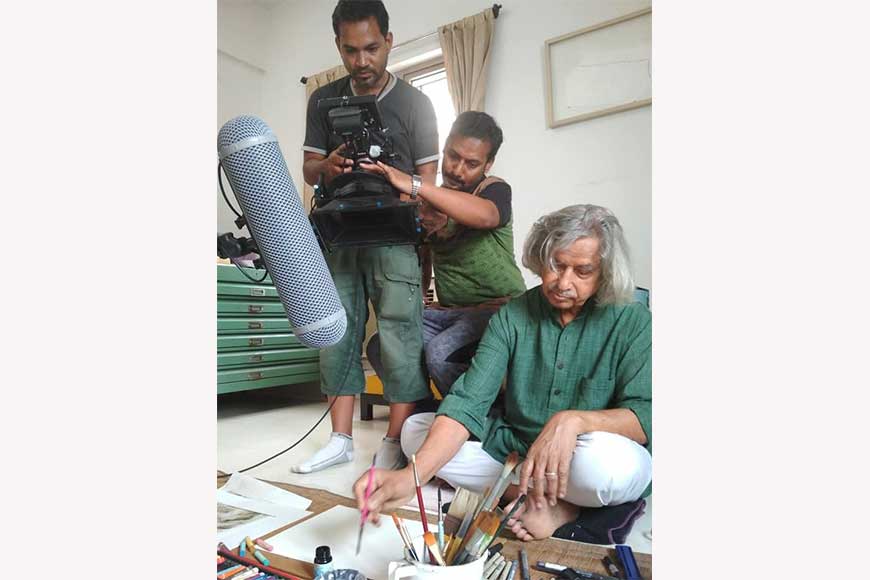 Artist Jogen Chwdhury in frame
After graduating from the Government College of Art and Crafts, Kolkata, he went on to study at Ecole Nationale Superieure des Beaux, Paris and held several shows in both national and international venues. Over the years he became one of the most prolific painters of our times, a cultural ambassador of Bengal to the world. At present, he is settled in Santiniketan, where he once taught at the Kala Bhavana. He has also been made a Member of Parliament.
All these and much more will come alive in the first ever structured video documentary on this eminent artist. Maya Art Space, a name to reckon within the field of art in India, has taken up this unique initiative to document the life and times of some of our artists and painters from Bengal through a series being named ARTALK. Jogen Chowdhury is the first in the series.
ARTALK is the brainchild of Madhuchhanda Sen, owner of Maya Art Space, who has sustainably been supporting the young aspiring artists alongside paying tribute to the living legends through exhibitions and workshops held at its gallery in Kolkata.
The video on Jogen Chowdhury has been directed by Sourya Deb, who has behind him more than 150 digital brand advertising films, television commercials, music videos and documentaries. It has been cinematographed by Mrinmoy Mondal, the celebrated DOP of the National Award-winning Bengali film 'Sahaj Pather Goppo' and the background score has been done by independent musician, Samantak Sinha.
The group associated with this project
It would be a rare opportunity to listen to this legend and hear from him about the journey from far away Faridpur to where he is now; the meandering lines of his artworks, the flaccid figures, his cross hatching technique and more. We will also get to know the poet in him and also how he has been supporting the tribal community in and around Santiniketan.
The Video will be officially released for public viewing on Sunday, May 17th at 11AM from the Facebook page of Maya Art Space.
The art world looks forward to hear what this legendary painter has to say about his journey over the past decades.
Story Tag:
Jogen Chowdhury, Artists of Bengal