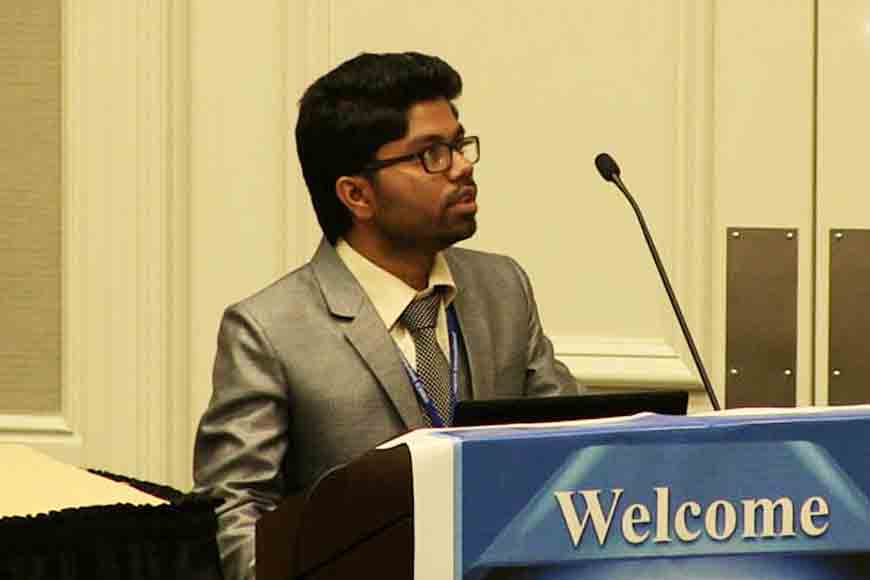 The physical distance between a non-descript village of Ghatal in West Midnapore district and England's Oxford University is huge, the means to reach the pinnacles of world education along with the merit and hard work needed is even more daunting. But this path has been traversed by a brilliant son of Bengal recently, Sarbashree Bank. The boy whose constant companionswere poverty and deprivation, did not let them impede his journey and now he has been invited by Oxford University to continue his research in the UK.
Sarbashree is an inspiration for all. For the boy who never had the opportunity to go to the so-called state-of-the-art English medium schools or seek private tuitions, Sarbashree studied in Rasikganj High School in Daspur in West Midnapore and completed his higher secondary education from a school in Ghatal. He did his graduation from Vidyasagar College, Calcutta and for his post-grad, he chose Vidyasagar University. After completing his masters, Sarbashree started work on his research project from the same university and then he received an invitation from Oxford University for his path-breaking research. His project is about stalling the progress of the protein dermcidin isoform-2 (DCN-2) which is responsible for diabetes. Dermicidin is the name of the gene that encodes the protein product, dermcidin.
Diabetes is now epidemic worldwide. Several hundred-million people are presently suffering from this disease with other secondary-disorders. Stress, hypertension, sedentary life-style, carbohydrate/lipid metabolic-disorders due to genetic or environmental factors attribute to type-1 and/or type-2 diabetes. Present investigation demonstrates that stress-induced protein dermcidin isoform-2 (DCN-2) which appears in the serum of diabetic-patients play a key-role in this disease pathogenesis/severity. DCN-2 suppresses insulin production-release from liver/pancreas. It also increases the insulin-resistance.
Sarbashree's teachers are elated and full of praise for him. They say he has a natural intelligence and self-discipline, a hard worker right from the beginning. Ranjan Chakraborty, Vice Chancellor of Vidyasagar University, is proud of his student's achievement. Sarbashree's research guide and departmental head of Bio-chemistry and Bio-Technology at Oriental Institute of Science and Technology has no qualms saying Sarbashree has always been self-motivated and has challenged himself by setting higher goals —factors that have helped him reach where he is today.It is only natural that he should succeed in his endeavor.
Sarbashree had to rage a war against poverty since childhood. His father, Shashankashekhar Bank was a rural homoeopathic physician and worked in a charitable dispensary for a measly salary of Rs 700 per month. Later, it was raised to Rs 1,500 per month, still inadequate to support a family of four. However, Shashankashekhar never let his penury stop his children's education.
His teachers in Rasikganj High School found him well-behaved, studious and attentive. Most of the time he could not afford to buy his books but despite that, he was always the first boy in his class. The teachers of Vidyasagar College were also extremely fond of this unassuming studious boy. Early on during his college days, he had shown his keenness for research and academic-oriented studies. Sarbashree says he is indebted to all his teachers without whose help he would have been able to continue even his basic education. In 2014, Sarbashree received the Innovation in Science Pursuit for Inspired Research (INSPIRE) Fellowship given by the Department of Science & Technology. His research guide, Smarajit Maity says "Sarbashree's sphere of research is very important and if he succeeds, it will open a new vista in the treatment of diabetes."