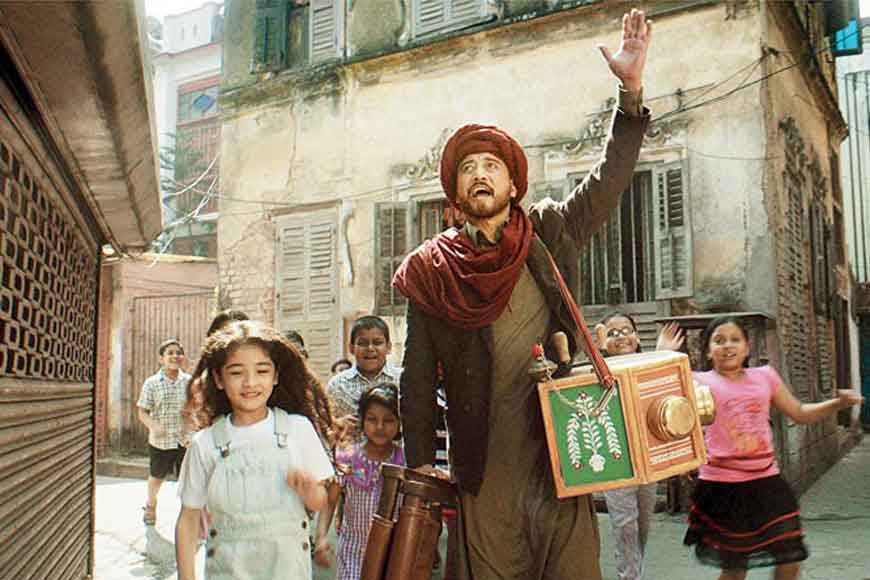 Calcutta of 1960s to 1980s. The sight of tall well-built Pathans in baggy suits waiting outside a building or office apartment was a common sight. They were the Kabuliwalas of Kolkata, who either acted as moneylenders or sold dry fruits and spices they brought from Afghanistan. And remember the famous Tagore play Kabuliwala of 1892 or the movie made in the same name by Tapan Sinha, where Chhabi Biswas plays the immortal Pathan who strikes up a relationship with a young girl Minnie?
And it is this Kabuliwala, that producer Sunil Doshi and director Deb Medhekar have reworked into yet another movie, called Bioscopewala – which has earned laurels at the Tokyo International Film Festival. Doshi and Medhekar have added to Tagore's late 19th century version, and their embellishments certainly pep up the narrative to make it delightfully contemporary. Of course, the Tagore story will always remain evergreen.
In Bioscopewala, Danny Denzongpa essays the title character, a Kabuliwala who comes to Kolkata in the early 1990s, driven out of Afghanistan by the fundamental regime, his little cinema theatre burnt down. And in Kolkata, he does not sell dry fruits or lend money, but entertains children with his bioscope, giving them hours of entertainment by allowing them to fly across continents and peep into the world of Indian movies. One of them who is mesmerised by all this imagery is Minnie – who, like in Tagore's story, gets fond of the Bioscopewala.
However, things take a horrible turn when the Bioscopewala is jailed for murder and cast away for many years. And when he comes out, Minnie is a young woman (Geetanjali Thapa), a documentary filmmaker living in France. When her estranged, father Robi Basu (Adil Hussain), dies in a plane crash while he is on his way to Afghanistan, the daughter returns home wondering why he was making that trip. It is then, that she meets Bioscopewala, who is by then bedridden and afflicted with Alzheimer's disease.
Minnie undertakes that unfinished trip of her father to Kabul, where she discovers that the Bioscopewala had a daughter, and the man's extraordinary affection for Minnie stemmed from his ties with his own daughter. He had looked upon Minnie as his own little lass. In many ways, Medhekar's work is hauntingly poignant tracing the lovely relationship between Minnie and the Bioscopewala.
Enriching the screenplay is a wonderfully melodious song written by Gulzar. Shot partly in the Bowbazar area of North Kolkata, Bioscopewala does not end the way Tagore's or the earlier movies did. Medhekar's work offers something more modern, but for those who swear by Tagore, his Kabuliwala has a certain sweetness, a certain romanticism, a certain feeling of simplicity, which are so sacred that any attempt to tinker with the original would merely rob the soul of the story.