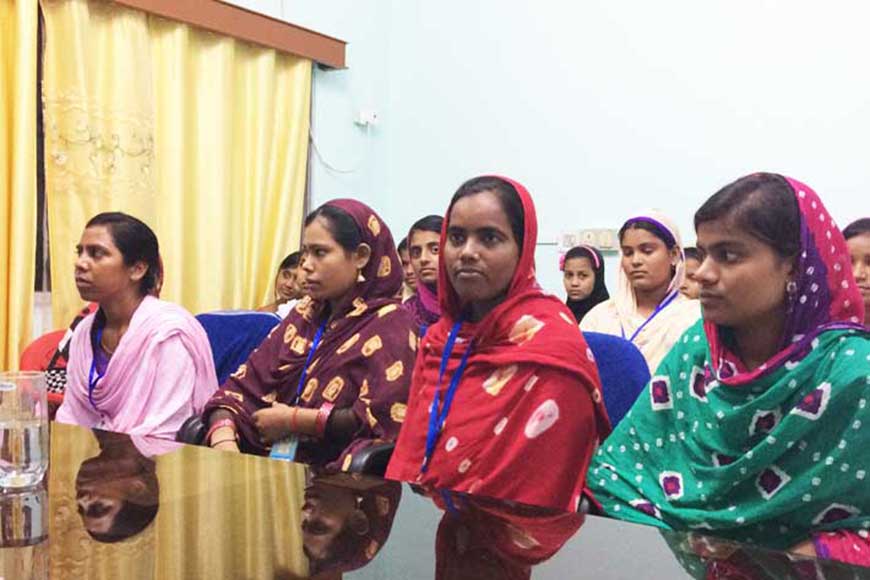 The Bengal Chief Minister, Mamata Banerjee was the first among her peers to address a Public Service Day event at the United Nations headquarters. The Mamata Banerjee government's Kanyashree scheme got international acclaim and she received the UN award for this programme. She spoke in front of 500 dignitaries from across the world that graced the special event. Incidentally, two other public service schemes of the Bengal government, Sabuj Sathi and Yuvashree also received praise for their effectiveness in addressing pressing social concerns.
Ishwar Chandra Vidyasagar in his article 'ill-effects of Child Marriage' had highlighted how marrying off boys and girls at a young age can hamper their natural growth and health. Almost a century has passed since Vidyasagar made this statement. Yet, his words hold relevance even today as child marriage in Bengal is still rampant. However, a new brigade of mini Vidyasagars seems to have born in this era, not in East Midnapore's Birsingha village, but in Hariharpara of Murshidabad, one of the most downtrodden districts of Bengal. Hariharpara is home to 32 such young Vidyasagars, who are poverty stricken and malnourished, yet have the conviction and courage that reflect in their bold eyes to do something different. The young women brigade of Hariharpara stands out in the crowd. They are known as 'Kanyasree Yoddha' by locals. May be in future these young girls would be called Begum Rokeya or Pritilata. But surely Hariharpara is giving shape to a feminist movement far from media glare.
Most of these girls are aged between 15-22 years and are students. When religious intolerance is rocking the entire nation, this small hamlet in Bengal reflects an encouraging trend of pluralism. The list of names of this women brigade is a stark testimony to this truth. Shahina Akhtar Banu, Ashapurna Biswas, Sangeeta Biswas, Shampa Hazra, Beauty Dutta, Mallika Khatun, Mariyam Khatun; they all come from different religions, castes and creed, but have only one identity --- that of Kanyasree Yoddha. They all wear blue kameez, white salwar and white churni, their common dress code. They all have school bags on their back. Their collective image sends a message of hope.
Somehow, these girls remind us of the Red Guard Brigade that existed almost 50 years back. Today, Hariharpara is the Freedom Land for all those courageous girls who are inspiring young girls and school drop outs to return to schools and stopping child marriages. They raise their voice against women atrocities. Kanyasree is a state government project, but these girls who are benefitted by this project are returning the benefit they enjoy, to the society. Here lies the success of this project that leaves a hint of inclusive development.
In last five months this brigade has stopped 21 child marriages. Girls like Sangeeta Biswas, Fajila Khatun, Barnali Khatun, Aparna Haldar and Ashapurna Biswas have succesfully stopped their parents from marrying them off with the help of Kanyasree soldiers. They have also joined this movement. Take the example of Manira Khatun. Fourteen-year-old Manira was trafficked to Mumbai. She called up her mother, who contacted an NGO called CINI. Zakirun Bibi of CINI took the initiative of bringing back Manira with the help of police. Today Manira is a Kanyasree Yoddha herself. And so is Sangita Biswas, who was about to be sold off. She is now a student of class VIII.
These days women in the area do not dial 100 to call the police, whenever in trouble they take help of this girl brigade. The problems they solve are varied. They get calls from girls whose families are trying to marry them off. If the area from where they get calls is far off, they take help of the Block Development Officer or BDO.
BDO Purnendu Sanyal provides the team members with his own car, so that these young girls can reach the spot on time and stop the marriage. The young Vidyasagars have to apply various means to get their work done. At times, by counselling, or even by coercion with help of other villagers. When nothing works, they take help of the administration. The BDO usually sends police force to stop the marriage. However, in most cases the brigade themselves are successful in their mission and try to stop the marriage before wedding arrangements are made so that the girl's father doesn't lose much money in the process.
One of the leaders of this movement is Zakirun Bibi of CINI. She has always fought for women's rights and once had left her in-laws' place for 15 months. She has helped women open bank accounts, get small loans from the government to start small businesses and be financially independent. Zakirun and her team works to eradicate child marriages and any kind of atrocities against women.
The word Kanyasree Yoddha seems to be quite unique. This term was coined by Samanjit Sengupta, Additional District Magistrate (Development) of Murshidabad. Sengupta himself is deeply involved with the work of this brigade and keeps a tab on these girls' education. Sengupta said: "While discussing in a meeting, this name came up." They have even started a football team with these soldiers. They are all given martial arts classes along with nursing training so that they can be self reliant in future.
The Kanyasree Brigade is now a model for entire Murshidabad. Other than Hariharpara, Suti Block II has another brigade of 40 girls. They are also working against child marriages, and trying to bring back school drop outs. BDO of Suti block Sandip Bhattacharjee said: "A lot of children are employed as labourers in the Bidi factories, hence in this area the number of school drop outs is very high. Worse still, many young boys in the area have become addicted to dendrite and opium." So the Kanyasree Yoddhas of Suti block are trying to help these boys through de-addiction programs. They even save children ill-treated by step-mothers. Like four-year-old Farida, who was tortured by her step-mother and went without food for days. The brigade has rescued this little girl and sent her to primary school.
Had Ishwarchandra Vidyasagar been alive, he would have undoubtedly blessed these young girls. In his article he wrote: "Oh! Almighty, when will that day arrive when young girls will be rescued from such atrocious customs. However, the movement that has started against child marriage has atleast come as a blessing." May be Vidyasagar had envisaged such a day and wrote these lines in praise of the young women of the Kanyasree bridage of Hariharpara.
Original Article written by Suvashis Moitra
on
www.bongodroshon.com
Translated by