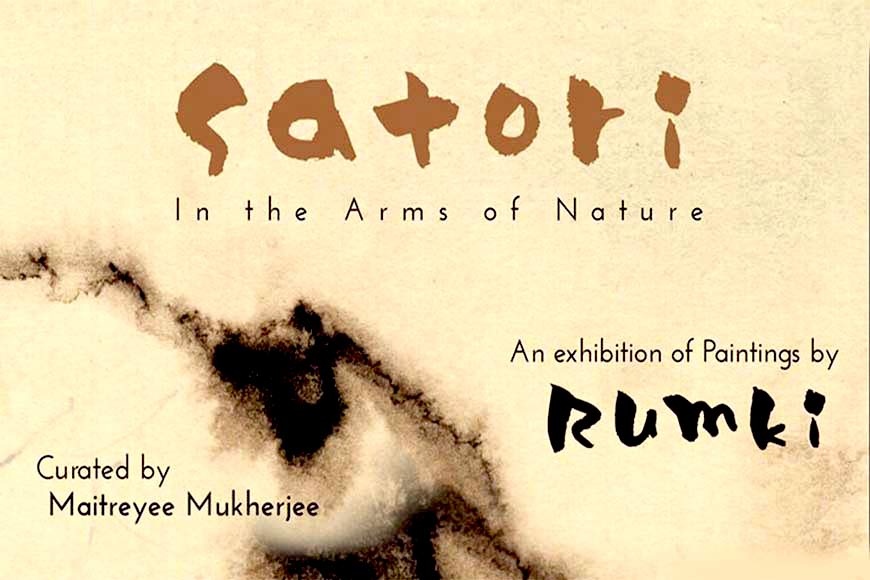 In a world of turmoil, violence and turbulence, Nature is perhaps the only refuge that one's broken mind and body can seek. And that is the philosophy behind 'Satori – in the Arms of Nature', a solo exhibition of paintings by Sweety 'Rumki' Dutta Banik at the Bengal Gallery of the Indian Council for Cultural Relations (ICCR) on Kolkata's Ho Chi Minh Sarani.
In simple terms, Satori is the sudden enlightenment and a state of consciousness attained by intuitive illumination representing the spiritual goal of Zen Buddhism. In Rumki's own words, "Satori is all about realisation, about the insight which can, at the right auspicious moment, unite our bodies and minds with the unearthly power of Nature. That is the moment we can truly feel our innermost being, attaining the peak of self-realisation." In short, it is a moment that reduces our everyday, mundane concerns to mere trivialities.
As a concept in art, Satori belongs to Eastern Asia, and focuses on directly connecting human lives to the flow of Nature to transport the viewer to a world full of mysterious experiences. Born in Silchar, Assam in 1980, Rumki finds herself inspired by the colours of Nature, which also aid her journey of self-realisation. As a consequence, her art is a strange amalgamation of the real and the surreal.
Rumki has dedicated this exhibition to the late legendary Bengal School maestro Abanindranath Tagore (1871-1951) and renowned Japanese scholar and art connoisseur Okakura Kakuzo (1863-1913). As she explains, "Both of them opened up new horizons when it came to the practice of modern Indian art. They taught us to feel the pulse of Nature, and our own beings." That apart, the artist says she feels inspired by Japanese art in general, because she finds similarities in the way she portrays her mental imagery on canvas.
Satori, derived from the Japanese verb 'satoru', recommends filtering every experience through the lens of Nature. Exhibition organiser Maitreyee Mukhopadhyay says, "In a rough, traumatised post-Covid world, which compels even artists to produce work that aggravates rather than soothes, Rumki seeks to highlight the positives in life with her emphasis on Nature. Her paintings are like a tonic for the mind."
The exhibition will be inaugurated today at 5.00 pm by US Consul General Melinda Pavek and young Japanese filmmaker Sasaki Mika, who has herself made 'Tagore Songs', a documentary about the eclectic, transcendental appeal of Rabindra sangeet. The guest of honour will be esraj exponent Pt Debashis Haldar. The exhibition will be on view until February 15, 3.00-8.00 pm daily.