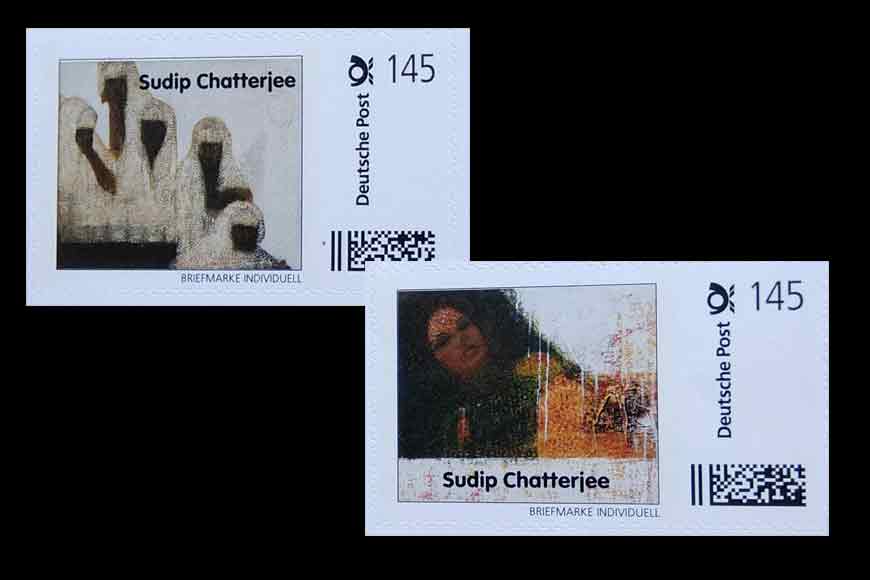 • How did you come to know your paintings have been taken up by the German government on their stamps?

A few weeks ago, I received a book named International Awarded Art, Vol.4,where my paintings and my short biography was printed. Along with that, I also received 2 postal Deutsche stamps of 1.45 euro that had two of my paintings on them.

• What kind of paintings are they? Any speciality?

The paintings carried on the German stamps are mixed media work,and this is a style of painting that I specialise in.

• What kind of influence does Kolkata and Bengal at large have on your paintings?

As I live and work in Kolkata and largely in different parts of Bengal, it is all so natural that my surroundings will influence my work to a great extent. This is also the place where I born and brought up and hence have been influenced largely.

• Why do you think Germans liked your paintings? Is it because they could relate to certain elements to it that appealed to their nation also?

Frankly, the language of painting is international, and I love to create poetry on my canvas. So, I want to communicate with my viewers through this medium and my kind of work.I have observed Germans are equally responsive as my Indian viewers are.

• You have done several shows in Germany and other European cities. Did you find any similarities between them and Kolkata in terms of warmth, chaos or any other attribute?

Every city is different from another, in their style,but people are helpful and kind.Usually German cities have their own unique character. German people are very disciplined and obey traffic rules very strictly, something we can hardly ever imagine in Kolkata. Rather, I would say Paris is similar to Kolkata.

• Your paintings are found in galleries across the globe. Any new show coming up?

My next solo show will be near Stuttgart, in Galerie Stauferland from 31 May 2018.