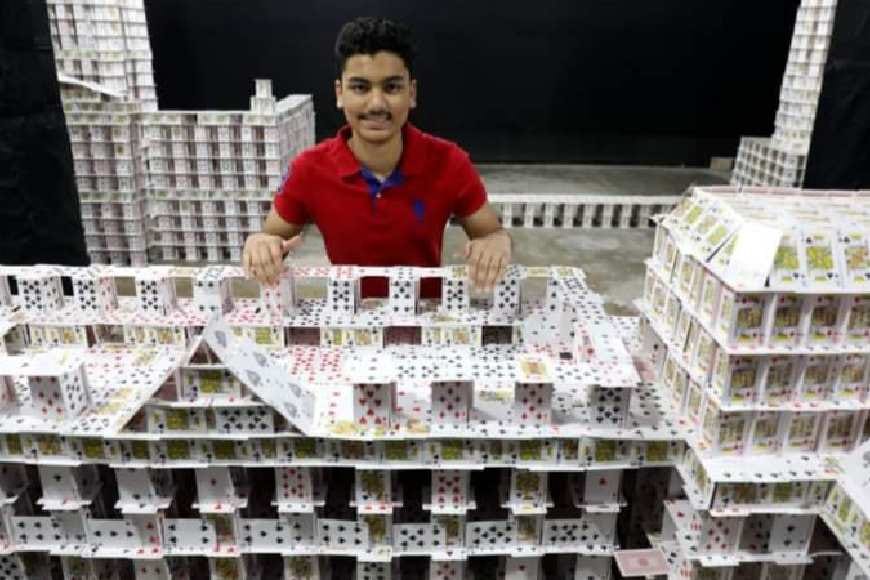 Most of us have heard people say, "It's just not in the cards for me to …" when things didn't work out the way they planned but when someone "holds all the cards," he or she is in charge of a situation. City teenager Arnav Daga certainly holds all his cards as he mesmerizes his viewers with his amazing card stacking skills. He is a card stacker and his breath-taking skills at building freestanding houses with playing cards are currently on display at an old warehouse in north Kolkata's Chaltabagan. The exhibition, titled, 'Tasher Shohor' (City of Cards) is a 40.5ft long, 16.5ft broad and 11.6ft tall city landscape featuring iconic structures like Yuba Bharati Kridangan, Salt Lake, Writers' Buildings, Shahid Minar and St Paul's Cathedral, all recreated with playing cards! Arnav completed the entire structure in 40 days using around 1,50,000 cards. None of the cards were folded nor was any glue used to stick them.
Arnav Daga, is a 15-year-old student of class IX at Sri Sri Academy. The young boy has set his ambition high and wants to see his name in the Guinness Book of World Records for card structures. He says, "I want to establish my name on the global map as a card stacker." Arnav has already completed the procedure of submission and he is waiting to hear from them. The young stacker wishes to experiment with more structures. His ambition is to make life-size buildings with cards where people can enter and explore. But that will obviously require a lot of planning and technicalities.
His parents are very supportive though initially they were a little apprehensive and skeptical about his fascination with cards and did not know what exactly was this card stacking art that he was so deeply involved in. However, ever since they discovered that this is a globally recognized art form, they wholeheartedly support him.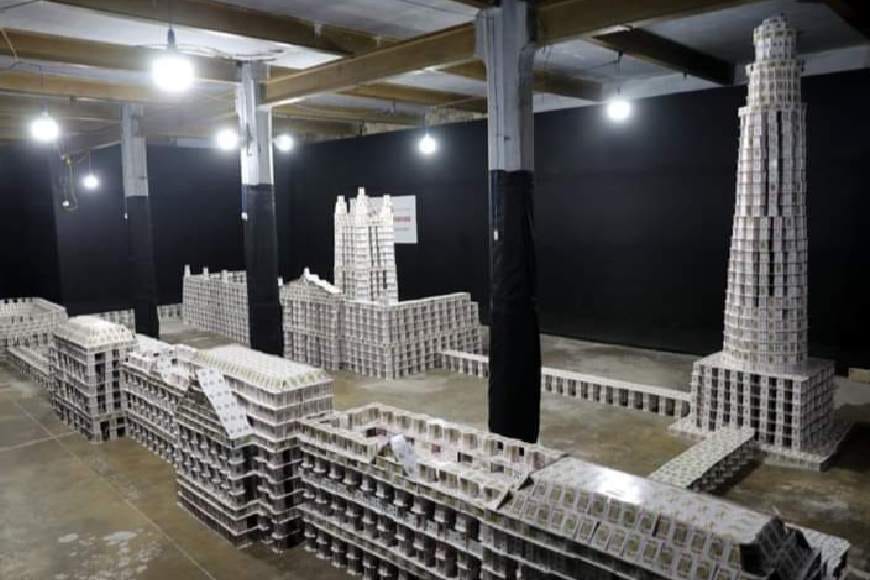 Arnav has won many awards and accolades from different organizations. He was the recipient of 'The Balrampur Chini Mills Award for Outstanding Talent' at The Telegraph School Awards for Excellence in 2021 and The Telegraph Edugraph 18 Under 18 Awards Chapter II in 2023. He also created a record in the Asia Book of Records for building the tallest card structure of the Empire State Building (10.7ft) at the age 13 in December 2020.
Arnav's foray into the world of cards began when he was barely eight years old. Like other kids of his age, he was an avid cartoon fan. While watching cartoons on television, he chanced upon a show where he spotted a castle made of cards. He had his deck of UNO cards and he randomly stacked them to write his name. He found the craft fascinating and started balancing them to make a castle as shown in the cartoons. Soon he succeeded in making his first card tower.
What started as a hobby for little Arnab turned into his passion by the time, he was 13 years old. Since then, he has been the India record holder for the tallest building created with playing cards in 2020 by the 'India Book of Records' and the 'Grand Master' of creating a tall building with playing cards in Asia by the 'Asia Book of Records.' He broke his own record for the tallest card tower in May 2021 with the replica of Qutub Minar.
During the COVID-19 when the entire world was forced to live indoors, Arnav utilized the time to pursue his creative urge. Instead of spending hours on gadgets, playing video games or binge-watching on OTT platforms, he started building bigger card structures. "During this time, I built the Iowa State Capitol, Titanic, Sanchi Stupa, Buckingham Palace, London Bridge, Central Vista and many more structures," says Arnav. Arnav always built his card structures at home, but when he decided to recreate Qutab Minar he realized that the 16ft structure would not fit in his home. His school friends at Sri Sri Academy then approached the principal and requested for some space in the school auditorium. The principal obliged and all the teachers encouraged him in his endeavour. He built the Qutab Minar in a record 10 days' time! He would attend school and work on his structure for seven to eight hours after classes. As the structure gained height, Arnav started stacking desks to reach the top. In the final days, his parents joined him in school to hold the desks to prevent him from falling down.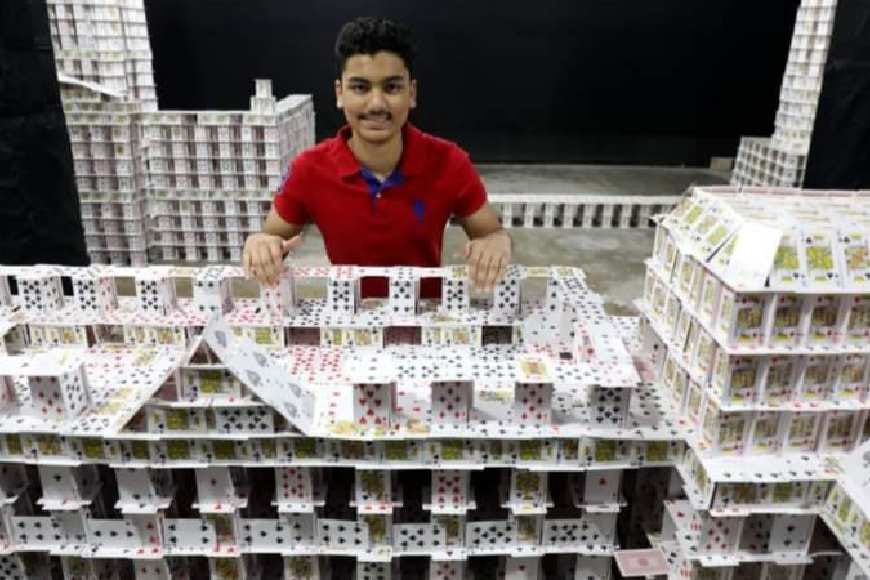 After everyone from his school had seen the structure, he demolished the structure himself. He has a very mature and philosophic take on this act. He says, "I always take them down myself. There's no bad feeling about it because if I don't destroy them, how will I create new ones?" On Teachers' Day last year, Arnav recreated his school building with cards and it was highly praised by all who saw it. Arnav has also mastered the art of balancing his passion for card stacking with his studies. In fact, he insists his hobby has improved his concentration power and taught him patience. He is serious about his academics as well and insists on working diligently to fulfil his academic goals as well.
Arnav is a big fan of Bryan Berg, an American professional card stacker who builds large-scale houses of cards. Trained as an architect, Berg is the only known person to acquire a livelihood by recreating structures with free-standing playing cards. He first broke the world record for the world's tallest house of free-standing playing cards in 1992 at the age of 17, with a tower 4.4 meters tall. Since then, Berg has been commissioned to break his own Guinness Record approximately 10 times. Arnav watches and follows Berg on YouTube channel and is inspired by him to raise the bar to reach that level of perfection. Arnav's journey has begun and he is determined to propel forward to reach the level of his idol, Bryan Berg and make his country proud.