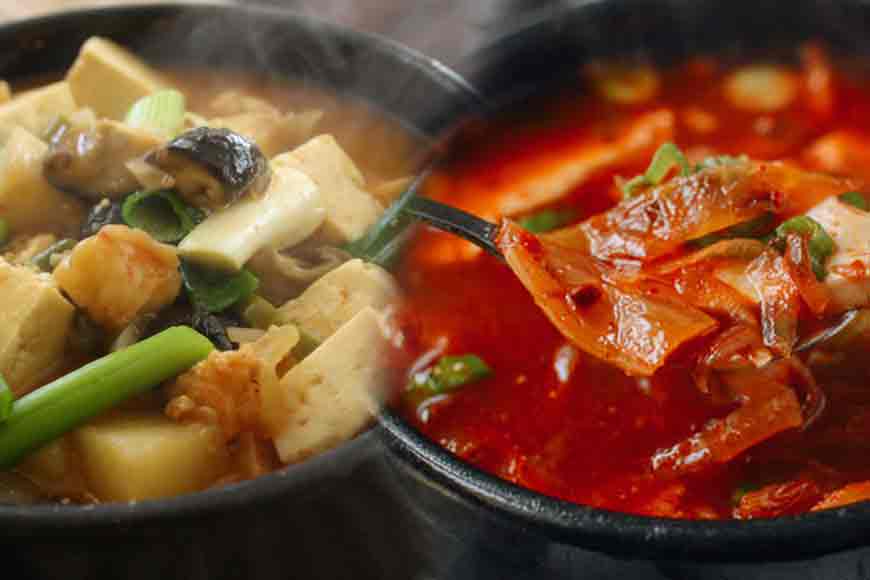 Oriental cuisine has always been a favourite of the people of Kolkata and Korean food is gradually making inroads into the biriyani-noodles bastion. But most of us still do not have a very clear concept of Korean food and consider it to be some kind of variation of the more familiar Chinese fare. It is true that gastronomically, China and Korea are like twins. Rice is the staple food of both countries. Soups and stews are commonly main entrees in Korean food.
In Chinese and Japanese cuisine, soups are typically appetizers. Popular Korean dinner entrees that are soup-based: dduk mandu guk (ricecake and dumpling soup), yook-gae jang (shredded beef soup), galbi tang (short rib soup), kimchi chigae (boiled/steamed kimchi), dwenjang chigae (sort of like miso soup). In general, Korean food is similar to Chinese food in terms of ingredients and preparation. Koreans tend to eat a lot of pickled/fermented stuff (squid, cabbage, fish fry, onions, potatoes, etc). It's not just Kimchee. They also use a lot of sugar and chili pepper in their pickles.
Pickling is used to some extent in Chinese cuisine but not as much. Chinese pickles are also less creative and appetizing. Chinese cooking (especially in South China) tends to emphasize a lot of wok stir-frying; this isn't used in Korean cooking. Instead, they use a lot more BBQ-ing which is similar to Japanese-style teppanyaki. There is absence of stir fried vegetables in Korean cuisine. Koreans tend to eat their vegetables raw or pickled. Korean cuisine has more grilling than roasting, whereas Chinese prefer roasting rather than grilling in general. Korean food tends to be spicy. Chili peppers are used liberally. They also eat a lot of garlic and onions. Korean cuisine doesn't appear to use Oyster sauce which is mostly a South Chinese thing and a lot of meat (chicken, pork and beef) are used.
And don't expect long-grain rice. Koreans are used to short-grain rice and as Koreans are very health conscious people, they have no fried rice on their menu. Stewing is more common in Korean cuisine than in Chinese cuisine. This could be due to the long winters in Korea which favor stewing. One of the best aspects of a good Korean BBQ dinner is the Panchan, small dishes of appetizers - pickles, salads, bits of smoked and preserved fish and meat - that accompany the dinner.
Recently, a number of gourmet restaurants have come up providing Korean cuisine in the city, including the food court at Axis Mall, Rajarhat. Ask for deopbabs with chicken and pork, squid, kimchi and bibimbab --- you get all.