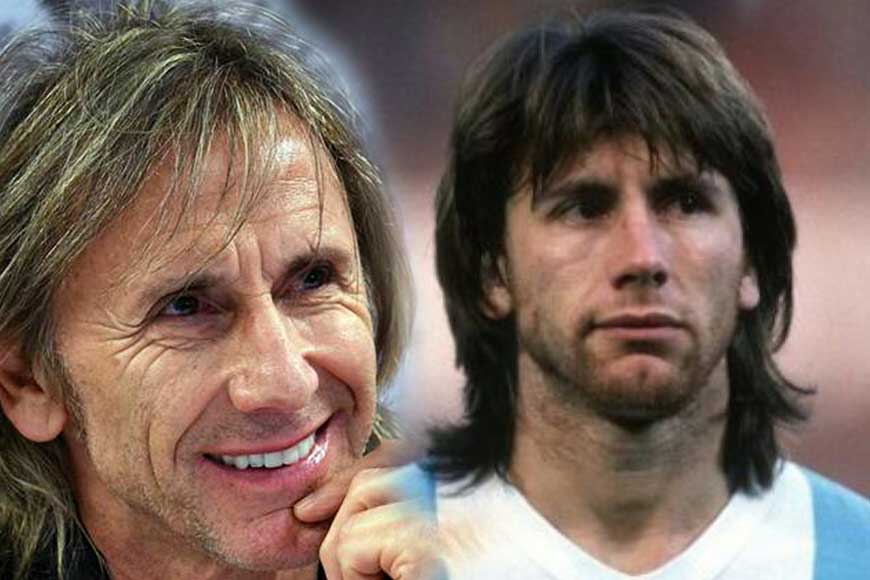 For all of you who were in Kolkata in 1984 and watched the Nehru Cup, probably had their memory tickled when they saw a grey-haired coach with a flowing mane, shouting instructions to Peru'sWorld Cup squad in a recent match with Denmark. Not that his calls helped, as Peru missed a penalty shot and lost the game to Denmark. But didn't their coach have a distinct resemblance to a football player Calcuttans had seen in 1984 playing at Salt Lake Stadium during Nehru Cup?
Well, yes. He is none other than Ricardo Gareca, now coach of the Peru national team, who had scored a stunning winner for Argentina against India back in the '80s, and that too in Kolkata. Incidentally, Gareca finished that tournament as the joint top-scorer (alongside Roman Wójcicki of Poland) with three goals, one against India and a brace against Budapest.
In those days Gareca was very popular among Kolkata's soccer fans, not just for his football tricks and skills, but also for being one of the most handsome players on ground. He was tall with a long mane, only that it was black then. He has still maintained his impeccable style and presence off the field, on the sidelines.
Even as Peru's coach, he worked wonders. Peru might have lost to Denmark in their first match, but during his short tenure as the Peruvian coach, this 60-year-old footballer, has already helped Peru reach the Copa America semifinals and qualify for the World Cup for the first time in 36 years.
Way back in 1984, Argentina, without Diego Maradona(who was injured),came to Kolkata to participate in Nehru Cup. As many as six teams – India, Poland, Argentina, China, Budapest and Romania were participating in the tournament. India under Biswajit Bhattacharya also played well and did not allow Argentina to dictate possession on the fields. The defense, marshalled by Manoranjan Bhattacharya, produced a resilient performance and the match was tied 0-0 until the 79th minute. However, just when it was looking that India might eke out a draw, Gareca managed to hit the ball in the goal net.The Argentines were left frustrated with India's defensive policy on the field and in the second half of the match resorted to long ball passes. The goal that Gareca scored was a result of such a 'long ball policy' adopted by coach Carlos Bilardo. However, Argentina could not reach the Nehru Cup finals in 1984, though two years later in 1986, with several players from the team that played in Kolkata, they went on to win the World Cup.
Gareca's coaching career started two years after he retired as a player in 1996. He managed several clubs in Argentina, Spain, Peru and Colombia. In 2014, he was appointed as the coach of famous Brazilian club, Palmeiras and a year later was named the head coach of Peru. Gareca guided Peru to a long-awaited World Cup after more than three decades.