Kolkata's Hemen & Co served musical maestros from Baba Allauddin Khan to the Beatles!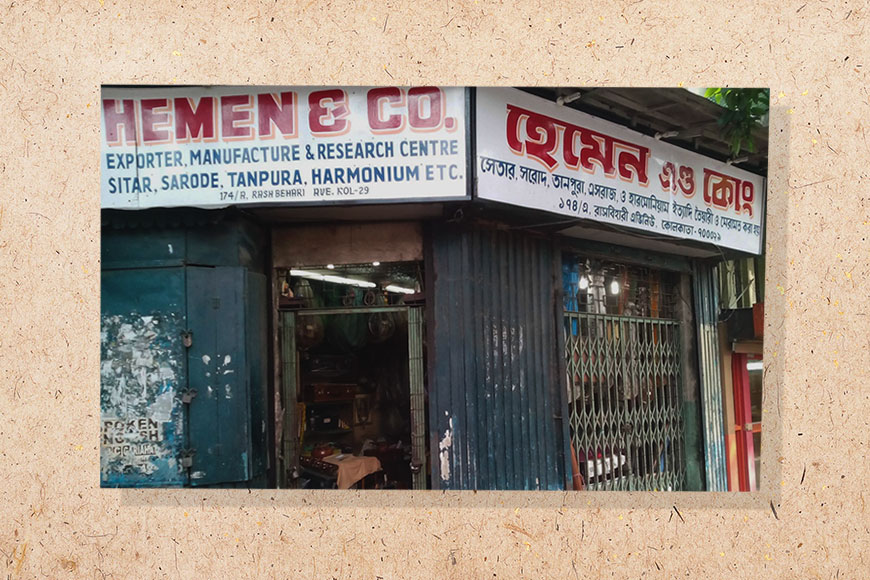 Imagine a quaint little music shop tucked in one corner of Rashbehari Avenue making world class musical instruments that served stalwarts of the music world from the hip-hop Beatles to sitar maestro Ravi Shankar! And still continue to serve in an age when we perceive that nothing global happens from Kolkata! Rather it is this city that produced and still produces some of the best instruments for world-class musicians. Yes, we are talking of Hemen & Co. that was started in 1947, by Hemen Chandra Sen, who was a direct apprentice and disciple of the late Baba Allauddin Khan of Maihar Gharana. Sen was loved so much by Baba Allauddin that he kept him in his house for months and told other disciples that every instrument of his will be made or mended by Sen. The story goes that one day while learning the Sitar from Ustad Allauddin Khan, Sen's instrument broke. But he himself fixed the sitar without any delay and made it as good as new. His acumen and skills really impressed the group of stalwarts present there, including his guru Ustad Allauddin Khan.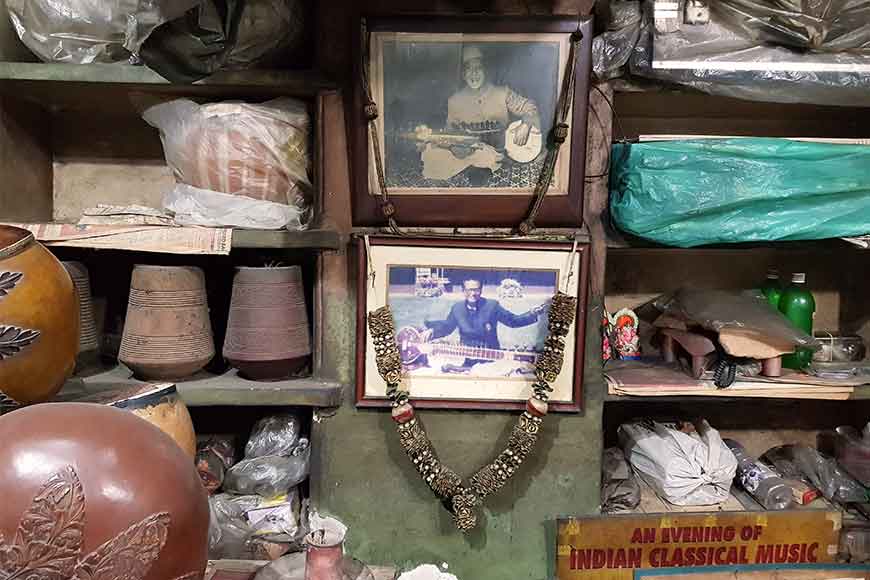 Baba Allauddin Khan's photograph in the shop
Ustad Allauddin Khan gave all his damaged Maihar instruments to Hemen & Co and Sen and his team started working on them relentlessly. Almost all famous musicians from Pt Ravi Shankar, to Ustad Ali Akbar Khan, from Pandit Nikhil Banerjee to Annapurna Devi were die hard clients of Hemen & Co. Pt Ravi Shankar introduced the world-famous band Beatles to the company and took it to a global platform. Later, sarod maestro legendary Ustad Amjad Ali Khan also vowed by Hemen & Company. They are relentlessly serving musical legends and maestros across the globe with their superb skilled work force even today.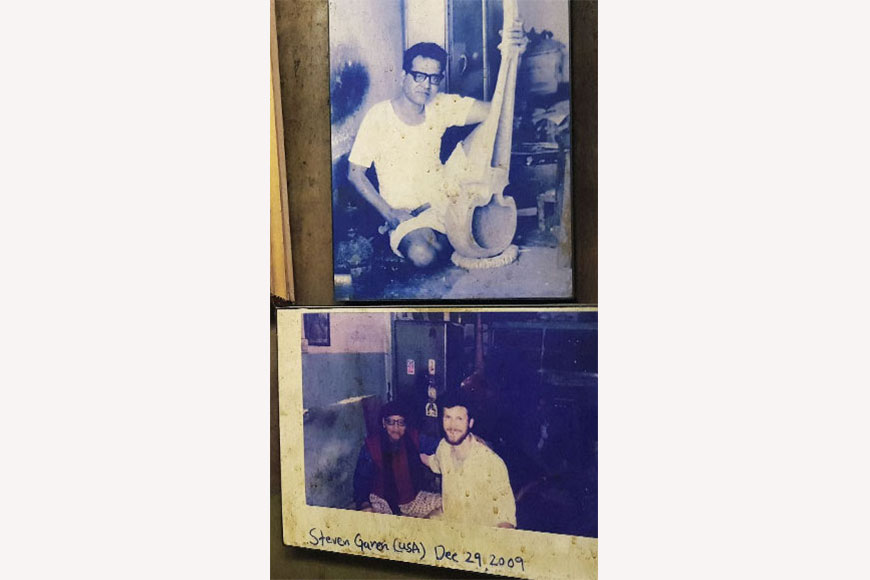 Photographs of music stalwarts on of the walls of the shop
Their present clientele includes names like Ravi Shankar's daughter Anoushka Shankar to Ustad Vilayat Khan, Pandit Bhimsen Joshi, vocalist Rashid Khan, Rajan and Sajan Mishra, Aarti Mukherjee and so on. For his accomplishments and contribution to Indian classical music over the years, Hemen Sen received many awards, two of the most distinguished being the Hafiz Ali Khan Award in 2001 and Vidyarthi Samman Award.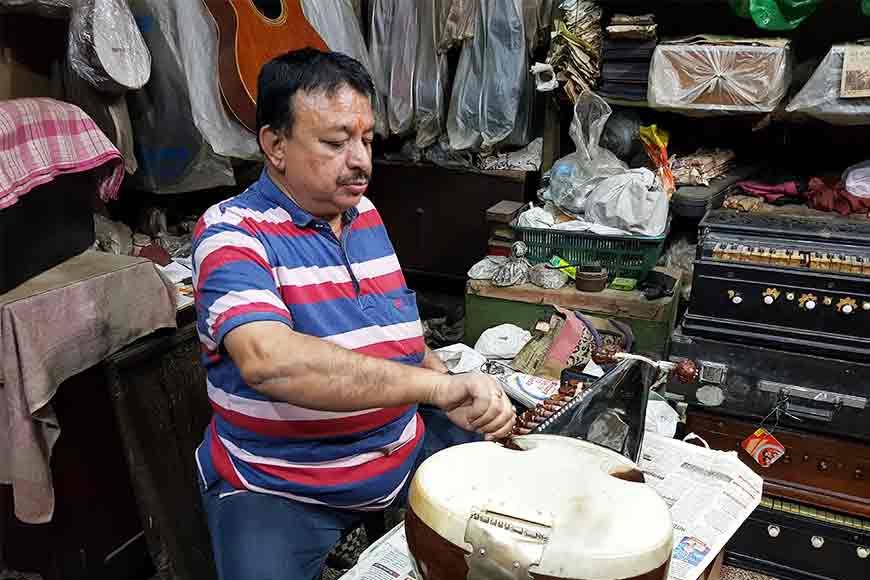 Ratan Kumar Sen fixing a sarod
The best part is Hemen & Company still survives with its niche acumen, and not just basks in its past glory. Even today the Company successfully continues to satiate every demand of the music lovers, be of any age, and continues to be the one-stop solution for music and ancillary support, exporting musical instruments and ancillaries around the world. Hemen Sen's sons Tapan and Ratan Sen continue with their father's legacy. The special skin used to make their instruments come from the goat skin of the Kali temple where goat sacrifices are prevalent while the wood is from Assam. As Ratan reminisces: 'George Harrison had bought a sitar from the shop. After two years, Harrison asked me to send two acoustic guitars. I did not charge anything for the guitars and Harrison sent me a gigantic German made tape recorder as a token of gratitude.' Even Ravi Shankar's specific kharaj pancham sitar used to go from Hemen & Co, and they repaired Shankar's instruments without charging a penny. Shankar expressed his gratitude by sending a portable tape recorder. That was and still is the bond between Hemen & Company and their customers. For it is music that binds their souls and nothing can beat this small Kolkata shop in their global expertise. Hemen & Co probably teaches you: Stay Local, Go Global.