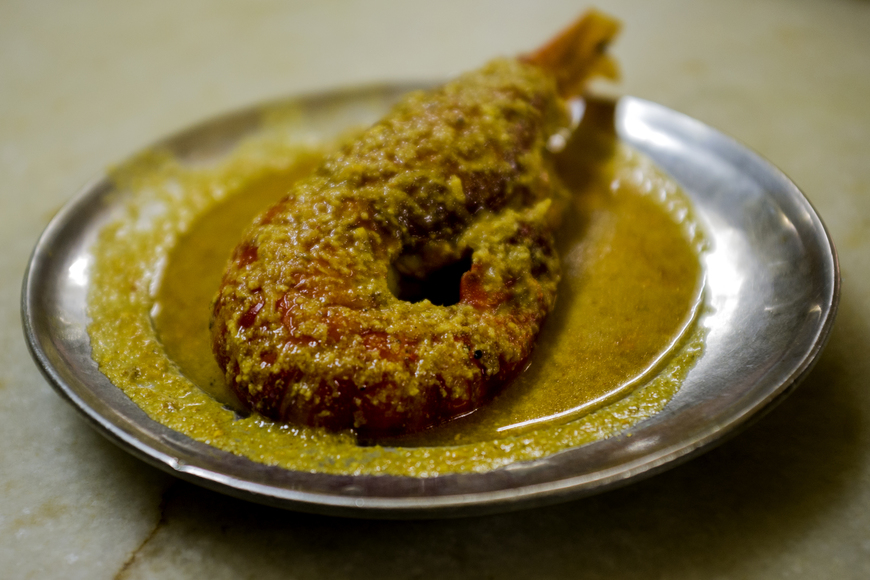 The true flavours of Kolkata are not to be found in the rich, commercial biryani handis or the mass produced momos. Neither will you be able to savour them at a fancy 'Bangali' restaurant that claims to have unearthed grandma's secret recipe. It is likely to be found in the handful of Pice Hotels that have been around for decades, serving simple, homegrown, hearty meals at inflation resistant prices.
The history of Pice Hotels goes back to the time when the Pice was a monetary unit of British India at one time. Equal to one quarter of an anna. These 'hotels' that came up on street corners, came up to cater to the influx of people from across the borders, and went hand in hand with the growth of 'mess' or paying guest accommodations that were home to immigrant job seekers. The tradition of serving a regular three-course homely Hindu (non-vegetarian dishes, dishes cooked without onion garlic) meal, in an unpretentious setting, with dishes that would remind one of home, has remained a staple of the oldest surviving pice hotels in the city. Of course, if you could have a sumptuous meal for a pice, you need to shell out about Rs 50 approximately. But it still remains the most VFM deal you can come across.
Most Pice Hotels were bare bones. Sometimes you had to sit cross legged on the floor, at others, rudimentary wooden benches would be provided. Menu of the day depended on the day's fresh catch and seasonal produce. Always hand written on a black board. Billing system was manned by waiters who would memorise not only the menu but also the exact details of the order. You ate. You paid. You took a pinch of the mouri and walked out. Feeling full. But your wallet not that much lighter.
Despite the march of commercialisation, some of the most popular pice hotels of yore have managed to stand their ground – a proof that good food, friendly pricing and unpretentious service can still score over gimmicks. The distinctive taste of Hasher Dimer dalna at Tarun Niketan, or the Kobiraji Patla Jhol of Siddheshweri Ashram, the delicious Chital Peti of Jagannath Ashram or jiol maccher jhol of Swadhin Bharat Hindu Hotel, still have their loyalists. And Thank God for that.
Here is our pick of sone of the most outstanding Pice Hotels. Bon Apetit!
1. TARUN NIKETAN HOTEL
Established in 1915 by the late Eshan Chandra Deb. Current owner Arun Deb will tell you that the menu displayed on a slim black board near the entrance has not really changed ever since. The seating arrangement was changed of course and in order to keep up with changing tastes, they have had to introduce onion and garlic to some of their meat and fish dishes, even though their dal and other vegetarian dishes are still prepared the traditional way.
CURRY.
POP DISHES: HANSHER-DIM and MUTTON
Patrons: Small traders and workers. Filmmaker Imtiaz Ali too dropped by on one occasion.
2. PARVATI HOTEL
Bhabanipur Near Jadu Babur Bazar
Established in the 1960's by a certain Kundu, it is now owned by Souvik Das who says the hotel's USP is the exhaustive list of fish items on the regular menu. There are at least 10-12 fish dishes to choose from – feat unmatched by even some of the more upscale restaurants.
Pop Dishes: All fish curries.
Patrons: Food lovers, professionals on a budget
3. SIDDHESHWARI ASHRAM
Janbazar, Dharmatala
Established in 1928 by Late Khudiram Sarkar, it is currently owned by Rita and Debjani Sen. The more upscale of such establishments, it has been air conditioned and the menu contemporised, even though it continues to cater to value conscious food lovers in the city. Especially because it puts even the most elaborate fish dishes on the menu every day.
Pop Dishes: Kobiraji Jhol (fish prepared with raw banana, papaya, potato with minimum oil and ginger and cumin as spices, mocha, muri ghanta, macher mathar dal, mutton and kancha amer chutney.
Patrons:Food lovers, tourists, NRIs as well as the late CHOBI BISWAS, TULSI CHAKRABORTY, SHISHIR & SUBHENDU ADHIKARI, and Bollywood star DIA MIRZA.
4. SWADHIN BHARAT HINDU HOTEL
College Street - rear lane of Presidency College.
Established in 1927 by ManGobindo Ponda, the present owner Prahlad Chandra Ponda is 96 years old. The hotel specialises in an astounding variety of vegetarian dishes, part of the menu since its inception. Also, a rarity -Sing/Magur/Koi type fish on the regular menu with chitol macher mutithyam topse fr and macher dimer bara makign frequent appearances.
Pop Dishes: 28 varieties of vegetarian dishes, muitha, mutton curry.
Patrons: Students academic, ntellectuals it has also been a part of the city's history wth patrons such as Netaji Subhash Chandra Bose, Justice BHAGABATI PRASHAD BANARJEE, PRIYA RANJAN DASMUNSHI, RAM CHATERJEE, ASIM DASGUPTA, KIRANMAY NANDA, MEER ASHRAF ALI, NAYANA BANDAPADYA, TASleema NASrin.
5.JAGANNATH ASHRAM
College Street MARKET
Established in 1952 by Late GOBORDHAN PALUI, current owner SHANKAR CHANDRA MANDAL takes pride in the unchanged menu. Regulars will tell you how the the ilish and chital fish items are just like what their wives and mothers would have served them at home, which is what works for this establishment.
Pop dishes: the watery mutton curry is to die for, as are the light and flavourful fish dishes.
Pop With:Academic, intellectuals and anyone else looking for homely food on a budget. Late SUNIL GANGOPADHYAY, MAHASHWETA DEVI, MANNA DE were also patrons.