KP constable Arup Mukherjee called 'Shobor Pita' for supporting Purulia's Shobor children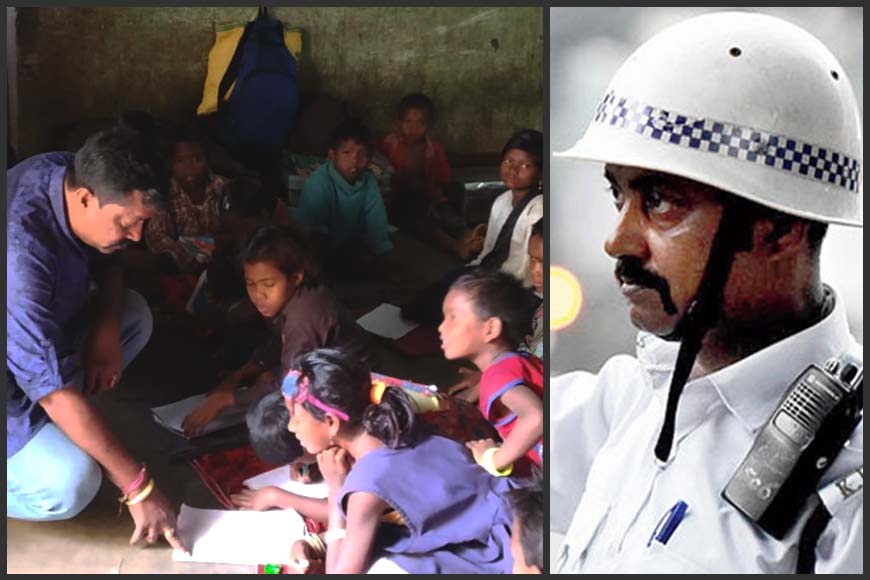 There's a saying that good deeds should be done with an intention, not for attention because a good deed dies when it is spoken about. And Arup Mukherjee believes this adage and follows it religiously. A constable in Kolkata Police's South Traffic Guard, Arup Mukherjee has been involved in social work for more than a decade now, and he has been doing this in silence.
He invested his entire life's savings to set up a residential school for children of the Shobor tribe in his village, Puncha, in Manbazar area of Purulia district. He now looks after the education, accommodation, clothing, and food of 126 such children, free of cost. As lockdown was announced following the spread of Covid-19 pandemic, Mukherjee rushed back to his village with essential provisions for roughly 4,000 Shobor families, who would otherwise starve to death. Mukherjee's commendable work has not gone unnoticed and he has been selected for the global award, 'Bravo International Book of World Records' at Sharjah.
Mukherjee had set up the Puncha Nabadisha Model School way back in 2011. Starting with 15 children, the school has grown into an institution that provides education to 112 children aged between 4 and 15. Initially, it was tough for Mukherjee to convince the Shobor community about his intention. The Shobors are one of the Adivasi communities who live mainly in Odisha and West Bengal. During the British Raj, they were classed as one of the 'criminal tribes' under Criminal Tribes Act 1871, and still suffer from social stigma and ostracism in modern times. Mukherjee would harp the words, "Send your children to study if you do not want their plight to be like yours.' And that struck a chord.
Arup joined Kolkata Police in 1996. His father was also in the state police force and retired after his last posting at Mangalkot. Since childhood, Arup witnessed the abysmal condition of the Shobor people. The tribe still lives with the stigma of 'criminals' attached to it and many villagers take advantage of this and slap false cases of theft, burglary and other criminal charges against them. They are rounded up by the local police and put behind bars. They have no access to justice and they rot away in jails for years.
Arup had decided early in life, even before he had any job, to start a school for the Shobor children and uplift their condition. After he got a job in the Kolkata Police force, he began saving his earning. In 2011, his uncle, Kshirod Mukhopadhyay, donated him 10 kathas of land. Arup then formed Pandui Manav Kalyan Samity with a few members from the village and started the Puncha Nabadisha Model School. The initial corpus of Rs 2.5 lakh for the school was shelled out by Mukherjee alone. He also took a bank loan of Rs 1 lakh and another Rs 50,000 from his mother to build five rooms with an asbestos roof on the plot.
Now many among the Shobor community depend on Arup, not only to give their children an education but also bail them out whenever they are unfairly accused of a crime. He is known in the locality as 'Shobor Pita' (Father of the Shobors). They now have the confidence to speak up because they know that if they are right, Arup will stand by them. Most of them no longer resort to crime to feed their families.
Mukherjee is the father of twins, both students of Class XI, but it is the responsibility of being "Baba" to his extended family of Shobor community keeps him going. His family is also proud of his achievements.