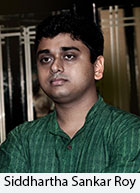 Working with several agencies like Ogilvy and Mather, DDB Mundra in the past, Siddhartha Sankar Roy is currently working with Genesis Advertising. He has been into this field for the past 12 years. Roy is a Bachelor of Arts from Indian College of Arts and Draftmanship, Kolkata.
The #Goviraltostopthevirus project is engaging the people to think in a very positive way and divert their minds from the virus' hideous shape and look.
Siddhartha has beautifully brought out the shape of COVID - 19. The body has been replaced with the terrace of a house and the spikes with kites.
During a kite flying festival, people from diverse backgrounds come together to fly kites from their rooftops. In other words it upholds the fact that we are all in this together, fighting the pandemic in our own ways.
Story Tag:
#Goviraltostopthevirus poster challenge