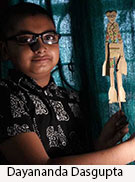 Dayananda Dasgupta is a student of Patha Bhavan, Kolkata. He loves to play and watch cartoons and movies. Besides his studies, Dayananda is a student of Pt. Tanmoy Bose and is taking tabla classes from him.
#Goviraltostopthevirus is a successful ongoing project to keep the minds busy and deal with the distress in a productive way. Both children and adults have been actively participating in this.
Dayananda enjoys watching Satyajit Ray films. Fascinated by the 'bhooter naach' from Goopi Gayen Bagha Bayen, he created this video with the help of his elder sister, Durga. In this video, the shape of COVID-19 has been substituted with a motif and the palm leaf dolls, popularly known as 'taal patar sepai,' dancing in rhythm. Childhood at its best!
Story Tag:
#Goviraltostopthevirus poster challenge