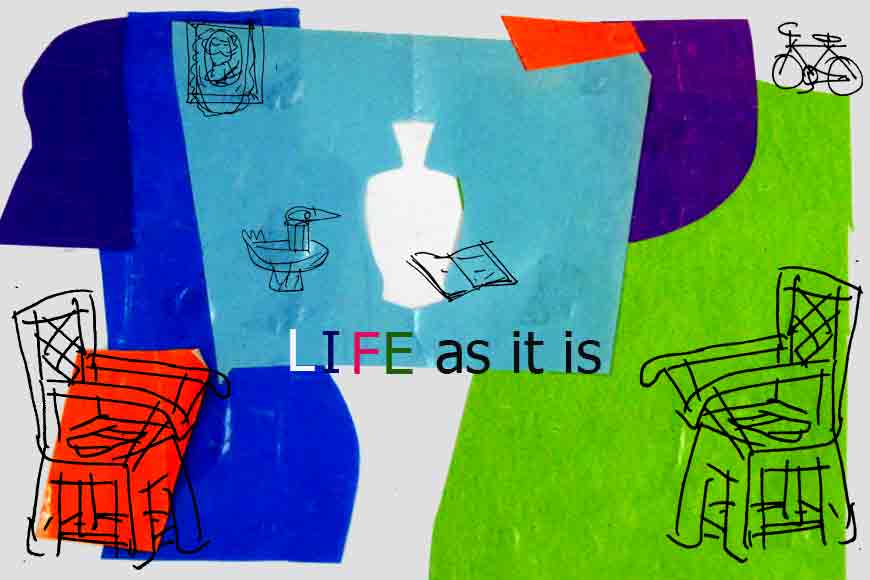 Shyamal Mukhopadhyay is settled in Nagpur and is a freelance intruder into the world of Bangaliana
Samir had been unpacking his kits bag on a side table.Only a couple of hours ago he had landed at Dumdum airport by an afternoon Delhi flight and then hired a prepaid taxi to reach Nirmal's residence, where he would stay a couple of days. Nirmal, an old buddy was also an established lawyer in civil court and was also looking after legal issues of Samir's inherited property.Few days ago, there was a call from Nirmal, asking Samir to come down immediately for personal appearance in court. He suggested him to stay at his place without heeding to Samir's excuses.
Samir had come to this old mansion almost after 10 years, since leaving this town.This moffussil town, some 25 km from Kolkata, happened to be the place, where Samir was born and brought up.His entire schooling till higher secondary was at the local government school.During college days, he got admitted in a premier Kolkata college,for which he used to travel daily by local train and the commuting continued when he got a bank job after his post-graduation.
Nirmal called from downstairs: "Samir, let'stake a ride around and drop at Debuda's tea-stall, by then Swapna will make the meals ready. Come quick."
Riding pillion Samir inquisitively looked around and witnessed drastic transformation of his old reclusive town. A new flyover jumping over rail-crossing gate, a new medical institute, so many multi-storied high-rises, wide faced brand stores –a metamorphosis from what Samir was once familiar with. Most shocking was a spot, crowded with people to savour biriyani. Samir recollected there were only a couple of pice hotels in that locality before. Nirmal pointed at it and said: "This is now DB biriyani joint, competing with Kolkata's traditionally popular biriyani restaurants and people from faraway places await in long queues to taste their biriyani."
They reach Debuda's stall and he welcomes them with a broad smile. He had spent many idle evenings at this stall over steaming earthen tea cups. Debuda lamented the decaying state of the local library – once so popular when Samir's group was at the helm and he provided tea and biscuits during meetings. Samir felt a deep sigh looking at Milan Mitali- their club cum library. After a brief adda, Nirmal hurried him back to his house.
Next morning, Nirmal handed Samir a bunch of documents with plaint copy to get familiarised before appearing at court. After having his meal, Samir casually went through the papers, as Nirmal left for court. Swapna with her daughter Poulami came in and said: "Samirda, this afternoon there is a parents' assembly at Polu's school. I just got to know of it now, but I have to go to the temple for a Broto Path. Will you mind accompanying Palu to the school meeting? Poulami smilingly added, "Kaku, this is the first assembly after our new Head mistress recently joined." Samir had no other choice but to agree.
They reached school and Poulami started mingling with her friends. Samir wandered around the main hall, to the office, the teachers' corner and then to the Headmistress' cabin. On the door was written 'Keka Das.' Impulsively, Samir pushed the swing door and entered. On the chair opposite, a tall slim lady was sitting with patches of grey hair, reading a paper. She looked up at the sound of Samir entering, held her deep cool eyes upon Samir, who by now was stunned at the sight of the lady.
"Why are you standing? Stunned finding me here? Be comfortable and sit down."
Memories flashed past. Samir's daily encounters with Keka on a rail platform, his maiden conversation with her, gradual desperate meets during weekends, but life hardly followed what one needs or wishes for. Samir got a promotion and consequential transfer posting to New Delhi. Although Keka insisted, but Samir preferred not to get married before settling down. Time and distance along with new environment gradually edged out the romance. After lapse of few winters, Samir discovered another dark pair of eyes within his Delhi office- a Punjabi girl. They tied nuptial knot soon and Samir finally settled in Delhi. He dared not inform Keka all these years his telltales.
But destiny played its trick on Samir. He was so shocked and stunned that he could not utter a single word. Keka whispered and enquired, "Where had you been?"