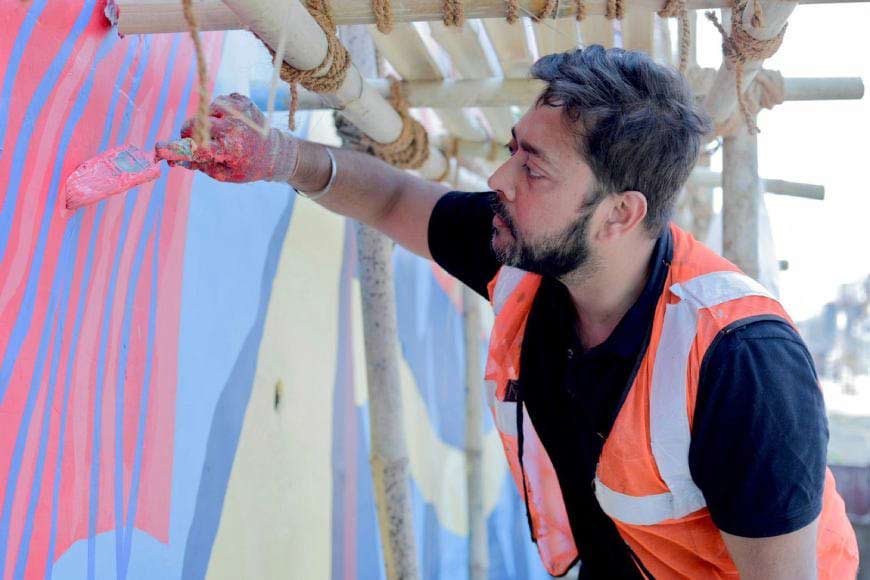 New Town, the swanky satellite city of Kolkata, is fast developing into the city for the future. Both the public and private sector are working in tandem to make the town look bright, aesthetic, clean and green. The booming growth in every sphere awaits to surprise an infrequent visitor. In fact, it is fascinating to see how the façade of New Town is transforming at a break-neck speed.
One of the iconic architectures of New Town, Kolkata Gate (officially known as Biswa Bangla Gate) is an arch-monument located over the third rotary traffic island on Biswa Bangla Sarani, near Rabindra Tirtha in Action Area 1, New Town. It is connected with the Biswa Bangla Convention Centre metro station of Kolkata Metro Line 6. The underpass just below the Biswa Bangla Gate is a familiar spot that is functional and used by commuters in New Town. But everything changed suddenly and, from January 27 this year, passers by suddenly noticed a flurry of activities in the vicinity. A group of youths were seen working around the underpass. The motley crew was intently engaged in assembling and making something. Curious glances from casual onlookers did not bother them as they were all engaged in their creative pursuit day and night. The place looked like an open gallery where artists worked with brushes and paints but the only difference was that here the canvas was huge. They were painting the walls of the subway. The underpass looked radiant and was a riot of colours as they created a slice of nature amid the concrete jungle. And then, something magical happened! The area transformed into a charming spot with gigantic murals of flowers and foliage, birds and bees in vibrant hues welcoming all.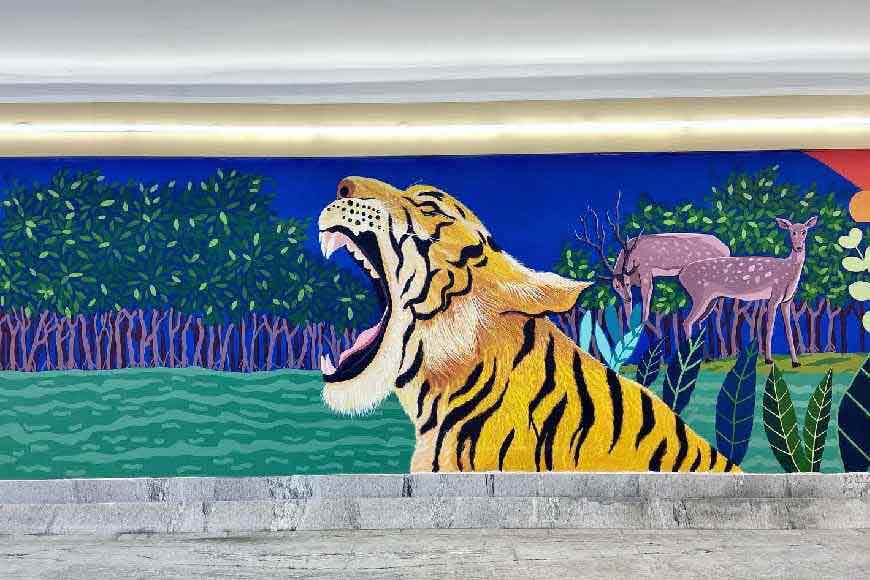 The underpass just below the Biswa Bangla Gate now looks vibrant with murals covering the entire stretch of the wall. The colourful panorama of flowers blooming in gay abandon and trees swaying in the soft breeze emanates a feeling of tranquil charm and peace. This is exactly what describes visual artist Sayan Mukherjee's works. He creates visually appealing images that capture the ethereal movement of life with radiant colours. This is his second large project in New Town that he and his team of artists have completed in a record 14 days' time!
Earlier, Sayan and his team had worked on the 240-foot-long subway crossing the Major Arterial Road from Hidco Bhavan to Smart Plaza. Here Sayan had juxtaposed icons of both sides of Kolkata — the colonial structures that one associates with the city -- the yellow cab that is on its way out, the city's football craze, East Bengal-Mohun Bagan face-off, Bengalis' love affair with 'ilish' and 'chingri' – and the new Kolkata that is emerging at a fast pace with sleek, smart, state-of-the-art architectures like the Biswa Bangla Gate or the Coffee House and Convention Centre, all located in New Town.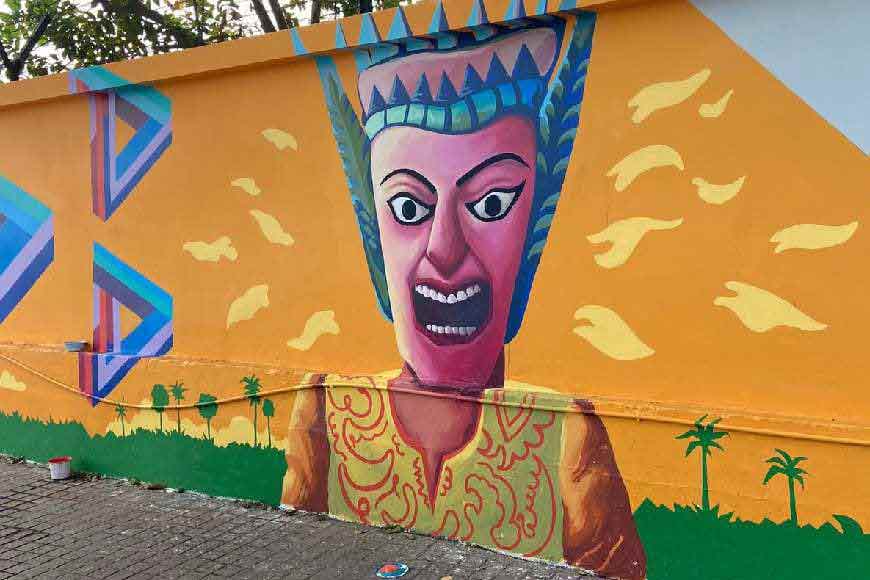 Before he started his projects in New Town, Sayan's journey as a muralist began in 2019 when he beautified the walls of Eden Gardens with murals on the emergence of a cricketer, passing through different stages of life from 'para' cricket to playing in India jersey. It is also very interesting to discover how Sayan Mukherjee's tryst with the world of art began. Born into a middle-class family of professionals (his father is a practicing lawyer and brother is a photographer ), his parents wished him to be a doctor and he was pursuing his studies to fulfill his parents' dream but then Providence had other plans for him. His grandfather, Nishanath Majumdar was a trained professional artist and young Sayan was fascinated to watch him work. The magnificent play of colours and the magical process of artistry lured him into a world of imagination and creativity and he took up art as a hobby. But as he grew up the hobby changed into passion. So much so that after completing his schooling, he joined the Indian College of Arts and Draughtsmanship, to specialize in Applied Art.
After graduating, Sayan began his career in the advertising world. He started as a junior visualizer in a leading advertising agency and gradually went up the ranks. During his stint at the agency, he caught the attention of his peers and clients with his unique approach as a visualizer. He works in mixed media and his striking illustrations have paved the way for working for a number of national and international brands like Nike, Penguin Books, Hachette Books, Scholastic India, Harper Collins, Shell etc. This was the phase when his signature style gradually evolved which is marked by use of bright, warm colors which are bold and intense in nature, and typically visually striking and noticeable due to their hue and saturation.
Sayan is a storyteller at heart and loves to present narratives in many ways. His book illustrations are his forte and they are very captivating. "I use a series of images representing moments in a story, or by selecting a central moment to stand for the whole story," he says. He honed his storytelling skills through his distinct style of illustrations and worked prolifically doing book covers and illustrating books. "I am inspired by the works of modernists like Salvador Dali and Picasso. I love the works of German-based illustrator, painter, artist, graphic designer, and author, Olaf Hajek, British author and illustrator, Oliver Jeffers or contemporary American artist Jeff Koons, Atul Dodia and many more. I keep going back to these artists for inspiration." Sayan is passionate about book illustrations and he continues to pursue this medium in between his other commitments. He already has a substantial volume of published book covers and book illustrations to his credit.
After slogging for nine years in the advertising world, Sayan was feeling restless and dissatisfied. He was raring to go and finally, he quit his job in 2017 to start his journey as an independent artist. This was a very bold decision indeed but then Sayan believes in the adage, "When we stop fearing failure, we start being artists." Yes, the young and gifted artist had faith in his skills and needed that impetus to take the plunge. His family was very supportive and that gave him the courage to quit his job and with it the financial security that he had been used to. Initially the going was tough but fortunately for him, in the same year, he says, "I got an opportunity to do an illustration residency at the School of Visual Arts, New York. This was a turning point in my life and my entire perspective of illustration changed from there, and my journey began as a solo artist."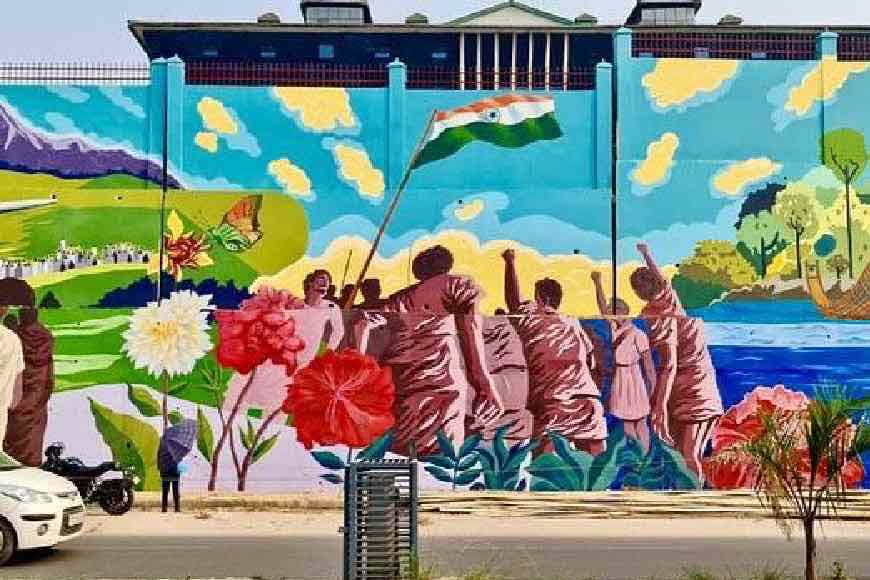 In 2017, he did his first mural project at the Eden Gardens. One of Sayan's ex-colleagues recommended his name, and he was selected once his sketches were approved by the board members of Cricket Association of Bengal (CAB) and Sourav Ganguly, who had just been named the BCCI president. Work began in right earnest. Sayan had a motley crew of artists from his alma mater who joined him in this venture. The mural on the walls of Eden Gardens is a testimony of an emerging artist's signature style. Sayan the storyteller's mural traces the emergence of a cricketer, passing through each stage of life from gully cricket to playing in India jersey through sequences of his bowling run-up and another of his taking guard to stepping out for a shot. "Both were approved by "dada" Sourav Ganguly, who had just been named the BCCI president," he says.

Sayan found his voice or rather his skill in delineating his works in large scale and mural art gave him the opportunity to explore space and form. His first mural art series on a subway in New Town is a colourful journey where Kolkata's past and future converge. He has added another feather to his hat with the completion of the underpass just below the Biswa Bangla Gate that he and his team created in a record 14 days' time. The murals have been designed on walls, each stretching for 300 metres. The underpass was inaugurated recently and it is an aesthetic treat for the eyes. But not one to sit on his laurels, Sayan is already raring to go and start work on new projects.
What is it that inspires him? Sayan is very candid and says, "I am in love with the world of art. I love to take up challenges and the entire creative process is a journey that I enjoy. I explore various media and love to use vibrant colours in my works."
Did he envision his journey thus when he was a student at the Indian Art College?
"No. Frankly speaking, when I was doing my graduation, I had no idea what I wanted to do after passing out. The situation hasn't changed even after so many years. When my grandfather was an artist, there was no money in the profession but now times have changed. Myriad avenues have opened up but unfortunately for us in Kolkata, the two premier art colleges do not channelize the vast talent pool we have here, in the right direction. After passing out, we are left to fend for ourselves. The nurturing hands just retreat and most tend to lose way. There is an acute need to change this situation. I have included many of my juniors in my team and now we all work together at different projects. But this is not adequate. I have plans to do something in this sector. May be, initiate a professional course where youngsters, fresh out of art colleges, can hone their skills, choose their preferred form and medium, pick up marketing and other skills, get guidance from professionals and mentors who can help them thrive… It's all in the pipeline but honestly, my hands are full and I don't know when I can sit and work on it." Till then, Sayan will continue to weave dreams in colours.