Lodha-shabar's Khoabgaon emerges stronger, thanks to Chalchitra Academy - GetBengal story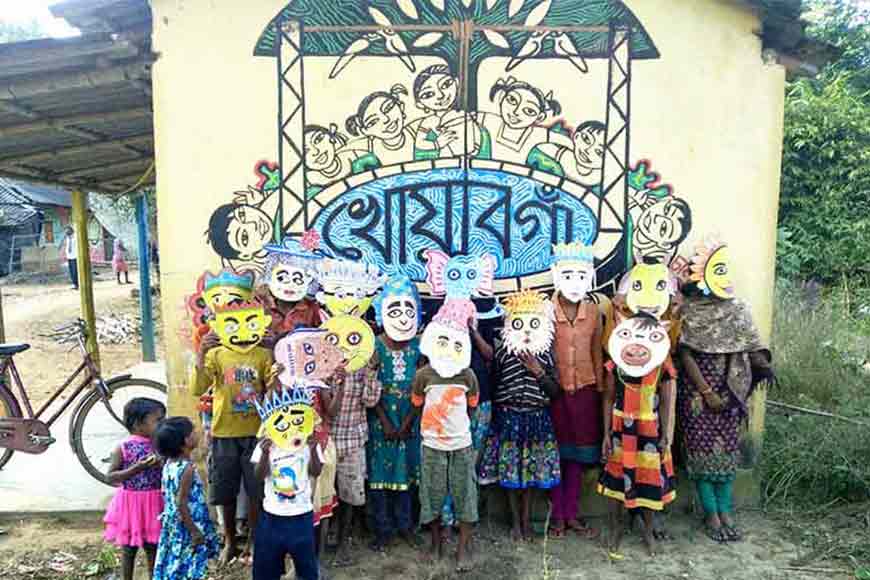 The idyllic villages of West Bengal, with their pristine natural beauty and refreshing ambiance, have an irresistible allure, drawing in a swarm of weary city dwellers who yearn for an escape from the suffocating pollution and deafening noise that define metropolitan life. Amidst the rustling leaves and melodious chirping of birds, these sanctuaries of calm offer help to detoxify.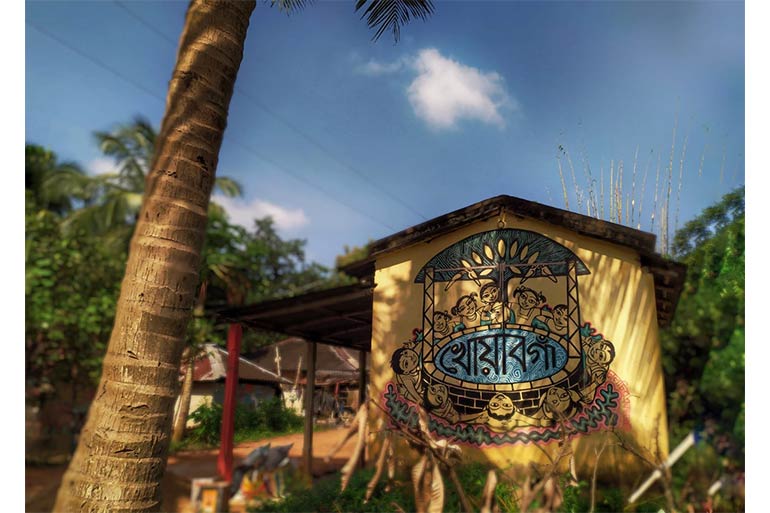 Five years ago, the manager of the Chalchitra Academy, Mrinal Mondal went to Lalbazar, a small village in Jhargram, with his whole team. Not for a trip, he had an artistic mind that turned his attention towards the peaceful lives led by locals and he got an idea. In 2018, Mrinal and other members of Chalchitra Academy turned a whole village into an open studio. With the initiative of Mrinal Mondal and under the management of Chalchitra Academy, the Lalbazar village located on the outskirts of Jhargram city, inhabited by Lodha Shabars was adopted and named "Khoabgaon". Today, after five years, tourists recognize the village for its artistic beauty and the original tribal population, the Lodha-shabars. Colours and paintbrushes have not only painted the houses of Lalbazar but also the lives of the people residing there.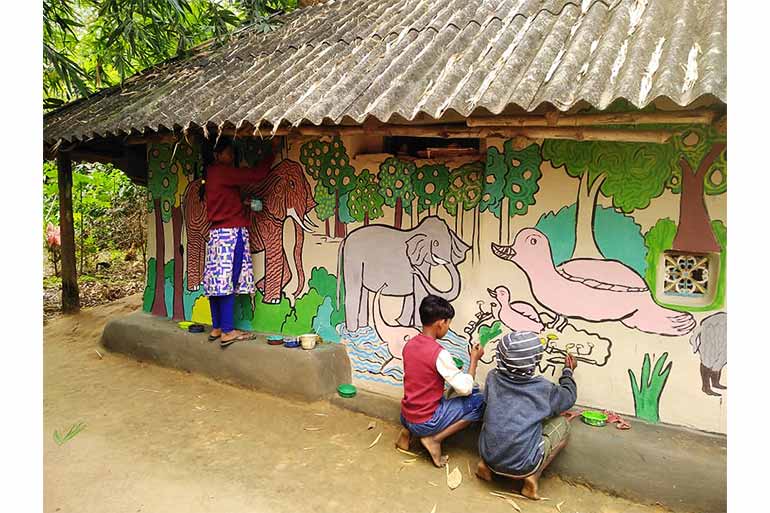 For many years, Chalchitra Academy has been working towards bringing together folk art with mainstream artists. Lalbazar is a small village 4 km away from the Jhargram Railway Station. The village is surrounded by forest and there is only one path that leads people in and out of the village. The village and its surroundings motivated Mrinal and he wanted to do something and thought of giving drawing lessons to the kids. Local artists Rameshwar Soren and Yajneswar Hansda started taking drawing classes every Saturday. Artists from Calcutta frequently visited Lalbazar and trained the students as well. Some artists noticed the walls of the mud houses and a thought struck, they wanted to turn the whole village into an open studio. Gradually, the mud walls got colourful images. Along with the artists, the elders and even the children of the village started participating in painting the walls. Each and every house of the village had murals painted by the Lodhas. They got training from famous city artists too. Not only paintings but they are also making other artistic products such as puppets of lac and jewellery and showpieces made of dokra.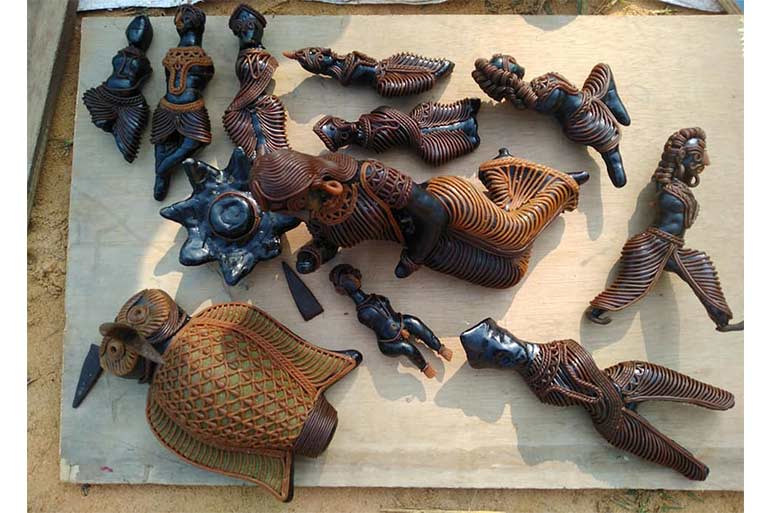 Dokra art, done by the villagers
The murals on the walls of the mud houses of Khoabgaon highlight a variety of topics such as raising awareness for wearing masks during the pandemic, repealing the farm laws, 100th year of Satyajit Ray, Rangolis or Alponas and so on. Besides, many workshops are also arranged in Khoabgoan throughout the year. Earlier this year, eminent veteran sculptor, K S Radhakrishnan, visited the place for an interaction with the villagers on the bronze sculptures of 50 men and women through a program titled- "Nil Gaganer Neeche" (under the blue sky). On the bedstead, a white bedsheet was spread and the students of Jhargram and the adjacent rural areas had decorated those sculptures in their own way. To expand the practice of such artworks among the people of Khoabgaon, a student of Ramkinkar Beiz and Sharbari Roy Chowdhury gave a financial donation from his organization. The new Bhavan of Chalchitra Academy was inaugurated by him in Khoabgaon.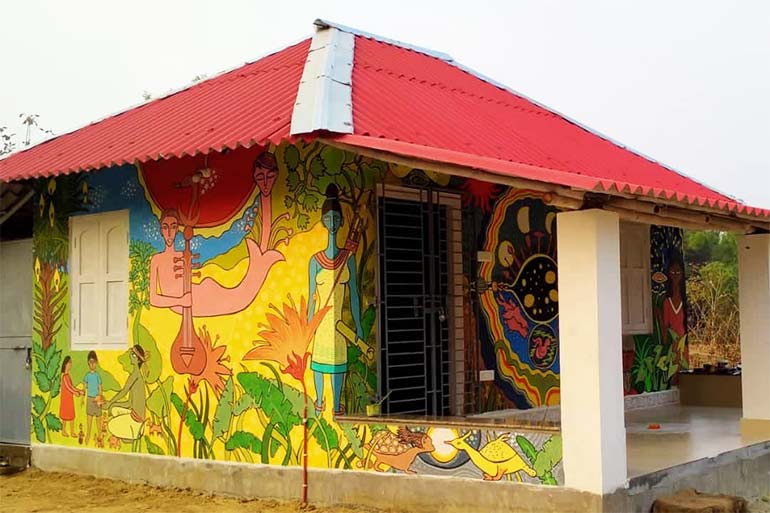 Chalchitra Academy's new building at Khoabgaon

Mrinal Mondal said, "In the beginning, I thought of teaching them some new skills which will also be budget-friendly. Being an area adjacent to the forest, pieces of wood, barks of trees etc are easily available and we started teaching them using those materials. They are trained in bamboo and woodwork. Women are taught kantha stitching, batik and now we have started Dokra. Dokra is a tough and ancient craft, so it is difficult to master it. We have been training them for almost 3 years now. Many locals are today inspired by such work and are taking up these skills as well but they will need more time to take up the art of Dokra."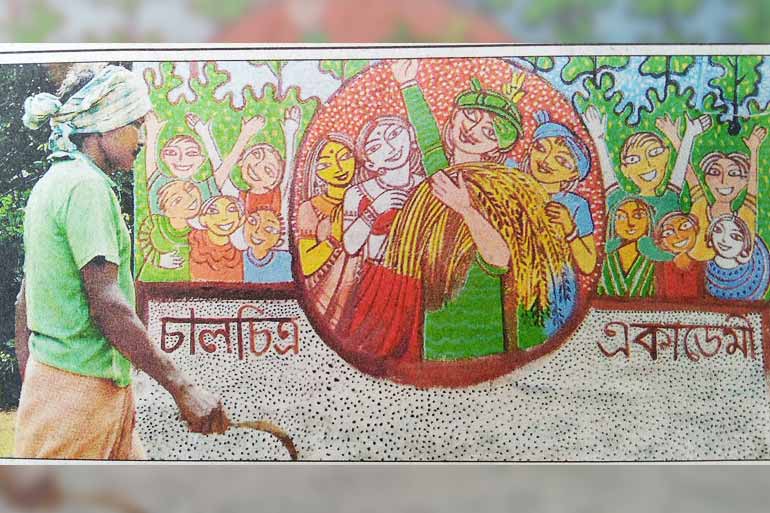 Wall mural after the Agriculture Bill withdrawal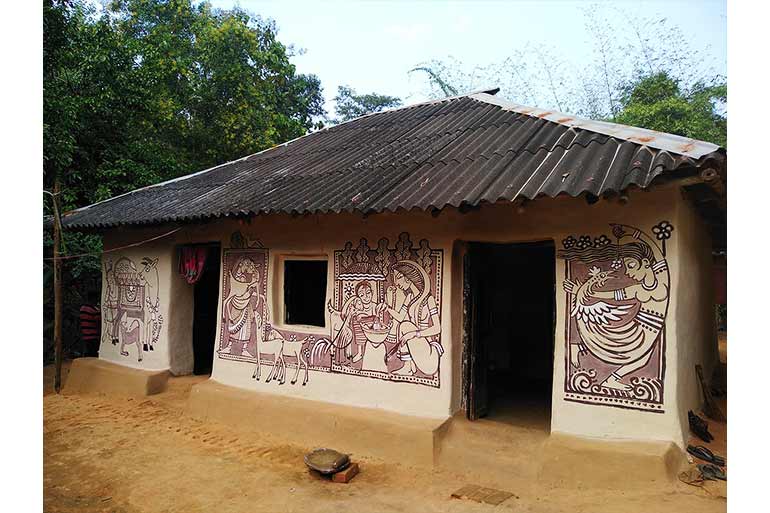 Mrinal has been continuing this work for five years and has faced many hardships. On his future plans, he said, "We are an art collective, we have ideas and equipment. The infrastructure is required to think on a large scale and we do not have that. We had started working 5 years ago by raising money ourselves but after 5 years we have not got any big help. Most people visit and appreciate the work. Initially, I did not think of selling the artwork, but as more and more people started visiting, they liked their work and wanted to collect it. It was then that the selling of these products started. However, selling these artifacts does not provide the minimal financial resources required to manage the whole thing. Every year the old paintings need to be removed from the walls and new pictures need to be painted and a lot of money is spent on that. Every year tons of people visit Khoabgaon and praise the artworks, there is a cost of their maintenance. Besides, there is only one way in and out of this village. Instead of a road, two years ago Khoabgaon was given a Work Training and Exhibition Centre. If everything goes well, we are planning to start a residency in Khoabgaon to provide work opportunities to art students and emerging artists. I am talking to some enthusiastic people and I want to work with ceramic art as well in the future."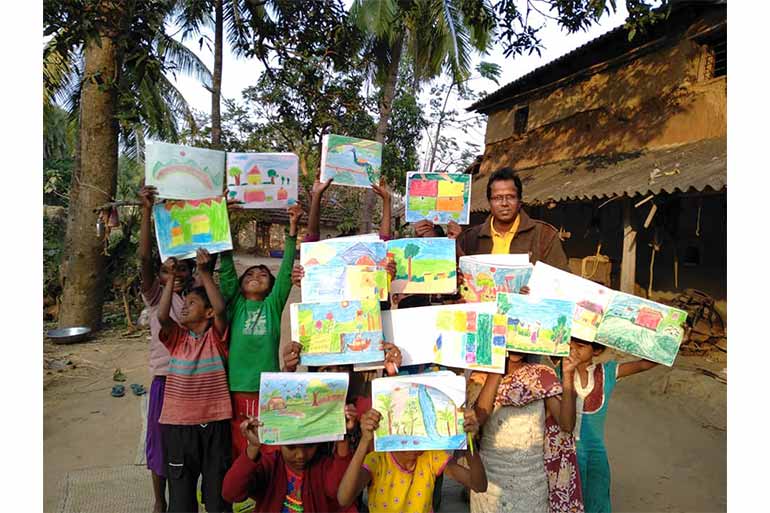 Mrinal Mondal with the kids
The drawing school which started with 15-16 students in 2018, now has around 150 kids who are being trained free of cost. Adjacent villages also were inspired and started taking skill training. The vision behind Khoabgaon is spreading fast. "We had created a model based on our capabilities. This was a site-specific work, an interaction with the population of a certain community. We have done research and they have also benefitted from it", Mrinal Mondal added, "For me, people here have benefited the most emotionally. They all belong to the Lodha-shabar community, which had been tainted by the British as a 'Criminal Community' in Indian Law. Everyone had to report to the police station every day. 6 or 7 years ago, they did not want to meet or come across any stranger. They used to hide. Today they have become smart and skilled. They can communicate. I think this project helped to boost their self-confidence. After being associated with art for five years, even if they continue this work or do some other work, their changed mindset will be reflected everywhere. A child has started sculpting anthropomorphic figures of Gods and Goddesses. I think, in this way, a healthy social-emotional-artistic mindset can be created among many others. The "Khwab" or dream of Khoabgaon will come true."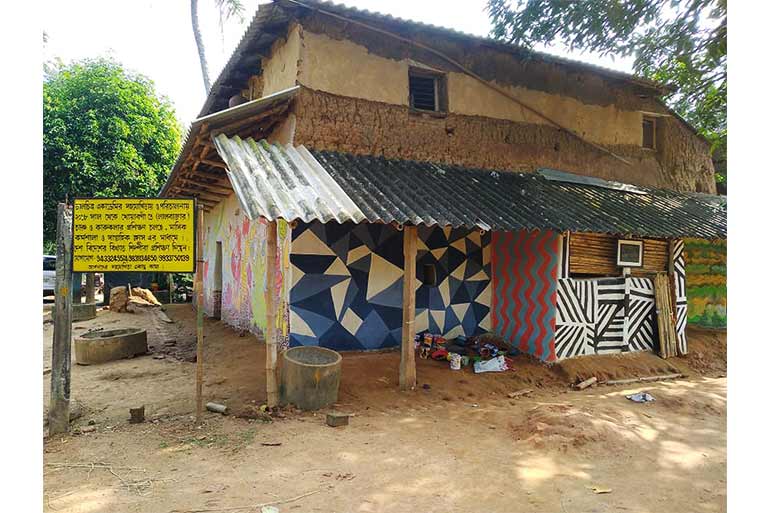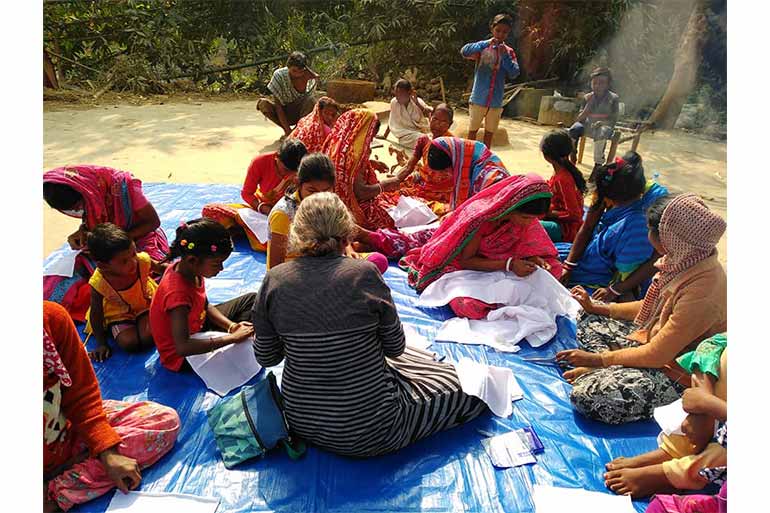 Mrinal Mondal requests more and more people to join this program. They have taken this huge initiative without any help from public or private institutions. Those who wish to support Chalchitra Academy with this program can contact Mrinal Mondal on +91 9433245574.