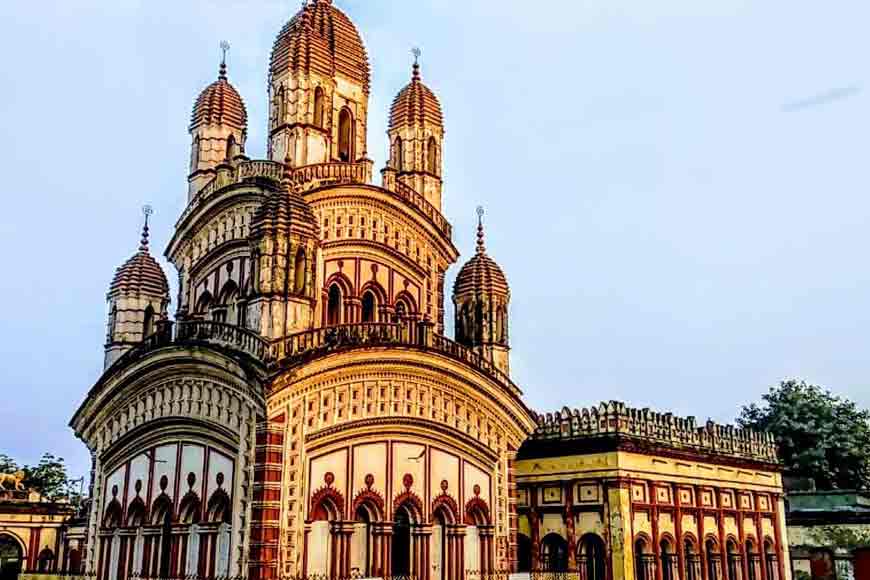 Only 20 years after the Dakshineshwar Temple came up, there was another identical temple built in Barrackpore. They looked the same, only the deities were different. The Annapurna Temple at Barrackpore is a lookalike of the famous Dakshineswar temple built by Rani Rasmoni. This famous Annapurna Mandir was commissioned by Rani Rashmoni's youngest daughter Jagadamba. Incidentally, Ramkrishna Paramhansa was present at the inauguration of the temple on April 12, 1875. Jagadamba Devi was married to Mathur Mohan Biswas. The majestic temple stands on the Rani Rashmoni Ghat.
While the idol of Maa Bhabatarini at Dakshineswar is made of koshti pathar, that of Annapurna at Barrackpore is of asta dhatu, primarily gold. The Annapurna temple also has six Shiva temples. The story goes that Jagadamba was forbidden in her dreams not to aspire higher than her mother. So, she let the number of Shiva temples remain at six, because Dakshineswar has double the number of Shiva temples.
The giant lion guarding the entrance of the Annapurna temple was once in the centre of a huge row with the local British administration insisting that it had to be removed because it was a symbol of the Empire. A legal battle ended with the court verdict that it is an art form and it would remain. If you are planning to make a trip to this temple today, then take the BT Road, till Talpukur bus stop. From there walk down to Rashmoni Ghat.