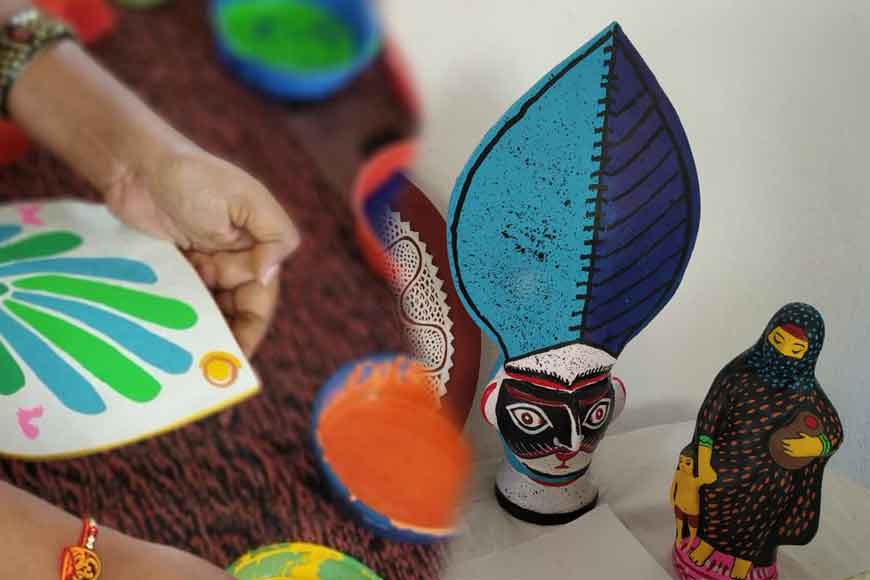 Shubhankar Das is an M.Phil scholar from Jadavpur University, scrawler and a stargazer
Some journeys are unique. Just like the journey of Chalchitra Academy. To understand exactly how and why the lesser-known patuās of Bishnupur and Medinipur flourished even before Paul Gauguin could etch his magic with his first impressions on the plains of Tahiti, one needs to know how Chalchitra Academy unfurled its existence. Art needs to be honest travelling along a rustic tapestry, that speak of the toils of ordinary man. From 1995 to 2015 this journey stood upon an intimate understanding of the utter simplicity of hues, textures and forms. Away from the cogs of urban alienation, the voyage of artist Mrinal Mandal and designer Jayati Bannerjee took them from Government College of Art & Craft into the world of pata, dokra and a tapestry of dolls and masks. A voyage into the roots of the lokaja, before they could even dream of organising workshops to impregnate our urban nightmare with dreams of the poignant macrocosm.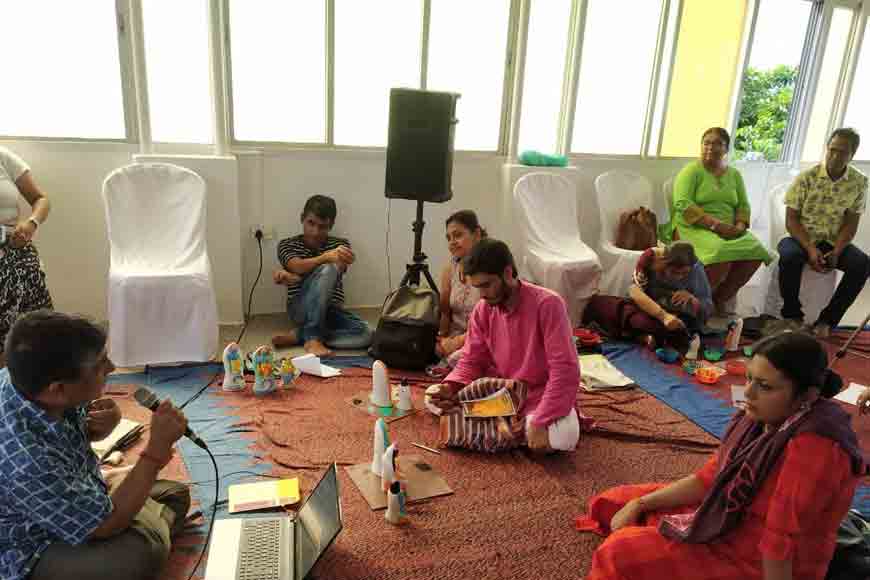 Ongoing-discussion-on-Babu-Putul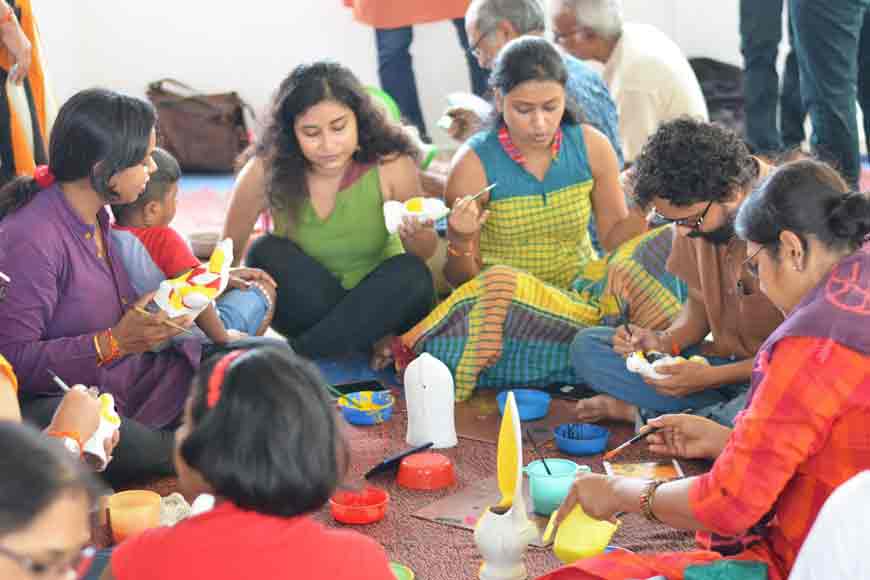 Art-enthusiasts-in-workshop
lokāyata in form and content. They were different from similar dolls of Krishnanagar, and instead of suffering any confinement in structural nuances, Kalicharan's legacy absorbed a million nuances of the fringes. Thus blossomed figurines of Dakshin Rai, Kalu Rai, Banabibi, Kaliyadaman, etc. Today his tireless creativity stands in a continuity of the 8th generation, epitomised in 1986 when his descendant Manmathanath Das won the "National Merit Award."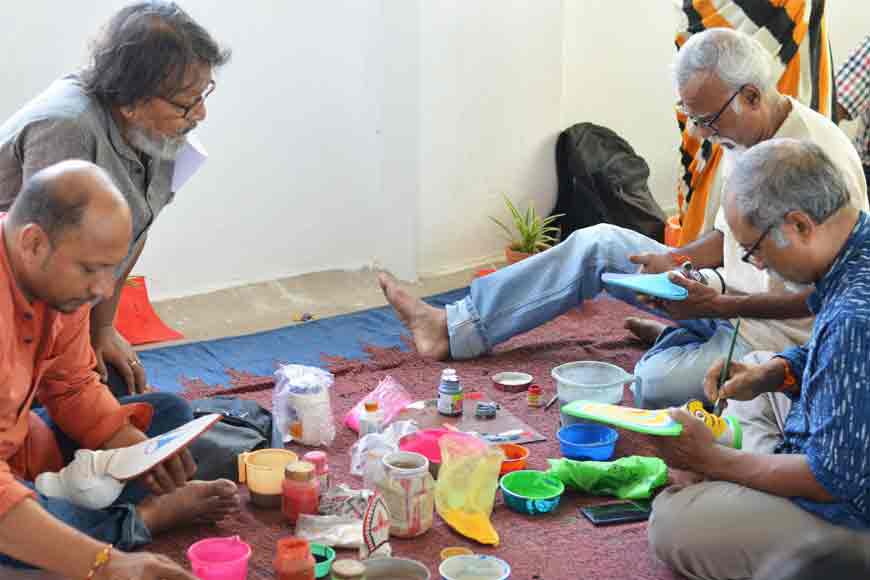 Artists-in-Chalchitra-Academy-Workshop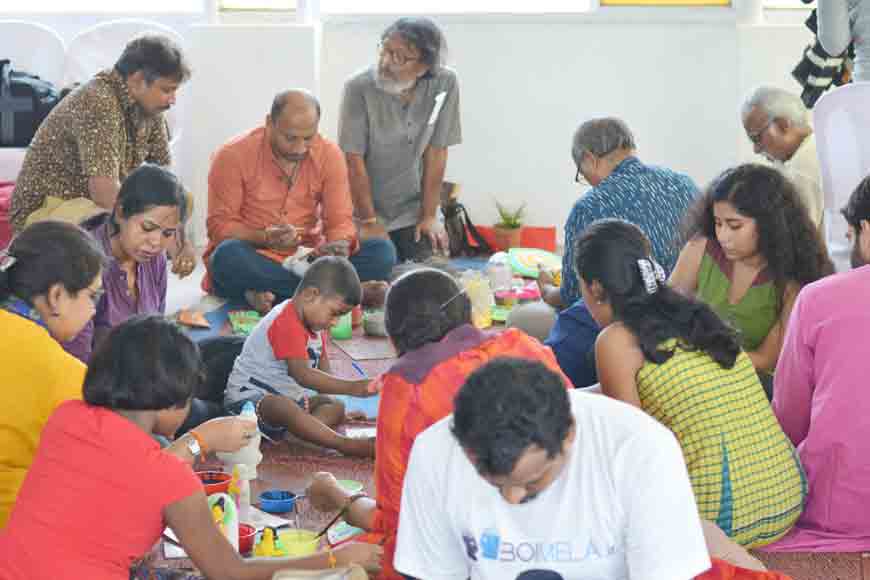 Participants-busy-in-workshop
But, just as our earth is suffocating on plastic, so are the dolls and their makers. To highlight this exquisite art form, Chalchitra Academy has taken up the reins of public discourse and recently organised a workshop on Babu figurines. Conducted ably by Shambhu Nath Das and Gautam Das, the maestros and inheritors of Kalicharan Das's legacy, the workshop included 32 artists including Pradeep Rakshit, Soumen Khamarui, Samir Dutta et al. Art historian Debdutta Gupta spoke on the history of Babu-putul and the similarities between the traditions of pata-painting of Kalighat and Majilpur. As society merges with its own heart of historicity, as roots of Harappa and bronze-age Rarh merge with the Tepa and Hengul statuettes of rural Bengal, traditions of simplicity emerge hand-in-hand with figurines of a redcoat British police and a burqa-clad bibi astride a horse. Or a drunken Babu and his wife stand beside a "gorā sāheb" and his "mem." Somewhere a Babu proudly twirls his walking-stick into the melancholy of another.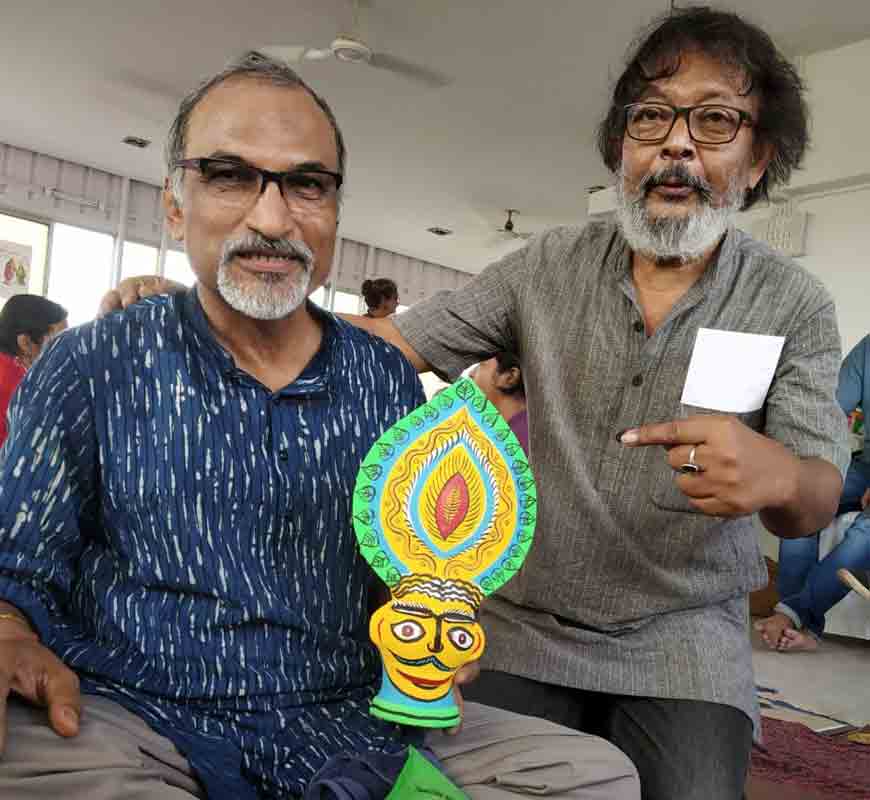 Samir Dutta(Left) and Chayan Roy(Right)