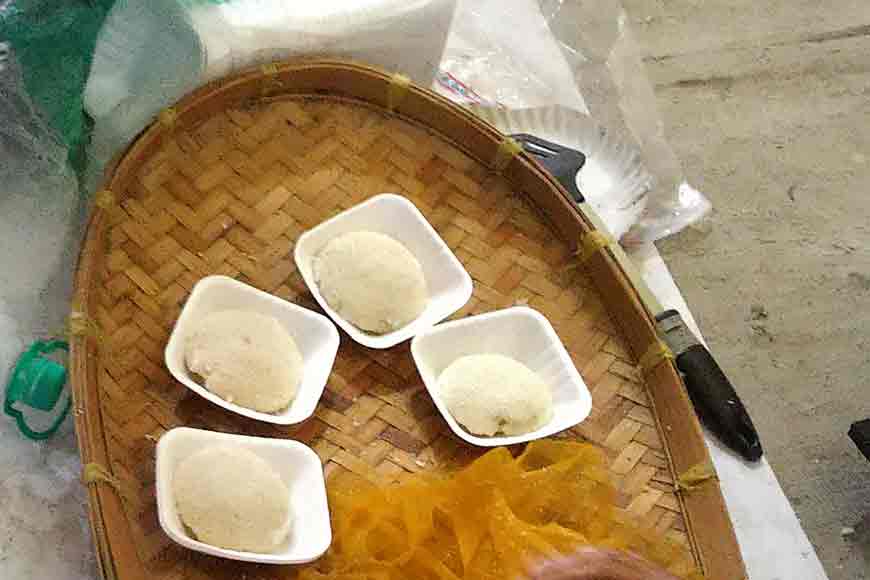 Poush Parbon has been an intrinsic tradition of Bengal. One of the major reasons to embrace winter is this festival. At the onset of winter, this festival was once celebrated in every part of Bengal where the female members of the family came together to make delicious sweet items made of sweet potato, milk, sugar, palm jaggery, coconut milk and a lot more. The taste of nolen gur makes the sweets more palatable. And those delicious pithe made by our mothers and grandmothers have always been a hot favourite with all. But with the passage of time, the art of pithe making has dwindled. Hardly anyone has the time to invest so much labour in this craft. However. much to our relief, Ahare Bangla - the ongoing food fair at Newtown Mela Ground, features a noteworthy section called 'Harie Jawa Pithe ' (lost pithes of Bengal) in the sweet section called Mishti Bangla.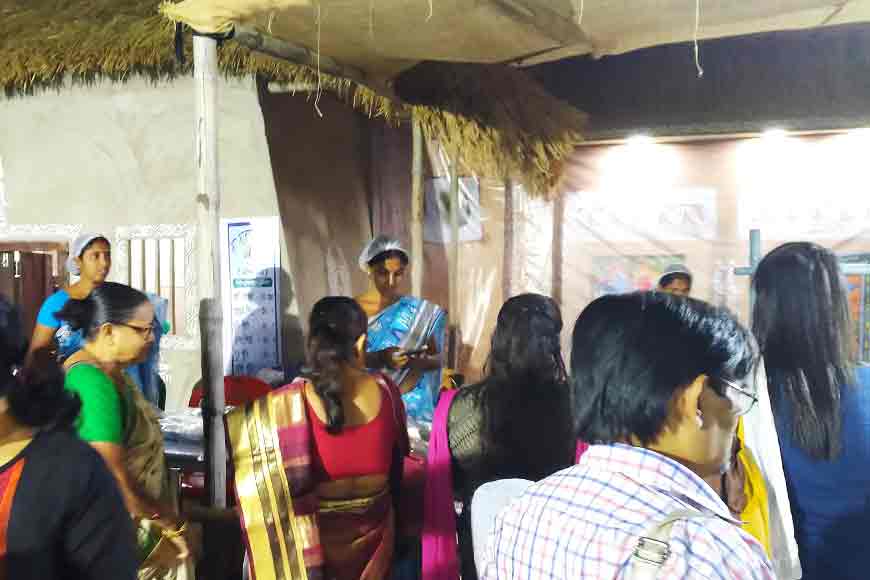 Crowd at the pithe stall
'Harie Jawa Pithe' aimed at helping to bring the delicacy on the plates of the next generation, many of whom might not have even tasted these sweet dishes. Maa Sarada Gosthi of Kushberia of Nadia set up a stall run by women who undoubtedly offered best quality of pithes. They made the delicacy fresh infront of buyers, instead of selling stuff made in advance. These little bundles of gastronomic relief will take you back to your childhood days when every household kitchen of Bengal exuded the overwhelming aroma of pithes. The list sold in this stall includes mouth-watering patisapta, choshi pithe, gokul pithe, malpoa, sara pithe, bhapa pithe, dudh puli, bhapa pithe and bhapa puli.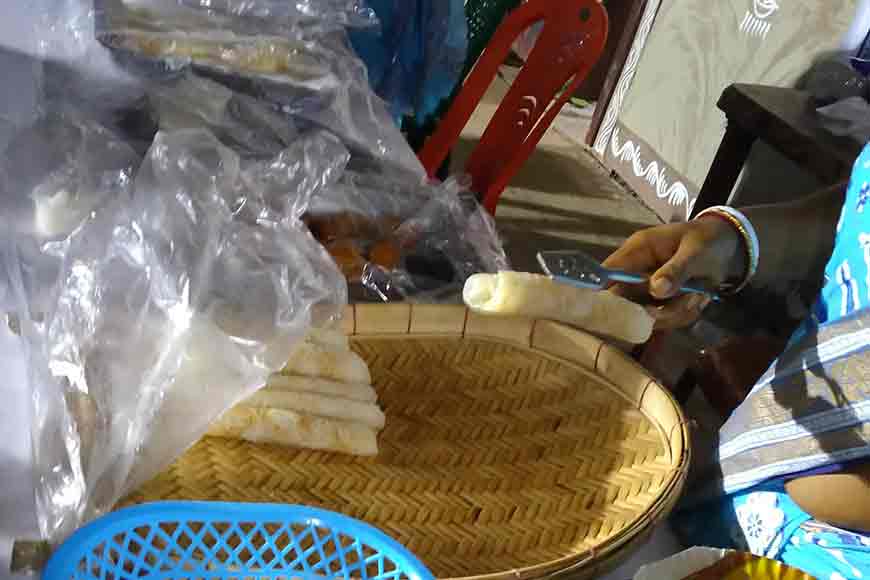 Patisaptas being served
"It feels great to see that pithes that were once restricted to individual kitchens are now delicacies sold across stalls appealing to a global community. These recipes have been passed from one generation to the next. In contemporary times, most have not been able to carry on this legacy with grace due to countless reasons like busy schedule and dearth of time. The pithes here are irresistible. Bhapa pithe, especially is like a delight to the tastebuds. It reminds me of the pithes that my mother used to make for us," said Arjun Bagchi, a Chartered Accountant who had come to taste these delicacies all the way from Ganguly Bagan.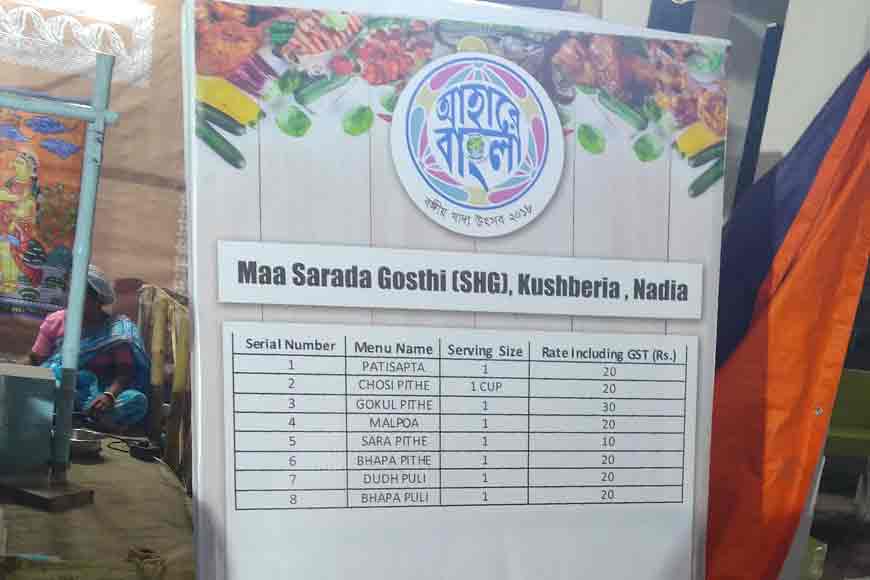 The items available at the stall
Meanwhile, Gita Ghosh seemed to be ecstatic. "Pithe is a part of our culinary heritage which is almost a lost glory owing to the cosmopolitan culture. We must hold on to this culture and not let it fade away with time. I loved the gokul pithe. My son who does not love sweets otherwise is simply fascinated by the concept of pithes. He has almost tried every kind available here and I intend to do the same," she said.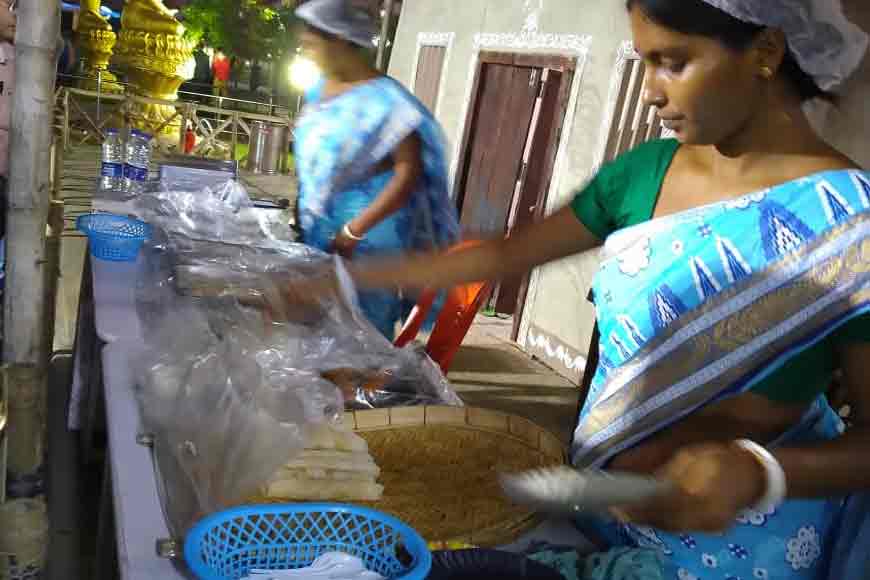 Women at work
True, these sweets are not just sweets. Bengal's pithes are labours of love, that women of this state have given a form of intricate art. So, do not miss the pithes at Aahare Bangla.