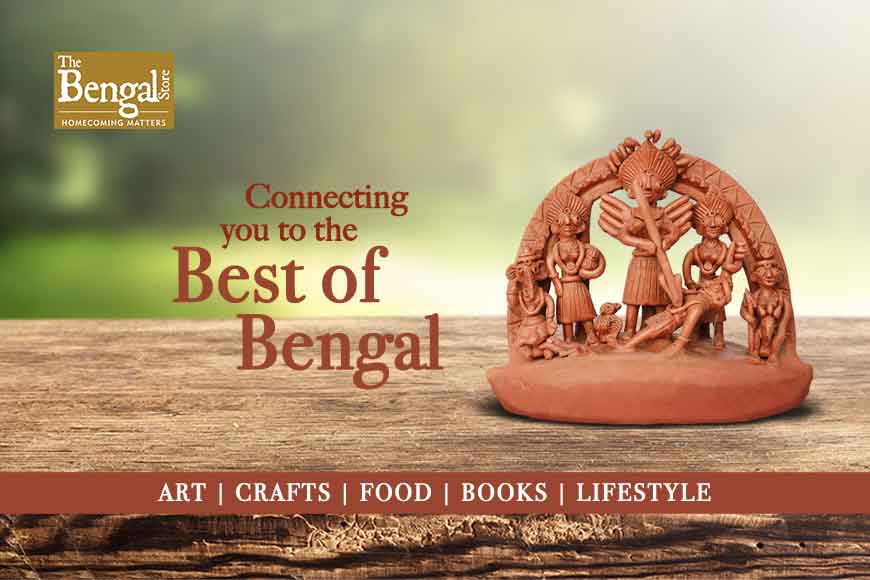 It seems monsoon clouds have not just brought rains to Kolkata at last, but a new message from the land of Bengal to everyone across the globe, who love this land that has welcomed all down centuries! The Bengal Store, the newly launched E-commerce venture is here to pamper your love for Bengal. Did you ever yearn to possess that basket full of colourful clay fruits that someday your mother bought from the Rather Mela and you as a child thought they were real, almost nibbling at that clay apple or banana? Did you ever wish to gift your child a range of Heem putul and terracotta dolls of Krishnanagar, instead of a Western Barbie doll, but never knew where to buy them from? Did you ever want to make pulao and payesh with lost varieties of rice from Bengal laden with nutritious minerals? The Bengal Store is here to enliven your memories, make your dreams come true and help your next generation lay hands on indigenous art and craft of Bengal where their forefathers lived and the land you adore. After all, Homecoming Matters.

The Bengal Store has an eclectic mix of a plethora of products from Bengal. Exquisite art that you can admire on your walls, be it the 19th century woodcut work of Battola, Kalighat to modern art created exclusively for The Bengal Store by rising artistic talents of Bengal. Ceramic pots and pans, suited to your need and fancy. In an endeavour to keep alive rural crafts that are fast dying due lack of funds or craftsmen who are taking up other jobs, the store sources exclusive rural crafts from different districts of Bengal. From clay toys, to terracotta dolls, Heem putul, Shiva masks and Clay Fruit baskets, carry them as a gift this Puja and you also carry the scent of this soil along with them.
The Bengal Store also hires weavers to make eco-friendly bags and totes, that are trendy yet environment friendly. Farmers grow lost varieties of paddy for the store and you can taste them too with recipes attached to them. How about some boiled rice mixed with Bengal Store's organic ghee, the celebrated superfood? Or support the honey gatherers of Sunderbans, who take enough pain to send unprocessed honey to take care of your immune system and turmeric that has anti-cancer properties. None of them are laden with the poison of pesticides and fertilisers that you are forced to consume everyday.

And if you have a bit of leisure, just browse through The Bengal Store's book section. For the first time exclusive Visva Bharati books will be available online along with some rare publications that you get nowhere in the market. The Bengal Store promises to connect you to the Best of Bengal. So, come and enjoy the varied flavours of the soil.