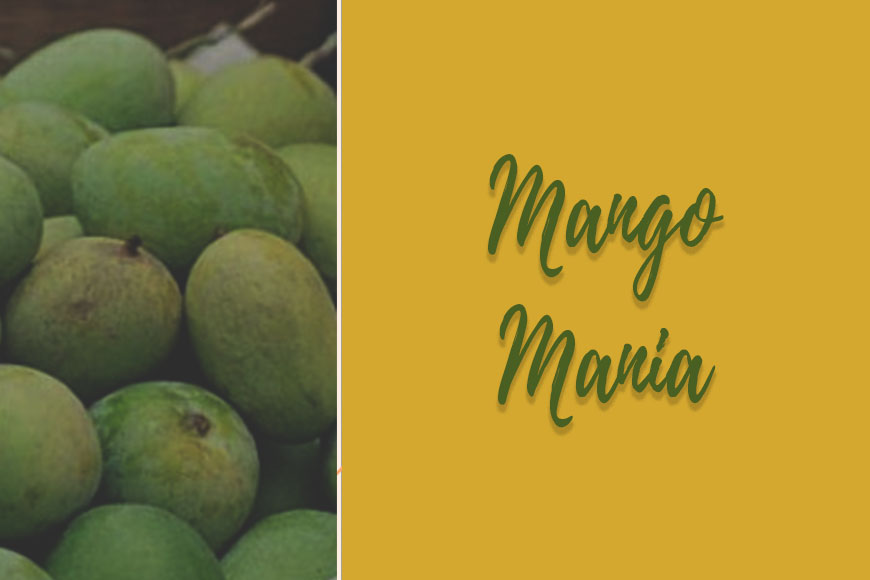 There is something irrationally annoying about Indian summer in the plains. The never-ending season, the excessive, oppressive heat round the clock, the discomfort of stinking bodies bathed in sweat and grime… well, the list could just go on and on but then there is only ONE redeeming feature of Indian summer: Mango --- the king of fruits, the divine food of the Gods.
In ancient India, specially in Bengal, the ruling class used names of mango varieties to bestow titles on eminent people. The mango tree was also associated with the god of love "Manmatha" and its blossoms were considered to be the God's arrows by the Hindu Nanda kings. It was during the Nanda rule that Alexander arrived in India and fought the famous battle with King Porus. When it was time for him to return to Greece, he took with him several varieties of the delicious fruit. With the rise of Buddhism in Eastern India, mangoes came to represent faith and prosperity among the religious followers. In fact, mango is considered a sacred fruit because it is said that Buddha himself meditated under a mango tree and it is also said that the Buddha created a white mango tree which was later worshipped by his followers.
Mughal patronage to horticulture led to thousands of mango varieties that were grafted, and the mango orchards of Murshidabad and Malda still present several of those varieties. Over the ages, the mango became a household fruit. Legendary Urdu poet Mirza Asadullah Khan Ghalib was a mango aficionado who despised people who didn't share his 'passion' for the fruit. Bengalis are extremely fond of mangoes and take every opportunity to give a twist to the fruit and create unique, exotic dishes. Let's take a look at two popular traditional mango-based dishes --- Aam Kasundi and Aaam Sandesh.
Aam Kasundi: You all must be familiar with the quintessentially Bengali Kasundi or mustard sauce which is a pungent paste of mustard seeds, spices and mustard oil, which is an essential condiment for most Bengali snacks like chops, cutlets, rolls, Moglai paratha etc. Although 'kasundi' is easily available in the markets, traditionally preparing 'kasundi' was an annual custom followed in most Bengali households. The term Kasundi was actually used for a type of achar/pickle and was not necessarily only the sauce that we know it as today. ('Achar' comes from achaar, meaning ritual). And kasundi was the king of all pickles in Bengal, which, if stored under the right conditions, remained edible for almost 20 years.
The rituals surrounding the making of this kasundi were long and tedious. It began on Akshay Tritiya, in the month of Baisakh (mid-April), with the pounding of the mustard seeds into a powder. It took more than a week to make, and the process included sunning the pounded seeds for two to three days at a stretch.
Recipe for Aam Kasundi
Ingredients:
Black mustard seeds- 4 tbsp
Yellow mustard seeds- 4 tbsp
Raw mango- 500 gm (grated)
Garlic- 8 cloves (this was a later addition and not part of the traditional dish)
Green chilli- 3
Mustard oil- 1.5-2 cups
Salt- as per taste
Sugar- 2 tbsp (you can add more or less depending on the tartness of the mangoes)
Method:
• Soak both the yellow and black mustard seeds in water for 40 mins-1 hr.

• Strain the mustard seeds after 40 mins-1 hr and keep aside.

• In a blender add the grated raw mangoes, soaked and strained mustard seeds, garlic, green chillies, oil and the sugar and blend to make a paste. Keep half cup mustard oil for later use.

• Now take the paste in a glass jar and add the half cup of mustard oil (that was kept aside) on it. Mix well with a clean and dry spoon.

• Now cover the container with a clean cloth (preferably cheese cloth) and keep in the room for a week. Do not place the container under direct sunlight
.
• After a week, open the cloth and mix salt to the sauce.

• Now close the lid (not cheese cloth) and store the aam kasundi in the refrigerator. You can store this mango-mustard sauce for 20 days to one month.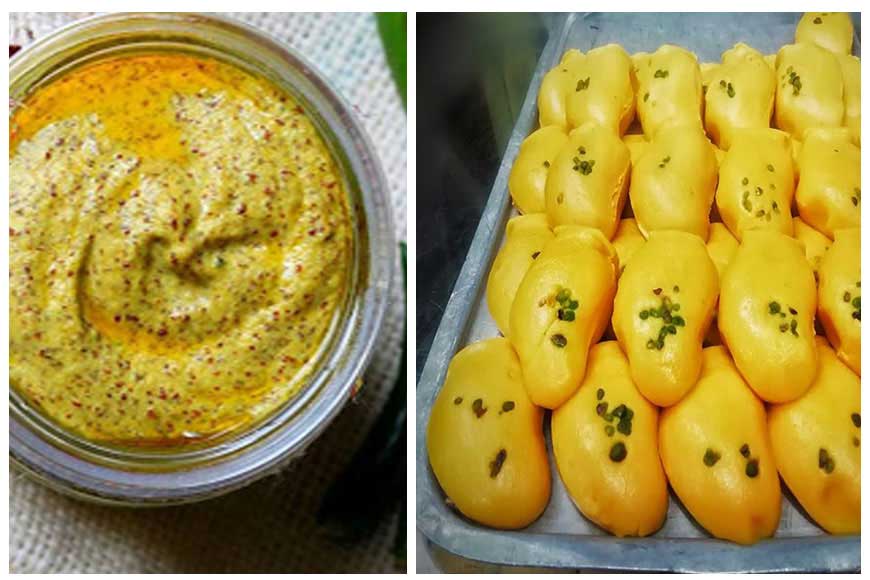 Aam Kasundi and Aam Sandesh
Aam Sandesh
Mango sandesh, is an-easy-to-make delicious, traditional Bengali sweet made with fresh chenna, sugar and mango puree. This melt-in-the-mouth, classic Bengali dessert has the infusion of two ingredients, chenna and ripe mango pulp.
Recipe Method:
• Heat 2 litres of milk in a heavy-bottomed vessel and it to a boil. Reduce heat to low and very slowly add whisked curd and keep stirring continuously.

• The milk will begin to curdle and milk solids start forming along with a thin liquid called whey. If the milk is not curdling after adding the entire curd, add 1-2 tbsps of curd to curdle it. Turn off heat.

• Immediately add 10 ice cubes to the vessel to stop further cooking of milk solids. Allow to rest for five minutes.

• Take an empty vessel and place a sieve over it. Cover the sieve with a wet muslin or cheese cloth and pour the curdled milk into it. The whey will collect at the bottom of the vessel and the curdled milk solids (called chenna) will remain on the top. Pour 2 to 3 cups of water over the chenna to wash off any sourness that it might have. Bring the edges of the cloth on all four corners and gently squeeze the milk solids (chenna) once or twice so that excess liquid is removed. Tie a knot and hang it for the excess liquid to drain. Set it aside for at least 45 minutes. Your chenna will now be ready for the next step.

• Put the chenna on a wide plate and knead it gently for at least 8-10 minutes till it forms a smooth mixture. Add powdered sugar and cardamom powder and mix well to combine. Next, heat a wide pan on low flame, add the chenna-sugar mixture along with mango puree and mix to combine well. Cook the mixture on low flame stirring constantly to remove the moisture in the chenna-mango mixture.

• Once the mixture turns dry ie it should have a very soft, dough-like consistency. Turn off heat and remove it onto a greased plate or thali.

• Allow the mixture to cool slightly so that you can shape the mango sandesh into smooth small lemon sized balls using your hand and flatten lightly. Place chopped nuts of your choice or a whole pistachio in the center. Alternately, you can make a small dent in the center and place mango puree in it. You can serve it at room temperature or place in the fridge for a few minutes and serve chilled.
Story Tag:
Bengali Cuisine, Mango Dishes