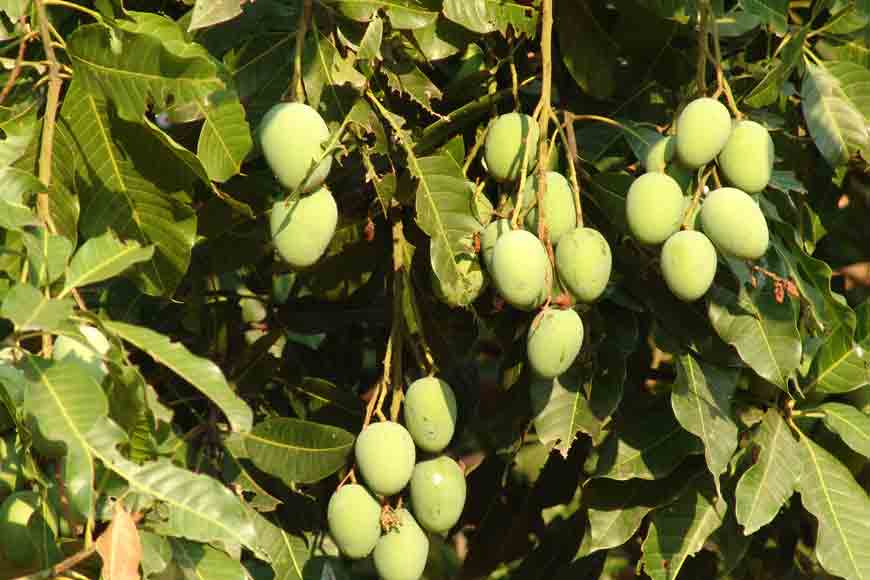 At 62, Pijush Kanti Saha of Katwa is all smiles. This super energetic retired school teacher and botanist has finally reaped the harvest of his hard work and dedication! He has grown as many as ten different varities of mangoes on the same tree!
Yes you heard it correct. He has experimented on a full grown mango tree and this year it has ten different varieties of mangoes growing on it! Just imagine your favourite mango varieties including Himsagar, Lyangra, Bombai, Amrapali, Rani, Jardalu, Gulabkhaas, Mallika, Chausa and Chandankhas, all hanging from the same tree! Even the tree has a variety that grows all year round. So whatever be the season --- summer, winter or monsoon, you can have mango chutney, mango pickle or any dish laced with a dash of mangoes plucked from the tree.
Pijush babu has been experimenting with this tree since last 4 - 5 years. This is for the first time that all ten mango varieties have grown together. He has been a primary school teacher and is also a winner of President's Gold Medal in 2012. Being a nature lover, he spends most of his time with trees and loves experimenting with them. He had a Himsagar mango tree in his courtyard that was almost 16 years old. It is on this tree that he started experimenting through several asexual methods, like stem cutting, gutee etc and finally came up with a tree that had 10 different varieties of mangoes.
He had been to different nurseries in his area and realised mango trees grown in these nurseries often die after one season. So he decided to experiment on his own tree that was already 16 years old and sturdy. He went to a relative's nursery and learned the art of mango cutting. He wanted to find out how many varieties of mangoes can be grown on one tree. There are many varieties that grow well in one year and do not give enough harvest the next year. But because his tree has 10 different varieties, he will get to eat his mangoes all round the year. For this botanist growing so many mangoes successfully is a treat and he is happy. He has already started thinking of growing more varieties of mangoes on this tree, including alphanso. The very idea of an Alphanso and a Himsagar growing on the same tree is quite incredible.
Best part is Katwa's block agricultural officials are also upbeat about this tree. They feel this model can be taken up by mango farmers across the state and they can come up with such trees on a larger scale that would help Bengal to harvest different varieties of mangoes all round the year.