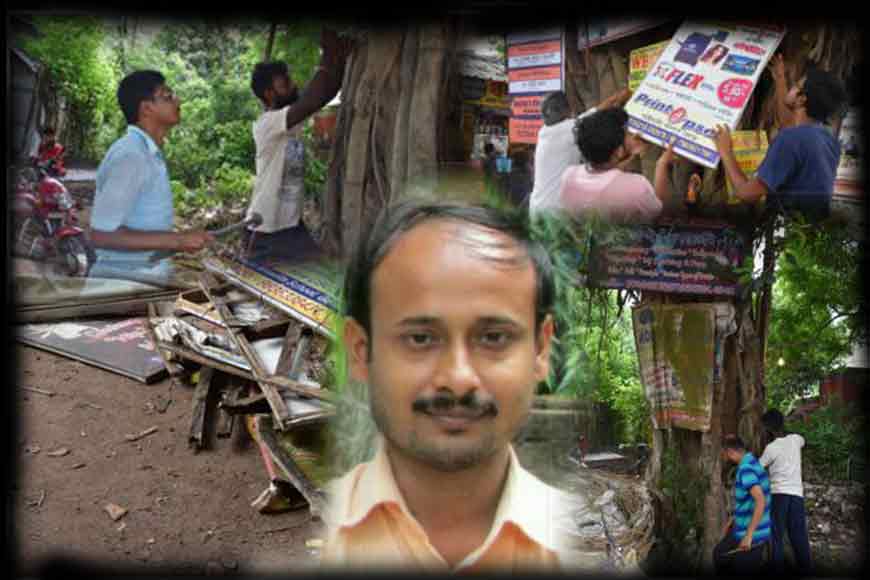 While moving around the city, do you often realize that the trees around us are struggling to breathe? The overabundance of advertisements is choking them to death. Trees are being subjected to inhuman torture, with hard nails being dug into their barks to put up these advertisements. The KMC is set to bring in a new law to stop this. But even before they thought of doing so, there was one man, who tried to bring out these nails single-handedly. And he was Manik or Biswajit Ghosh, a resident of Gobardanga whose only mission was to pull out all nails and posters from trees and give them a new lease of life!
Manik was a tree lover since childhood. The plight of trees would make him cry, specially when people would cruelly dig the nails into the barks. He felt sorry for the trees covered with wires and nails. Soon he set on a mission. As soon as he came across any tree with nails and posters, he set out on his cycle, removing them and nurturing for the wounded trees. But Manik was well aware that this cruelty on trees was a harsh reality that was prevalent everywhere. It was difficult for him to be the voice for all the trees singlehandedly. He took the help of social media to raise awareness among people and opened a group called 'Swapner Shohor Gobordanga.' Several people joined his noble mission.
On July 1, Manik and a huge group of people gathered on the roads to protest strongly against the inhuman torment inflicted upon trees. They removed all the signboard, posters and banners from trees near Gobardanga station and other nearby areas. Most importantly, this love for trees was not only confined to one day, they will do this drive on the last Sunday of every month along with afforestation. Manik's slogan is 'Perekh noi gachh poto' and has also requested school students to collect seeds of various fruits. They have also appealed to the Gobardanga municipality to form a council for protection of the environment. Hope we have many more people like Manik to take up the cause of trees.