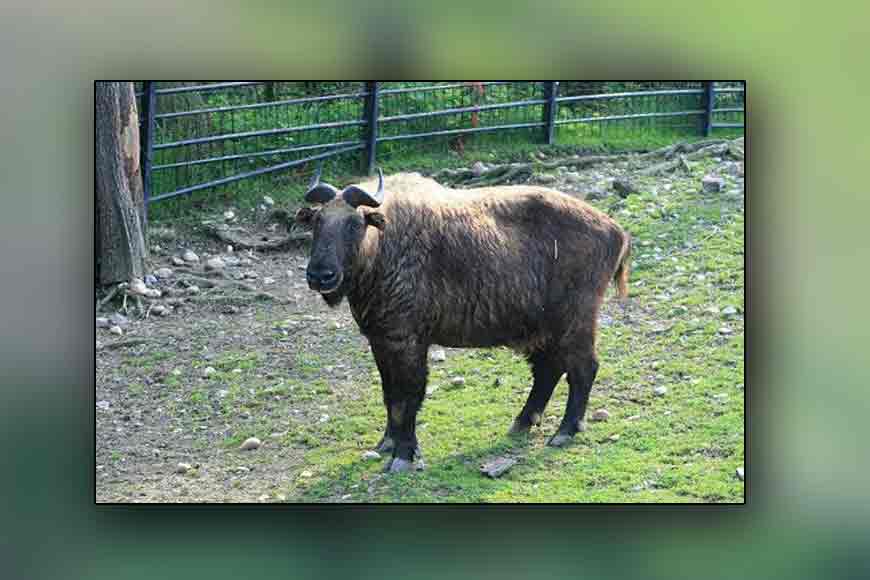 There is a folklore about Mishmi Takin which says, "One day, the Forest God, Golo, came across an odd stone. Seeing no use for it, he threw it down on Earth. Man found the stone and chiseled it till it started looking like an animal. When Golo saw the chiseled stone, he infused it with life and wanted to take it away. A tussle ensued with Golo grabbing the animal by its horns and Man pulling its tail. Soon, the tail broke off and God took away the animal by its now twisted horns. Since then, the animal, Takin, has been living far away from man in remote jungles, high up on the slopes of Himalayas.
Mishmi Takin, is a subspecies of Takin which is primarily an endangered species today. Padmaja Naidu Himalayan Zoological Park of Darjeeling is one of the first zoos in the country where Mishmi Takins will be seen. According to the state forest department, five Mishmi Takins from Berlin has been sent for the Darjeeling Zoo. They all have wonderful names --- they are called Charles, Danny, Rock, Claire and Ramona.
Padmaja Naidu Zoo has a historical significance and is an important tourist centre of Darjeeling. Mishmi Takin belongs to a temperate country and therefore has to be kept in a mountainous environment. The youngest of the five takins is Charles. He is just seven months old. Claire and Danny are 2 years old while Ramona and Rock are just one year old. Takins have various names in different countries. It is the national animal of Bhutan where it is known as 'Dung Ghem She.' These animals reside in altitudes between 1000 ft - 5,000 ft and feed on bamboo and mountain grass. In exchange of five Mishmi Takins, the Darjeeling Zoo has given two red pandas to Berlin Zoo.