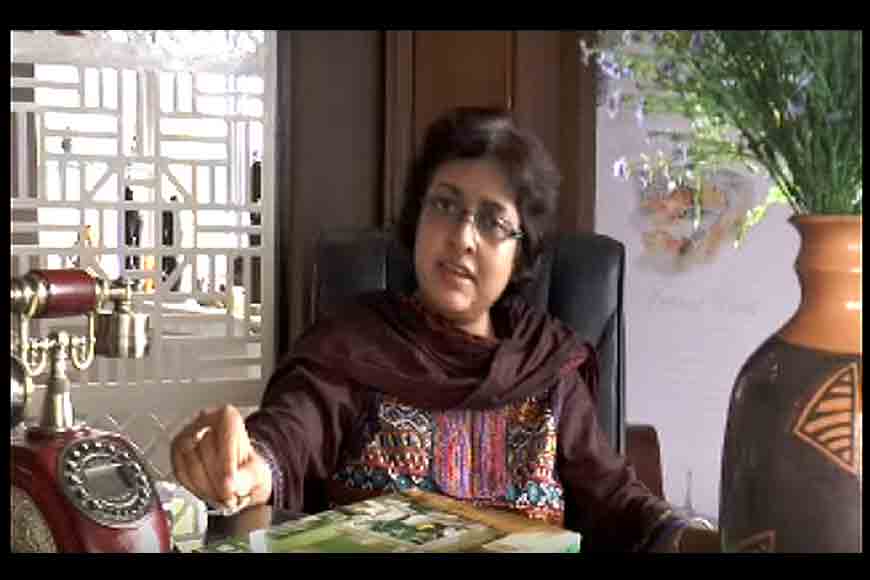 • When did you first start your interior designing firm/ business? And why?
I started my interior designing business in the year 2009. I did my post-graduation from the world-famous Institute of Interior Design, London in 2007 followed by internship in renowned interior design firms of United Kingdom. Before that I used to work in National Museum Cardiff, where I came in close contact with the famous paintings and artifacts of renowned artists and sculptors. That experience motivated me to choose a career in Interior Designing.
After a stint of twelve years in UK, I came back to India with my family. As I always loved decorating my own house, I wanted to share my experiences and passion with others. That's how I started my own firm Reality Design and providing services to clients.
• What drew you towards a profession that is usually not a Bengali's domain, and that too of a Bengali woman
Since childhood I was always attracted to colours. I used to spend time with oil paintings and water colour, though I never had a formal training in art. Later, that creative streak took a different turn when I started doing software designing and web designing, for ten years. From there I went on to interior designing. Staying in UK came as a boon, as I could explore various stores and countryside fairs for ideas.
I strongly believe women are the best for this kind of profession as it is easier for them to understand the aesthetic needs of a home. Every woman has got an instinctive flair to make their own house beautiful by using simple decorative items. These days many young women are opting for this profession.
• Where did you live before relocating to Kolkata. Why did you wish to relocate?
After my post-graduation in Computer Science, I got married and moved to UK with my husband who is a doctor. I lived there for twelve years and stayed in various places like London, Yorkshire, Kent and Cardiff. I had an opportunity to work in the National Museums of Wales (total 7 museums all over Wales) for four years. It was an experience, which enriched my knowledge in Art & design.
• How has Kolkata treated you at the business front? Are your clients from the city?
Well, like any start up business, it was not easy in the initial stage but gradually, I came to know the best and right places to acquire common designing materials. Unfortunately, unlike other metros, Kolkata has limited options, so at times I have to be innovative to overcome these shortcomings. One example, I had to design furniture myself as many options were not available in the early days.
Most of my clients are either non-resident Indians or their families living in other parts of India. These days many residential complexes are coming up in Kolkata and many people are buying apartments. It is also true people do not mind spending money to decorate their house now. That's why the scope and opportunities are there in the city.
• What is your difference as a city interior designer?
I work with different clients, local on non-resident Indians and foreigners too. Most of them do their homework before consulting me. I have got steady flow of clients as most NRIs can easily relate to my designs. My stay in UK helps me understand their need and taste. Overseas clients want to have similar kind of designing, finishing & comfort as abroad and they are very particular about finishing of any product. And there I stand separate from others as my training and experience from UK institutes help me to overcome that challenge. I have done few projects in Santiniketan, as I find blending of traditional with contemporary designs are quite challenging.
• How much potential do you think Bengal or Kolkata has, as an interior designing hub?
I think it is a long shot. There is huge potential and extremely good scope for doing innovative work, but people need to be more professional. Many of my clients had bitter experience with other Interior Designers due to lack of communication skills and poor after sale services. One should never try to push one's own ideas and products, rather they must give a patient hearing to the clients.
• What is your suggestion to budding entrepreneurs of Bengal?
Have seen the best of both worlds and I believe budding interior designers need to focus on quality product and client satisfaction. There is a tendency to manage with poor quality craftsmanship and to get maximum profit in short time. That does not give long term success in this profession. In our world, word of mouth is very important for long term survival.
• What do you think can be done to develop Bengal's start-up business scenario?
These days there is less job opportunity everywhere. So, people are getting more interested in business. Various loans are available to help you out financially. There are many initiatives from Government as well. First and fore most criteria should be, you should love your job and try to improve all the time. Nowadays, lot of courses are available online, so lack of learning material cannot be an excuse. Every business should have set goals and work it out how you can achieve that.
If you wish to contact Urvashi, get in touch with her at:;