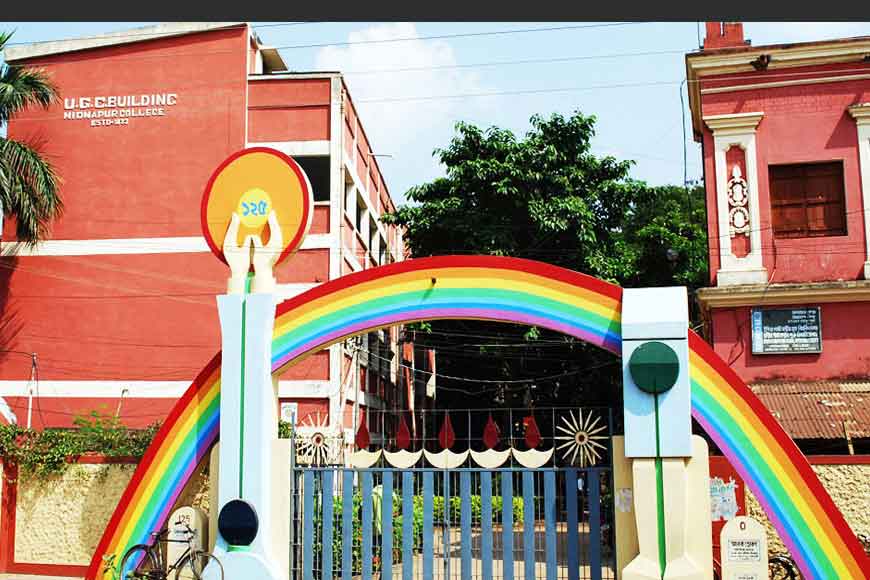 While, Kolkata's St Xavier's College bagged the top ratings from the National Assessment and Accreditation Council (NAAC) this year, a government college of West Midnapore has also made it to the prestigious list. Midnapore College established in 1873, is the oldest college in West Midnapore district and has been given autonomous status by University Grants Commission in 2014-2015 session. It is only the fourth aided college to be granted the tag after St Xavier's College, Ramkrishna Mission Narendrapur and RKM Belur. In the report published by NAAC after its third inspection, the college ranks second in the entire north east on the basis of marks obtained, and seventh nationally.
There was jubilation following the news. It is indeed a great achievement for the 142-year-old institution that started its journey in 1834 as Midnapore Zilla School. In 1873, the school was elevated to a degree college in science and got affiliation from Calcutta University. This was the only college outside Calcutta to get affiliation from Calcutta University. The college became 'Government sponsored' in 1956 and as requirement for higher studies grew, new departments were added from time to time. After Vidyasagar University was established in 1985, the college was taken under its wings. At present, the college offers undergraduate courses in arts and sciences.
A team of NAAC members went on a two-day visit to the college on September 11 and 12 and submitted their report. Based on that report, the University Grants Commission's (UGC) executive council assessed and finalized the grades. Prior to this, NAAC teams had visited the college twice, in 2004 and 2011. In 2004, the college was given A+ grade by UGC. It was also honoured with the tag of the 'College with Potential for Excellence' (CPE). Later the grading system was discontinued and it was replaced by point system.
In 2014, Midnapore College was given the status of an autonomous college. Hence, it is no longer under the jurisdiction of any university. Following the UGC regulation, all decisions are taken by an autonomous body comprising the principal of the college, a government representative and members from the students' union. Only the degree is formally conferred by Vidyasagar University. The authorities of this college have ambitious plans for the future, that include raising the college to university level and offering different subjects in the post graduate level. Expansion plans are also on the anvil that includes building another campus for post graduate studies.
At present, the mood is upbeat and everyone associated with the college, both teachers and students, are eager to work hard to establish Midnapore College as the best institution not only in West Bengal but in the entire north east region of the country.