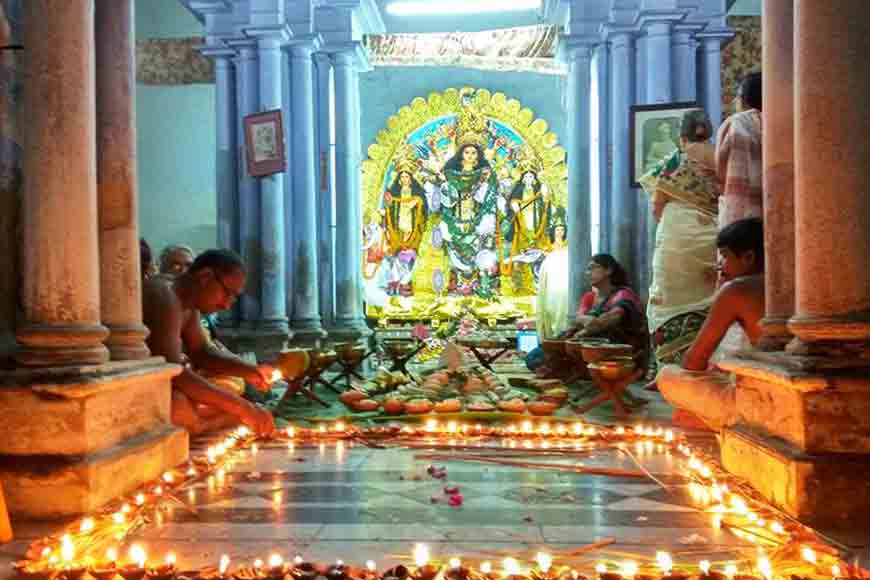 If you happen to find a fair firangi, clad deftly in a saree, making preparations for Maa Durga's Bodhon this Shashthi, in a 300-year-old mansion of Chandannagar, then do not be surprised. This is the famous Mondal Bari situated in the erstwhile French colony of Bengal, that is being restored. The present patriarch of the family, Ujjal Mondal and his Belgian wife Neline, who is more of a Bengali, than a European, have ensured that the house that was built by French architects remain intact and all age-old traditions of Mondal Bari still hold sway, specially during the Durga Puja.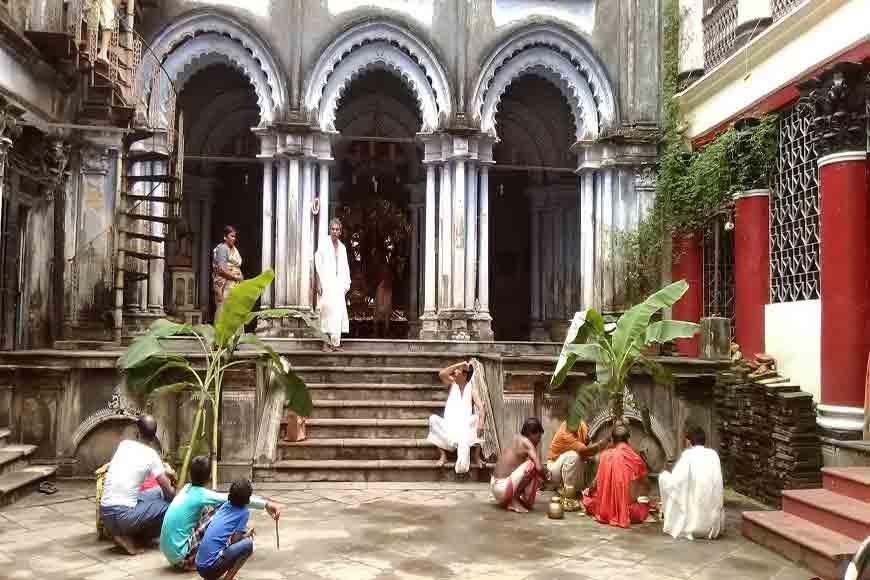 Puja rituals in the morning

The imperial structure is palpable within the Thakurdalan too, with its Gothic pillars, housing centuries of historical tales. As Ujjal Mondal puts in: "Our Durga Puja started way back in 1826 by our ancestor, Shri Adwaitya Mondal. The puja is still conducted as per Vaidik scriptures and Vaishnava practices." Hence no wonder, animal sacrifices are a strict no-no for Mondal Bari. The graceful Ek-Chala idol is made within the Thakur Dalan itself and retain all the charm of a traditional idol, far from the theme idols of an urban Kolkata. Probably that's where one thus gets to feel the divine essence of a festival.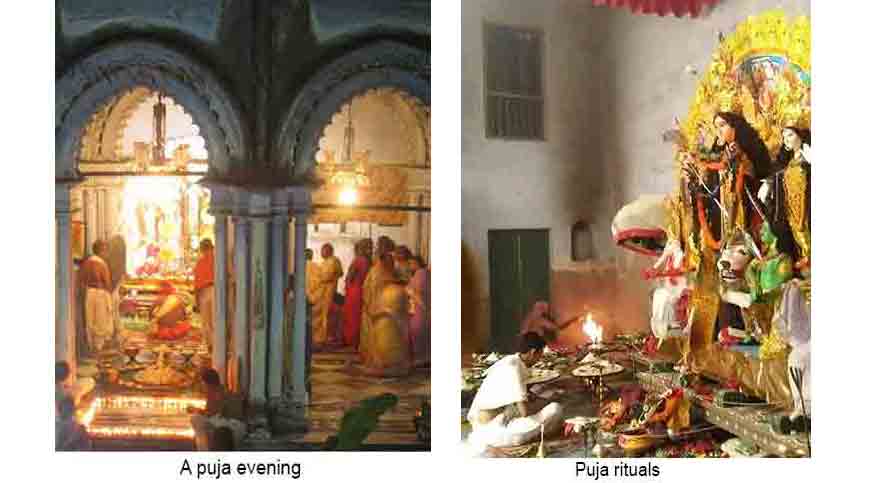 The Mondal Bari has some unique rituals too. As Ujjal Mondal pointed out how the Kalabou is tied with a rope in the front-yard (popularly known as Uthan or courtyard) before being bathed. Five fruits are used in this ritual - coconut, banana, beetle nut, cucumber, lemon (batabi lebu). This ritual is a symbolic practice that is meant to be auspicious (shubho agomoner baarta) and kickstarts the Puja days. A hom-yagna fire is set up on Maha Saptami itself, that continues to burn till Maha Navami. There is no Anna Bhog or rice bhog offered to the goddess. "Instead we offer Luchi and Mishti which are home-made every night and fruits during the day to the goddess," adds Ujjal babu.