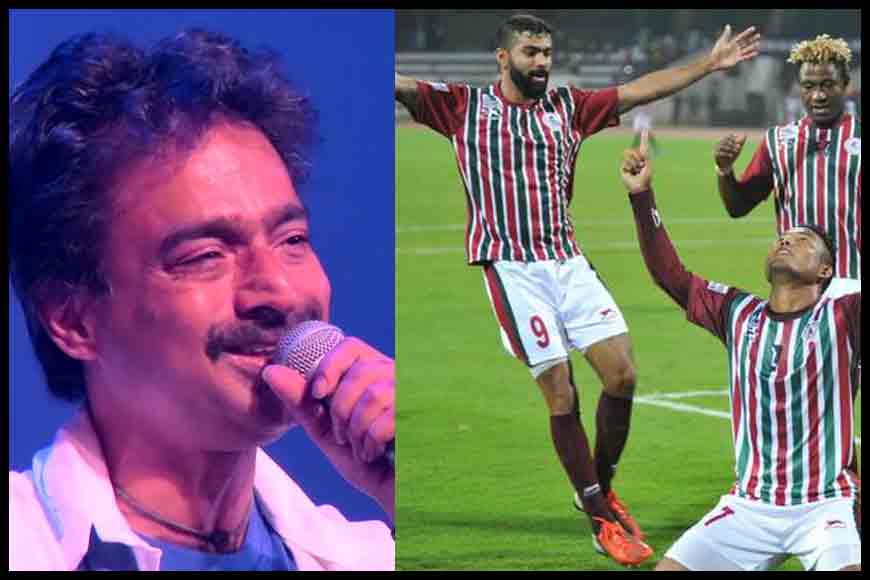 Remember the song, Amader shurjo maroon..narir jog shobuj ghashe? The song celebrated the invincible spirit of Mohun Bagan, the oldest soccer club of India. The team has had an impeccable journey since its inception during the British rule. A lot of hardwork, blood and soul run behind the journey. Mohun Bagan has been the eternal pride of Bengal. Recently, singer Nachiketa coined another memorable song for the team. 'Shirae shirae sobuj maroon' will pay a tribute to the 100-year-old football club which has a glory that remains untarnished even today. This is the first time singer Nachiketa has lent his voice to a song composed by the band A5.
'Shirae shirae sobuj maroon' is a song that captures the spirit of the green-maroon team in its true essence and talks about the passion of Bengalis when it comes to soccer.'Akashe toh shurjo eka mohun bagan naam'… the song highlights how the team created history in 1911 and has remained as the national club with an everlasting honour. The song also encompasses how Mohan Bagan has created a permanent place in our hearts with its spectacular performances throughout the stretch of his journey.
Previously, many songs have been made to pay homage to the club. Egaro is a film made on its IFA shield victory. But 'Shirae shirae sobuj maroon' adds a whole new dimension to Mohun Bagan's spirit and has a unique appeal of its own that has already won the hearts of many. The song has received a lot of support from veterans like Subrata Bhattacharya, Satyajit Chattopadhyay, Swapan Bandopadhyay and has been thoroughly appreciated by the entire club. It has created quite a buzz amongst the netizens and has been immensely loved by the loyalists of the club. The song further enhances our love for Mohun Bagan.