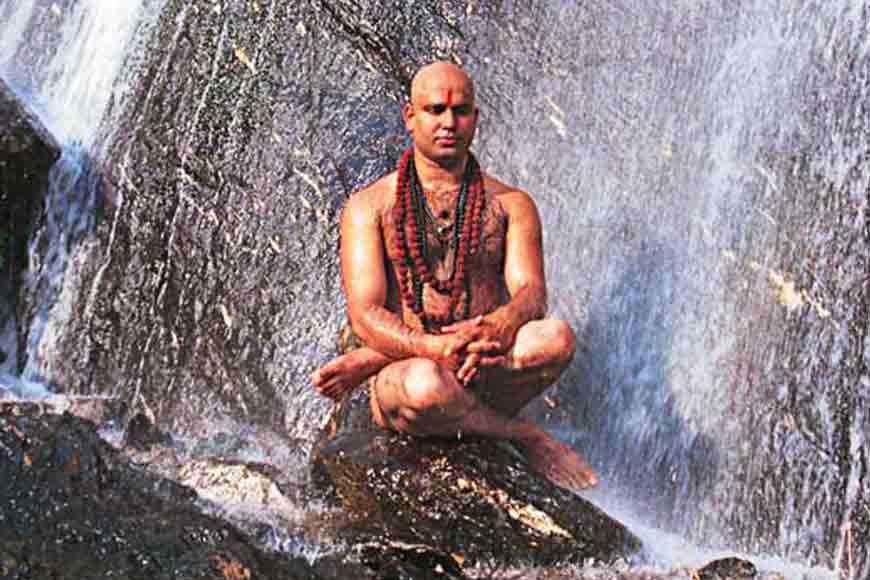 Munmun Mitra shares an experience of a private encounter with the head of Naga Sanyasis of Juna Akhara and questions why these religious gurus are so powerful in modern India?
'Love is the only commodity, which increases while sharing...' I distinctly remember what he said and the sensuous slant of his playful eyes, as he looked around the table comprising of 5-6 men and me. His eyes rested on me and only me, for it was a closed door meeting and frankly, I was a bit unnerved at that piercing gaze. Venue was Lake Market, a small room with cracked painted walls, close to the famous tea-stall of Radhubabu. I was then doing an article on sustainable development of the Kalighat Temple, funded by an NRI, who was a disciple of this flamboyant sadhu. I was promised he would speak on environmental issues and was quite taken aback to learn this sadhu was the head of Naga Sanyasis of Juna Akhara. I didn't believe at first that Naga Sanyasis were interested in world environment. For me they had forever cut a picture of ash-smeared naked and frail men, who played a ruckus at every Kumbh Mela, forcing their way through the crowd to get the first Shahi Snan. But curiosity caught on me and being a student of Environmental Biology, I felt I must attend this secret meeting of a handful of people to know what a chulla smoking Naga sanyasi had to say on sustainable development.
But I was in for a complete surprise! Soham Baba, the 1008th head of Juna Akhara drove in a black Mercedes, that had a difficult time manouvering down the lane beside Lake Market. And then a man stepped out, complete in resplendent silk robes, looking no less than a sensuous Hollywood hero, with two foreign armed bouncers in tow. There was also an extremely pretty girl, not more than 18 years of age of Nordic origin, who stepped after him. Later, Baba told me she was 'like my daughter' and was Dutch. A little probing revealed Soham Baba lived together with the girl's mother, his 'bhairavi, Aparna Giri,' in Dehradun and when asked if this was his daughter, he just smiled mystically and said: 'you are also my daughter, please come to Dehradun, my gates are always open for you. Stay with us.' I kept on receiving invitation cards after that, every year to be precise, but never mastered the courage to go and stay with him or his clan. My female instincts and a look at his eyes, somehow sent warning signals.
Then Soham Baba started speaking in fluent Bangla, with an Apple MacBook open right infront, trying to convince he was the educated sadhu, who just not spoke on world peace at different global forums, but was passionate about sustainable environement. Yes, the head of Naga Sadhus who is said to have meditated at Himalayan peaks, was equally expert with his MacBook presentations, though he had a Dutch secretary to assist him. By then I was overtly curious to know of his Bengal connect! He was the runaway boy from Burdwan district of Bengal, who was beaten up by his school master father for not studying.
From Burdwan's Rasulpur to Holland, that was his trajectory. From a village lad of Ben-gal to a tall, robust, handsome sanyasi with a tonsured head, who said he did not believe in physical age. 'We have to do our sradh before we are initiated, or reborn. Koupin (loincloth), kanthi, chutki and bibhuti (ash) are then handed,' said he. Though he pre-sented signs of every earthly pleasure possible. He even claimed world leaders like Bill Clinton, Gorbachev, Putin are his disciples and hence unlike his followers, he remains clothed majestically. He even runs 'Soham Baba Mission' funded in crores internationally with centres in 127 countries.
However, this Baba was sophisticated and soft spoken, unlike the uncouth Ram Rahim, but no less powerful. 'No one can become a naga sadhu, unless I announce it!' he said in his husky voice, that surely attracted masses and was enough to entice women followers across the globe. I do not know if like Ram Rahim, he had ever taken women to bed regularly, but he did enjoy worldly pleasures of moving around with the prettiest of Nor-dic women and they heading his centres worldwide. His activities are photographed and published as books at his own printing facility. He is seen in Masai Mara jungle with cannibals, with orphans in Bosnia, in Egypt with scavenger kids, in Brazil with child prostitutes, lecturing at the Copenhagen environment meet on glacier melting. He even claimed he got Z category security everywhere he goes.
The man who claimed to have seven caves in the Himalayas, headed about 2.5lakh naga sanyasis, indeed had a powerful follower graph that even political leaders of India cannot boast of. His website describes him as a mystic leader who has captured the forces of the universe and claims to have attained Shiva-hood. Shiva, or no Shiva, for me Soham Baba was the epitome of glamour, sensuality and opulence, that most gurus and babas of India flaunt, to gain huge fan following having the power to jeopardise civic life in any city if they wish to. The Bengali sadhu and chief of Naga Sanyasis was a living example of such opulence.