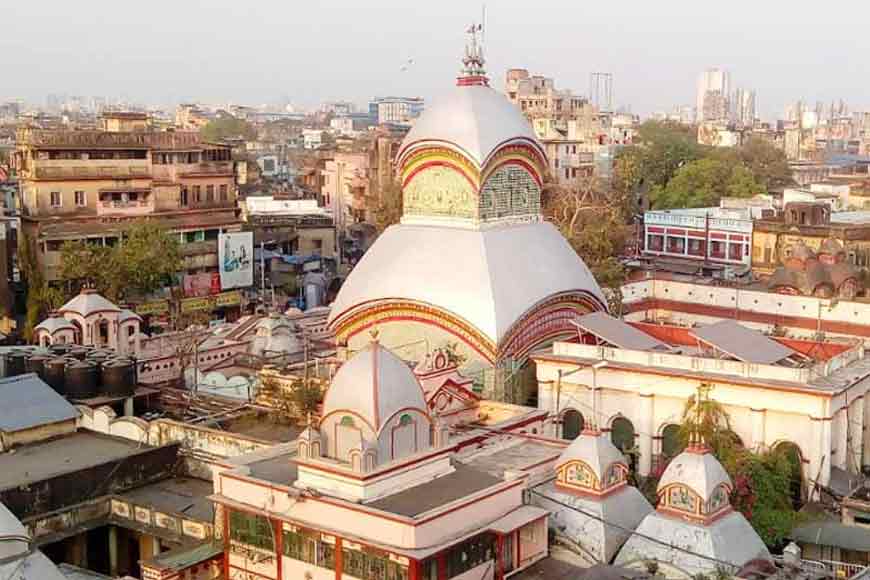 Kalighat Temple Kolkata
One of the primary dimensions of religious expression the world over, is erection of sacred or holy places or pilgrimages. Most religions attach spiritual importance to particular places, like place of birth or death of founders or saints, place of their 'calling' or spiritual awakening, or of their connection with the divine, where miracles were performed or witnessed, or locations where a deity is said to live or be 'housed,' or any site that is seen to have special spiritual powers. Most Hindu pilgrimage sites are associated with legendary events from the lives of various gods.
In recent years, there has been a considerable surge of pilgrims/ tourists keen to undertake a journey of the Shaktipeeths of Bengal. The Shaktipeeths are places of worship consecrated to the goddess Shakti or Sati, the female principal of Hinduism and the main deity of the Shakta sect. In a bid to promote and facilitate pilgrimage tourism, the National Atlas and Thematic Mapping Organization (NATMO) is now preparing a monograph on Shaktipeeths in India and its neighbouring countries. Bengal has a big concentration of such sites. NATMO officials are currently in the process of preparing the monograph of the divine destinations of 51 Shaktipeeths in the Indian subcontinent. The detailed overview will incorporate all known historical, geographical, spiritual and any other information associated with the destinations and will be accompanied with large scale maps of each Shaktipeeth.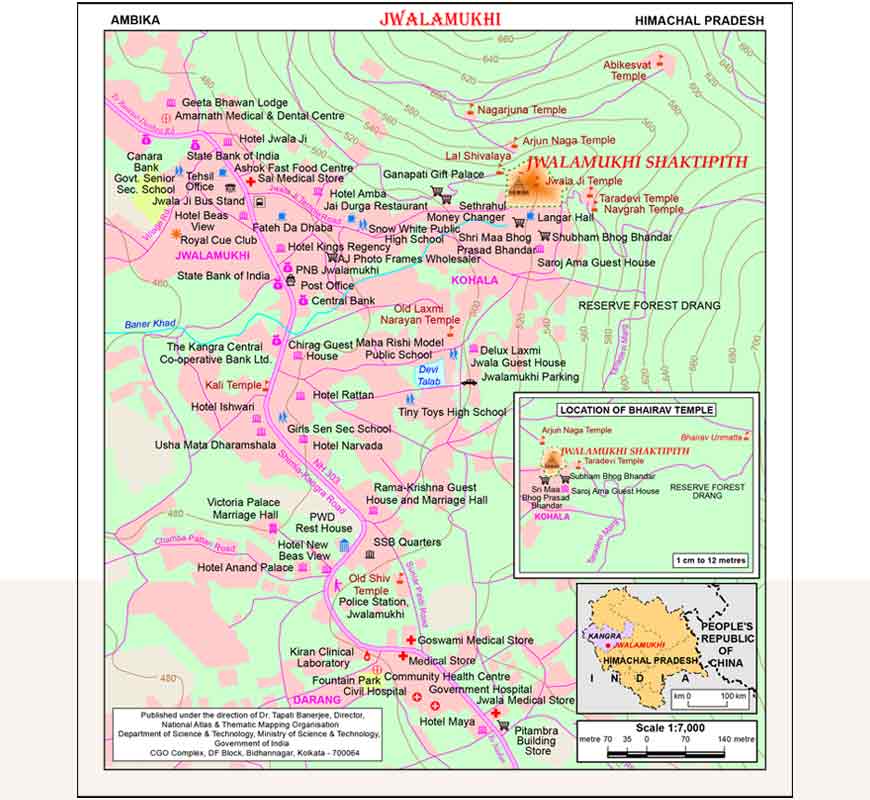 There are four Adi Shakti Maha-Chatushpeethas – the Bimala temple located in the Puri Jagarnath Temple complex, Maha Bhairavi temple at Berhampur, Kamkhya Temple in Guwahati and Devi Talab Mandir in Jalandhar in the Punjab. In addition to these four, the other Peethas are scattered across India and neighboring countries. There have been later additions of 'upa-Peethas' (sub-centres) and the number of Shaktipeeths have gone up to anything from 64 to108! Most of these peethas are in India, seven in Bangladesh, three in Pakistan, three in Nepal and one each in Tibet and Sri Lanka.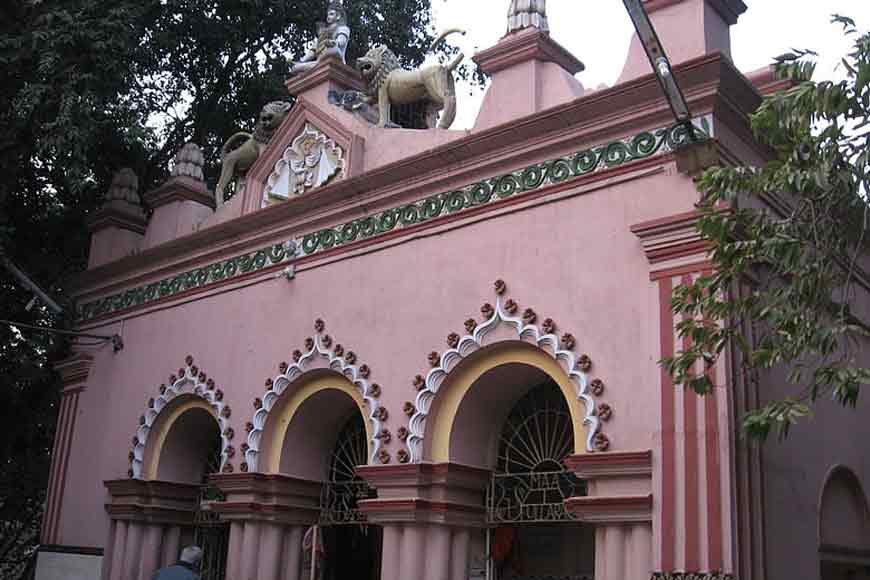 Phullara Teemple at Attahash in Birbhum
"We have come across interesting fact during our research. Initially there were 42 peethas, but later the list was modified and nine more sites, most of them located in Bengal, were included," said a NATMO official. These include the temple of Phullara at Attahash in Birbhum (body part -- Bhairav: Vishwesh), Goddess Bhaula at Ketugram in East Burdwan (body part – left arm, Bhairav: Bhiruk), Mahishmardini at Bakreshwar in Birbhum (body part -- portion between the eyebrows, Bhairav: Vakranath), Mangal Chandika at Ujani in East Burdwan (body part – right wrist, Bhairav: Kapilambar), Bargabheema or Bivas Temple at Tamluk in East Midnapore (body part: left ankle, Bhairav: Sadananda), Jogadya Temple at Ksheergram in East Burdwan (body part: great toe, Bhiarav: Ksheerkantak), Jaya Durga at Juranpur in Nadia (body part: forehead, Bhiarav: Bhairav), Kalika at Kalighat in Kolkata (body part: right toe, Bhiarav: Nakuleshwar) and Nalhateshwari in Naihati (body part: stomach/nauli, Bhiarav: Jogesh).

When NATMO was assigned the project, it decided to conduct a day-long workshop with renowned academicians including faculty members from Visva Bharati University, University of Calcutta and Professor Rana P. B. Singh, Professor of Cultural Geography and Heritage Studies at Banaras Hindu University (BHU). NATMO outlined the way of presentation based on the published books and articles of Professor Dineshchandra Sircar (1907–1985), also known as D. C. Sircar, renowned historian, numismatist and folklorist. The consultants unanimously agreed to the list that was presented, based on Dr Sircar's work at the workshop. After this the actual field work had begun.
Interestingly, there are stotras or hymns connected to each Shaktipeeth. They were matched with Dr Sircar's information to identify the location. The team has incorporated the stotra with each of the peethas described in the publication. "Right at the beginning, we made a detailed graph with name of specific Shakti Peeth, and specific body part of Sati that fell on that spot, name of the reigning goddess of the site, name of the Bhairav guarding the temple and then gathered exhaustive information on surrounding areas including general information on connectivity via railways, roadways or airway, detailed statistics about nearby cities or towns, places to stay, local food etc. Approximately two pages have been devoted to cram in the particulars of each Shaktipeeth. This was followed by detailed mapping of the area."
In 'Rarh' Bengal (region between Chotanagpur Plateau on the West and the Ganga Delta on the East), a number of these Shaktipeeths are located in obscure villages. Then there are controversies about a few peethas like Maa Tara temple at Tarapeeth or the one at Konkalitola, both in Birbhum. The temple at Konkalitola has association with the Adi Kamakshi Temple of Kanchipuram. Such controversial claims have also been included.
The year-long project is nearing completion. "We are a stickler for perfection in all the information we provide, so at every step we go through a rigorous process of scrutiny, making changes and alterations and that takes time. The text too, needs to be edited further and then the photographs, maps etc. will have to be included," signed off a NATMO official. Once the project is complete, Bengal will get an extensive map to promote tourism on the Shaktipeeth trail.