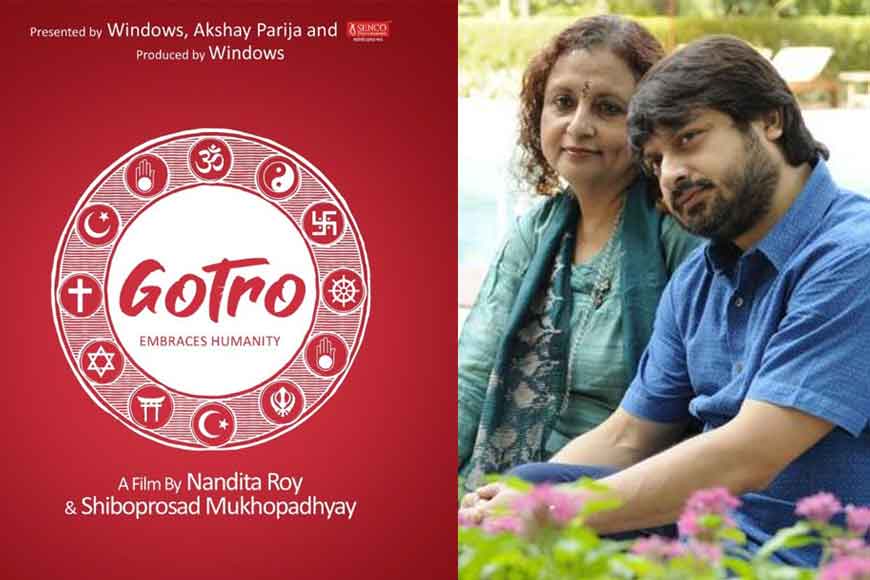 Are you acquainted with the term gotra? It is a Sanskrit word which is synonymous to clan and refers to people who are descendants in an unbroken male line from a common male patriline. After the overwhelming response of Konttho, the director duo Shiboprosad Mukherjee and Nandita Roy is all set to present their next project 'Gotro'. While we were eagerly waiting for Belashuru which was scheduled to be released during the pujas, the director duo came up with another unexpected announcement and logo of their new film Gotro. Previously there was no news in the media regarding the making of Gotro.
Though the storyline of the film has not been revealed yet, Gotro might turn out to be an important film sending a strong social message in a patriarchal society. Even religious fanatism is all around. The poster of Gotro has various religious symbols all over and the tagline says, 'Embracing humanity'. The world might have forgotten the fact that humanity is the greatest religion, and Gotro will talk about the importance of humanity regardless of religious affiliations, perceptions and differences.
The film is expected to ask important questions like: What is the religion of humanity? What does the word religion mean? Though the cast of the film has not been revealed yet, Gotro will be featuring actors like Manali Ghosh, Tota Roy Chowdhury, Kharaj Mukherjee and Anusua Majumder. Nigel Akkara, the actor with an inspiring journey will also be seen in the film. It will hit the screens in August.