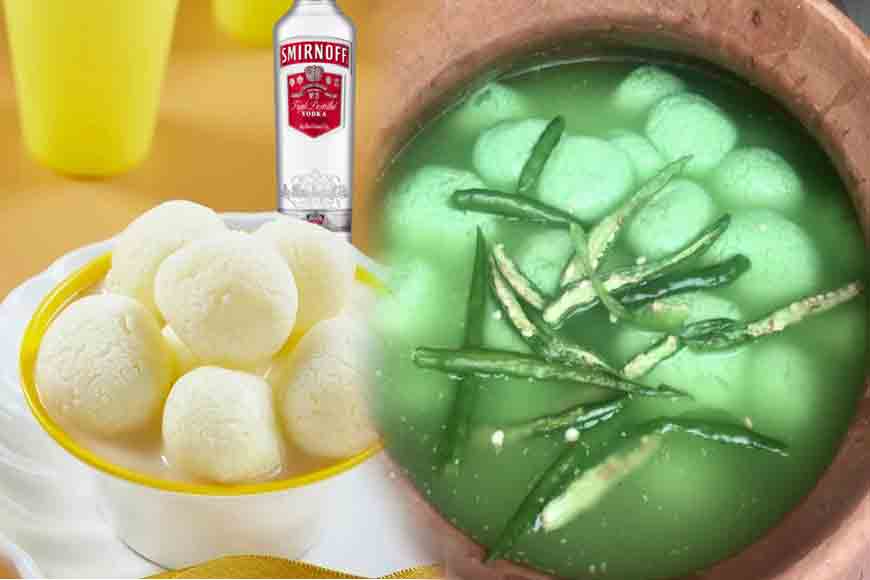 Now that officially Rosogolla has been declared to be Bengal's, food lovers would undoubtedly take to that sweet delicacy. But rosogolla doesn't necessary be had in the quintessentially Bengali way. Thanks to a city girl, Swati Saraf, Kolkata has for a few years witnessed rosogollas in weird flavours.
Who would have thought rosogolla can come in names like Blue Lagoon and Watermelon? And then there are sizzling varieties which are dipped in vodka, beer and breezers. Tipsy and rosogolla? Why not? Saraf started off with some 50 flavours of rosogollas and then took it to 250 lip-smacking varieties.The popular ones are Green Chilli, Phuchka, Gundi Panshot and Organic Rose, as well as milder Strawberry, Kesar Badam, Blueberry, Butterscotch, Raspberry and Coconut Rose rosogollas. For lovers of tangy tastes, comes Kari (Kaccha Mango), Kala Khatta and Lemon Barley, not to mention, Chocolate, Alphonso, Thai Mix Fruit, Sandalwood, Dal Chini, Cappuccino Coffee and Kiwi. Following Saraf's innovative take, some city sweet shops are also following suit with chocolate and strawberry rosogollas that have become quite common.
The innocuous 'Rosogolla' was the eye of the storm for a long time, as two states, West Bengal and Odisha were embroiled in a legal battle over owning the Geographical Indication (GI) for Goods tag. Finally, the controversy has been put to rest Bengal emerging victorious. For generations, we knew rasogolla was a product of Kolkata. But Odisha claimed it originated from the Jagannath Temple in Puri, where it is a part of the religious rituals since 12th century. The tussle escalated in 2015 when Odisha's science and technology minister, Pradip Kumar Panigrahi, set up committees to trace the origin of rosogolla. He also claimed 'Rosogolla Day' is celebrated in Orissa, after Ulto Rathyatra. Odisha government officials cited a lore from the Puranas to lay claim on the origin of this sweet.
According to the story, Goddess Lakshmiwas cross with Lord Jagannath for leaving her behind in the temple when he embarked on a trip to his Mashir Bari. When he returned after his nine day sojourn, she refused to let him in. Lord Jagannath then resorted to treat her with Rosogolla. Bengal government also set up a committee and decided to fight the Odisha government's claims legally. Bengal argued the quintessential Bengali delicacy was created by Nabin Chandra Das, a famous sweetmeat-maker in 1868. It further stated that in the past, it was considered a blasphemy to offer something made from spoiled milk (Chhana) to the gods. It is customary to offer sweets made of Kheer (condensed milk) to the deities. Also, the name 'Rosogolla' was coined in Bengal.
The Geographical Indications (GI) Registry took up the case and after a thorough study finally announced that 'Rosogolla', was synonymous with the Bengali identity and originated in West Bengal and not Odisha, putting an end to the long and bitter battle.