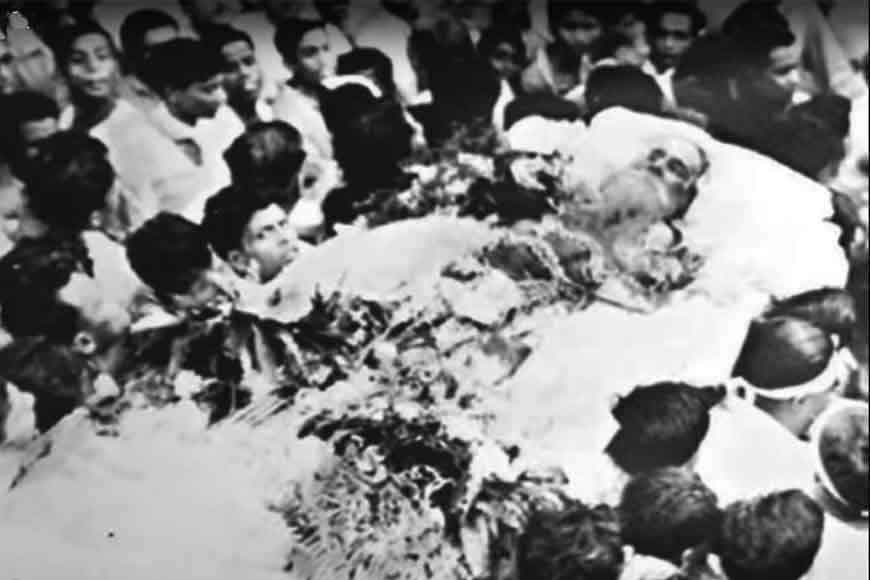 Death is not extinguishing the light; it is only putting out the lamp because the dawn has come… Rabindranath Tagore always wished for a silent and dignified death. In his last days, before he was operated and slipped into a semi-conscious state, Tagore had shared his last wish with close aide Nirmal Kumari Mahalanobis, who he fondly called Rani. He wanted to die and be put to rest under the open sky, amidst the freedom and silence of nature. Under no circumstances he wished his dead body to be carried by unknown people with shouts like: "Joy Biswakobir joy, Joy Rabindranath er joy, Vande Mataram" etc. Unfortunately, his last wish was not respected.
In Rani's own words: "Suddenly we found people who had never served Tagore or had any connection with Tagore, to have infringed his last private space. As we were bathing his body after death, putting new clothes on him and preparing him for the last journey, there were loud bangs on the door of his room, with people shouting outside, let us in! let us in!" Mahalanobis and the others present in the room, literally had to bolt the doors and keep on guard, so that none could enter while Tagore's dead body went through the last respect. Yet, they could not save the dignity that the poet wanted in his death… the silence, the respect, the honour that should have been shown to his soul after departure.
Rani Mahalanobis was hurt beyond words. Her husband Prof Prasanta Mahalanobis who was also extremely close to Tagore and always implemented his words, was on sick bed. His wife was running between Jorasanko and her house in Baranagar during his last few days, just to be with Tagore. Rani repeatedly expresses her frustration as she sees how unknown faces forcefully enter the room where Tagore lay and take away his dead body. She repents that she who was entrusted by Tagore to take him to Santiniketan after his death could not keep her word. "If only my husband was well, he would have by any means fulfilled the poet's last wish," she laments.
Even Tagore's trusted servant Banamali who was like his shadow till his last days, was lost in a sea of humanity. Rani brought him in forcefully and helped him have a last look at his master who he had served all his life. Chanting of Tamosa maa jyotirgamaya (journey from darkness to light) was lost forever amidst shouts and slogans: "Joy Rabindranath er joy, Joy Biswakabir Joy." Probably that's not the Baishe Srabon that even Rabindranath Tagore imagined in his dreams!