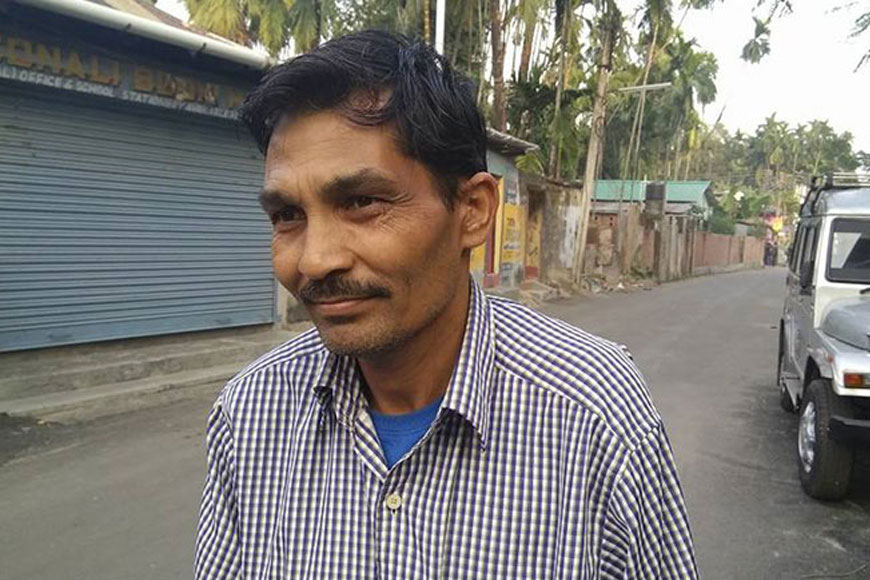 The sight of Basam Sonar dragging his crooked body with immense difficulty will melt the heart of anyone who sees him for the first time. But he is an exceptionally brave man from Lakshmipara Tea Estate in Banarhat, Jalpaiguri district. His disability could not overpower his dreams. Both his feet are paralysed and he moves his hands with great difficulty. Yet he can be seen scooting on his tricycle visiting the quarters of tea garden workers with a missionary zeal. The rough and hardy terrains of the Dooars are no impediment for this man with a mission.
The tea garden workers live in abject poverty, and a majority of them are burdened with children with various disabilities,who are neglected and left to lead a hopeless life within the confines of their homes. Sonar is a God-sent messiah for them. He coordinates with government officials to arrange for them education and rehabilitation.There are a number of tea gardens in Dooars which have been closed down, rendering jobless workers. Sonar arranged computer education facilities for disabled members of these families, so that they could work independently and support their family financially. And he initiated the entire project with his hard-earned money, without any support from any quarter. He has proved that if one dreams big and has the determination and perseverance to fulfil it, no impediment can stall the journey undertaken.
Sonar had to undergo a very complex operation of the backbone that left him bedridden. As soon as he felt a little better, he opened a kiosk and sold lottery tickets. That was almost 12 years ago. He earned Rs 35,000 and donated Rs 30,000 to the organisation he had started for the welfare of people like him. With the remaining Rs 5,000, he again started selling lottery tickets. He won Rs 60,000 twice as prize money during the second phase. After this he decided to wind up the business because he felt he was wasting time and was unable to focus on his mission.
Sonar bought three computers with the prize money and started a computer training centre for the physically challenged youth/children of closed tea gardens workers.Local government officials spotted him and his herculean efforts. They decided to extend a helping hand to the man and donated 10 computers to expand his centre and include many more disabled people to learn. Bengal government honoured him with the 'Role Model' Awardon December 3, World Disability Day.
Sonar was not born with any disability. Till the age of 15, he was like any normal child. Disaster struck in 2005 when he hurt his backbone while performing a high jump. Initially, everything seemed fine, but gradually his hands and feet stiffened and he could hardly move. Added to this was the unbearable pain. It was so intense that once he even contemplated committing suicide. The doctors at SSKM Hospital performed a critical operation of his backbone. The recovery period was very long. He had to spend eight months on his hospital bed after which he could move his hands a little but his feet remained immobile. But this could not stop him from working for rehabilitation of the physically challenged people of the tea estates.