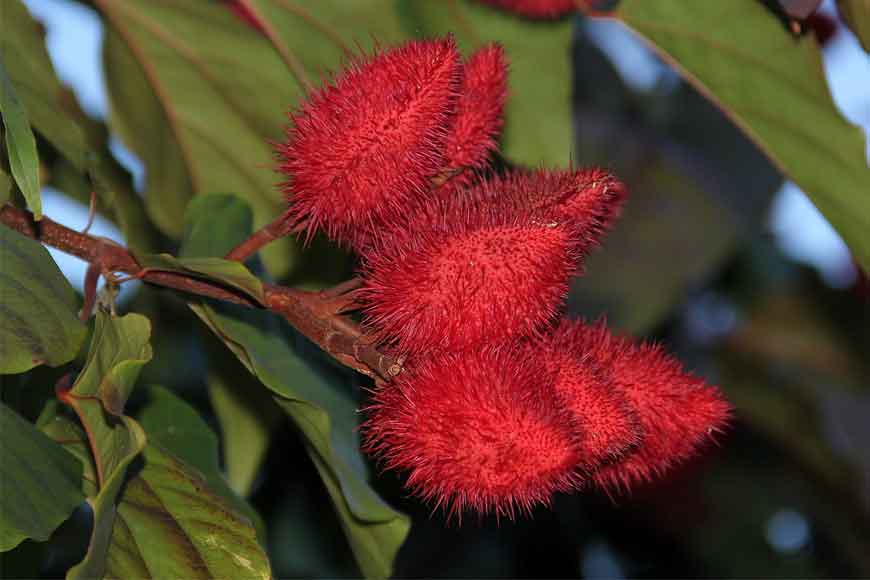 The one thing that definitely acts as a mood enhancer for a woman is a sizzling lipstick. It has been a woman's weakness and one accessory that she can hardly do without. Previously, women had to count on expensive and international brands when it came to shining lips. Gone are those days when one had to splurge so much for adding radiance to your lips. Now, you can just pluck fruits and rub them on your lips to make them luscious. By now, many have already rushed to the Department of Agriculture in search of 'Rupbriksha'- The Tree of Beauty.
Many of them have also carried saplings of Lipstick trees back home. The unique initiative of planting 'Rupbriksha' at the Department of Agriculture at Fulia was the brainchild of Anupam Pal. He has not just planted the trees in Fulia, he has also given out precious seeds of this tree to interested farmers of Bankura, Bardhaman, Nadia, North and South Parganas, to help them grow the trees on a large scale.
The state government is thinking of using the Lipstick Tree, not just for making cosmetics, but also as natural colours in food. They have applied for clearance letter from the Ministry of Science of Technology. Interestingly, the Lipstick Trees have always existed in many districts of Bengal, but hardly anyone was aware of its utility and importance. The trees have red and orange colour and offer a subtle aroma. The fruits have a strong resemblance with litchi and comprise of thorn-like fibres. Once they are ripe, they burst vertically. After the tree has crossed two years of age, it starts bearing flowers from October and fruits from December.
The scientific name of the tree is Bixa orellana. Originally, the tree is from South America. In places like America and Venezuela, these are also called Annato. In India, these trees are found in Orissa, Karnataka, Andhra Pradesh and other states. In certain areas, these are also known as Sinduri and grow the best in warm and moist climate. Its colours can be used in lipstick and vermillion, or as a food dye in items such as bonde, jilipi, jam, jelly, ice-cream and cakes. The colours are not harmful to health. The colour can be extracted from the seeds, treated with hot water or ethyl alcohol for commercial use.
The lipsticks available in the market are generally made up of pigmented chemicals, oil and wax. Hence many a time they create skin allergies and in extreme cases even thought to carry carcinogenic chemicals. Hence cultivating Lipstick Tree on a large scale will undoubtedly help Bengal to sell this pigment for a wide range of purposes.