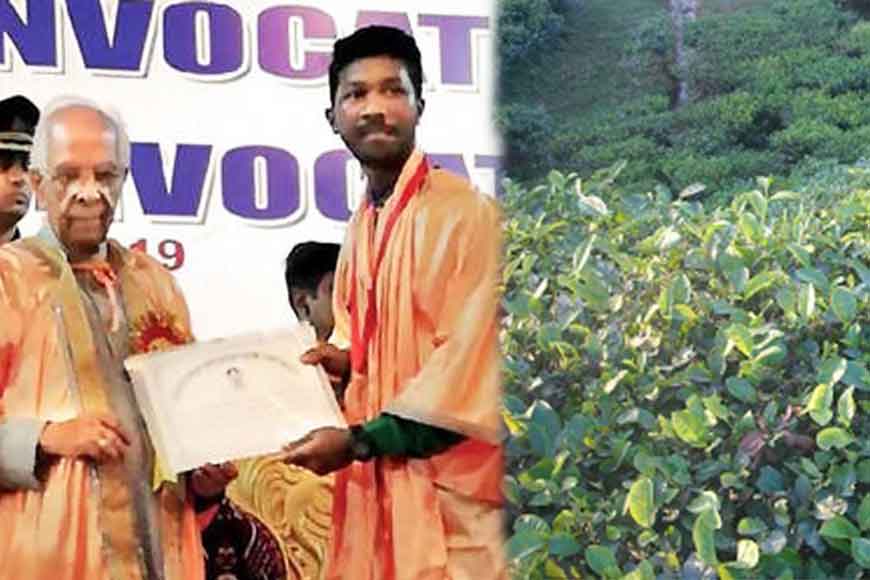 Will power and perseverance - these were all that the tribal boy from Ridak Tea Estate of Alipurduar had in his favour. The story of Paban Toppo's achievement of gold medal in his post-graduation seems like a fairytale far from reality. He is the first generation graduate and post-graduate of his family. Son of a poor tea-estate worker, Paban was determined to make a mark for himself. His struggle started from a dingy room fighting poverty and pangs of hunger.
But he wished to make a firm identity of his own. He has topped the English department in his post-graduate examination. Paban's parents are immensely proud of him. He has also qualified in NET and SLET examinations and has also cracked College Service Commission Examination. Paban is confident about the viva round. He dreams to be a professor and will leave no stone unturned to fulfill this as he knows that a respectable job is imperative, considering his family condition.
Paban is the first one from the entire tea estate of Ridak to complete post-graduation. There lies a stereotype that a tea estate worker's son always turns out to be a tea estate worker or joins the army. Paban did not want to conform to this norm and wanted to break all the barriers. He wanted to prove his potential and began his endless struggle.
After battling with poverty, Paban passed his Secondary examination in 2011. In 2013, just before his Higher Secondary examination, his family was subjected to a major mishap. Paban's father, the only earning member of the family suffered paralysis. The condition of the family reached the rock bottom. Apart from studying, Paban had to collect enough money to continue the treatment of his father. Despite all the challenges, he got 81% in his Higher Secondary Examination. An NGO of Alipurduar extended their support and helped him to get an admission in Acharya Branjendranath Shil College with English Honours. His graduation result was equally good. In 2018, all his efforts turned fruitful after he passed his post-graduation and also topped the examination.
Paban's success story has once again proved that if one is sincere and confident enough, poverty