Paresh Lal Roy - Father of Indian Boxing, was 1914 Bantamweight champion of England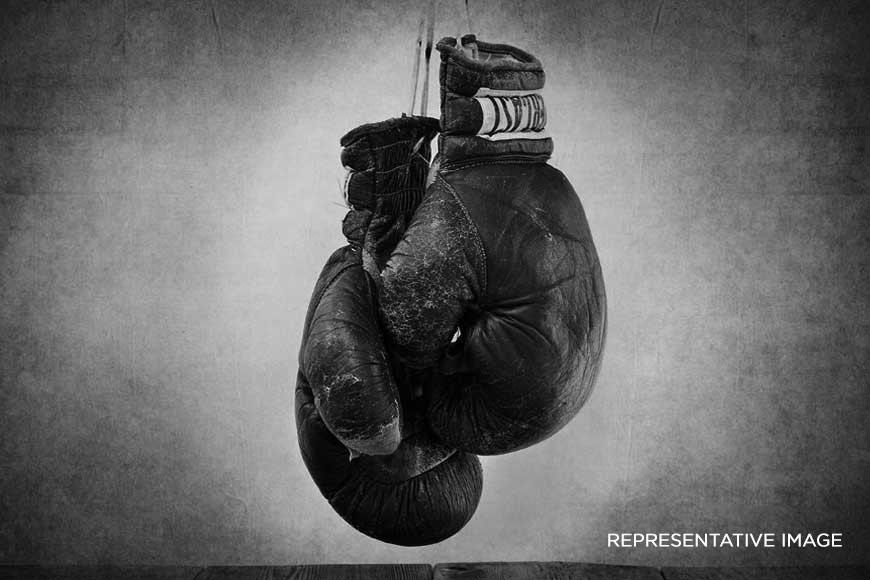 He is known as the Father of Indian Boxing. Every time a greenhorn boxing enthusiast approached P.L. Roy aka Paresh Lal Roy, requesting him to take him as a trainee, Roy would ask, "So you want to learn boxing from me?" The moment, the boy affirmed, Roy would punch him hard. The unexpected blow was enough for many hopefuls to leave the venue unceremoniously but those who had the guts to take the blow and still be eager to learn would be welcomed with open arms by Roy. Roy was an Indian amateur boxer, credited with popularising the sport among Indians.
Roy was a brilliant coach and mentor who taught a large number of illustrious boxers many of whom later brought glory to the country and their coach. In the Civil-Military Boxing Championship held in 1933, Santosh Dey became the Bengal champion and he was Roy's disciple. Among Roy's notable proteges were Pramatha Chaudhuri, Phanindra Krishna Mitra, Nagen Chatterjee, Joaquim C. A. Minus, Abulal, Johnny Natal, R. Austin, D. Gasper, Kartik Dutta and many others.
A walk down D.L. Khan Road leads to the Bhawanipur Cemetery. Once inside the enclosed area, one comes across lines of neatly dug graves on both sides of the central pathway. There, a pair of crimson boxing gloves next to the headstone of a grave is bound to attract attention. It is the Grave of Paresh Lal Roy, the "Father of Indian Boxing." Roy hailed from a wealthy zamindar family of Lakhutia in Barisal district. Born on 30 December 1898, he was the third of six children of Peary Lal Roy and Lolita Roy. They were all highly educated and accomplished. His father was a barrister and his maternal grandfather Dr. Soorjo Coomar Chuckerbutty was one of the first Indian doctors to be trained in Western medicine.
Roy received his education in England. He attended St. Paul's School in London. At the age of 10, his training in boxing began under Billy Childs, the then-boxing coach at Cambridge who later became the featherweight world champion. Jim Driscoll himself took the responsibility of training Roy. Roy became the school champion. He passed in B.A. from Cambridge University. At Cambridge, he won the university championship from Oxbridge and became an Oxford Blue.
In 1914, Roy became the bantamweight champion in England. Apart from boxing Roy was also an accomplished shooter and jockey. He was the first amateur Indian jockey to have ridden a horse in a race. At the outbreak of World War I, he became a private in the Royal Artillery while his younger brother, Indra Lal Roy obtained the King's Commission to the Royal Flying Corps. In the army he rose to be a lieutenant. After the war, he completed Masters in Economics from Cambridge University in 1919 and came back to India.
He joined the Bengal Railway as a traffic superintendent. In the 1920s, boxing was a popular sport among the Anglo-Indians. In order to organize boxing as a sport and make it popular among Indians, Roy opened a boxing training centre in Ballygunge. In 1928, he took initiative to organize the first inter-Railway Boxing Championship in Kolkata. In the same year he founded the Bengal Boxing Federation and became its secretary. Later he became its president.
Though Roy himself was an amateur boxer, he fought against Edgar Bright, the then-Indian champion in bantamweight division at the Old Empire Theatre and defeated him. He also defeated Philippine boxer Young Turley once. He died on December 30, 1979 and was buried at the Bhawanipore cemetery. With his demise, the golden era of boxing came to an end. In 2011, the Indian Railways installed a marble bust of the boxer in an indoor stadium named after him. The P.L. Roy Indoor Stadium is located in Sealdah.