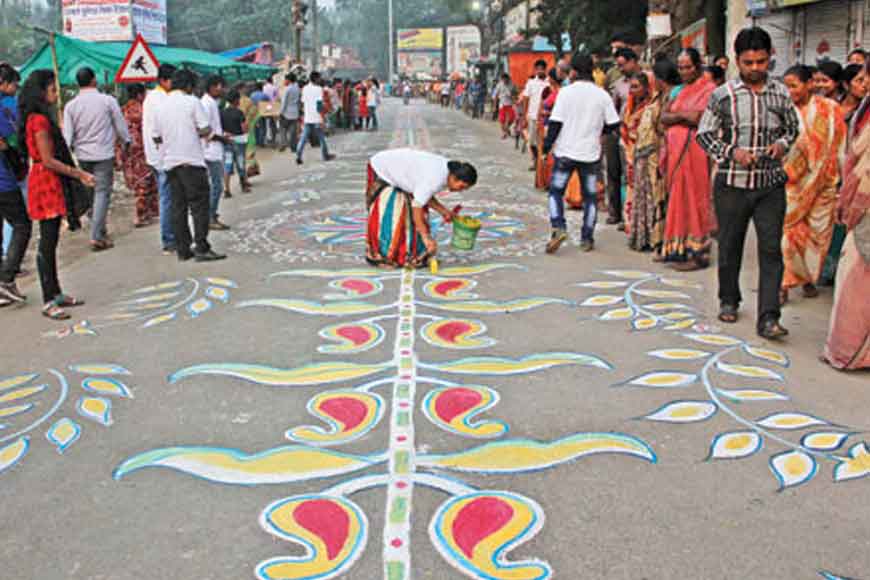 Phulia in Nadia district is the hub of handloom weaving of Bengal and its exquisite taantsarees are household names across India. This time though, the small town is eyeing for greater glory and around 1,500 locals worked overnight to draw the longest recorded alponain the world.
The alpona was drawn next to National Highway No. 34 from Phulia Bus Stand to Sobuj Pally, covering an area of 2.73 km.Over 1500 participants wielded brushes and paints and drew for around 10 hours from 9pm to 8am the next day, to create the admirable series of motifs. About 2,800 litres of acrylic paint were used for the project. Prior to this drive, till now therecord for drawing the longest street alponaof 1.5 km is held by Bangladesh.
This initiative was taken by Junior 100 Foundation, a social organisation. Members of this club were inspired by the outstanding street alpona on Lake Road in Calcutta that was commissioned by Samaj Sebi Sangha this year just before Durga Puja. They zeroed in on alponawith a mission to further popularize this indigenous folk-art form of Bengal and involve locals in the project.
Accordingly, 25 groups with 35 members each started drawing the motifs from 9 pm. The local police also cooperated and diverted vehicular movement for the night to help the participants to work. People from all walks of life joined in the project enthusiastically. There were artists, art apprentices, students from different colleges, school children, housewives, weavers, craftsmen, designers et al -- all wielding brushes and paints to create the magnum opus. People who could not join them, rooted for them and sat through the night, cheering the participants.
The entire process was recorded via still photographs, videos and drones. The organizers will be sending all these along with official certificates to the authorities at Guinness World Records Global headquarters in London to place their claim for drawing the longest street alponain the world. The people of Phulia are hopeful about their efforts getting international recognition.