Pratima Devi, unsung talent of Tagore household brought to limelight by Sujoy Prasad Chatterjee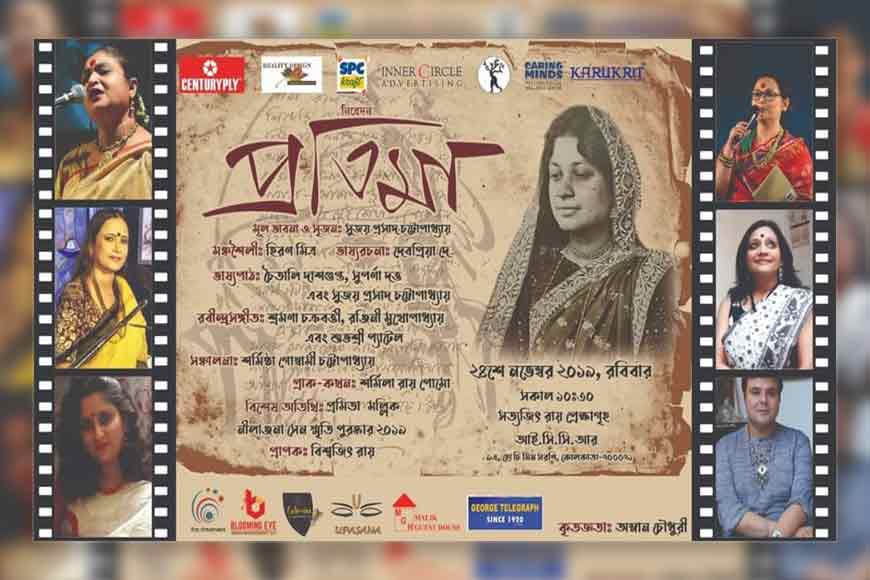 'No one lights a lamp in order to hide it behind the door:
The purpose of light is to create more light.......'
She was more known to the world as the daughter-in-law of Rabindranath Tagore, and not for the books she wrote, or the art she created. Pratima Devi, wife of Rathindranath Tagore was a multi-talented woman, yet she was always overshadowed and portrayed as member of the Tagore family, close to her father-in-law. But why? Why wasn't she ever described as an author herself, or as an art enthusiast who brought forth the work of Santiniketan's Batik? Was it because she was a woman? And women in those days hardly had their own identity!
SPCkraft brings in a wonderful programme on November 24th, at 10:30 am at the Satyajit Ray Auditorium, ICCR to portray that 'unknown' Pratima. Pratima is a creative rendition and expression by SPCkraft that brings to light, the unknown chapters about Pratima Devi's life. Conceptualised and ideated by Sujoy Prosad Chatterjee, it is an artistic and research based anecdotal account, interspersed with Rabindra Sangeet and oration.
Women in 19th-century Bengal led a restricted life. It made many talents and creative minds go unnoticed, un-nurtured and therefore, unsung. But amidst all limitations, there existed women like Pratima Devi, who paved the path for women's creative liberty in numerous ways. She created an artistic niche for herself. Her identity went beyond the big umbrella of Tagore family and being so close to Rabindranath Tagore. It even went beyond being Rathindranath Tagore's wife and Rabindranath Tagore's daughter-in-law.
Rabindranath Tagore was however Pratima Devi's guiding light! She studied painting under him and Nandalal Bose. Tagore encouraged her artworks at the Indian Society of Oriental Art and sent her to Paris to learn Italian wet fresco art. Pratima Devi took keen interest in Vishwa Bharati's creative endeavours in Santiniketan. She played a pivotal role in shaping Tagore's dance-dramas. She also experimented with Batik print and helped the community to express through various art forms.
In her lifetime she authored books like Nirban that essayed Tagore's last years, Chitralekha, a collection of poems and other writings, Smritichinha, that shares her thoughts about Abanindranath and Rabindranath Tagore and Nritya that documents the dance traditions at Santiniketan.
The script of this fantastic initiative to bring forth the lesser-known talent of the Tagore household, is written by Debopriya Roy and the stage-art is by eminent artist Hiran Mitra. The script will be performed by Sujoy Prosad Chatterjee, Chaitali Dasgupta and Suparna Dutta along with songs by Sromona Chakrabarty, Ranjini Mukhopadhyay and Shubhasree Patel.