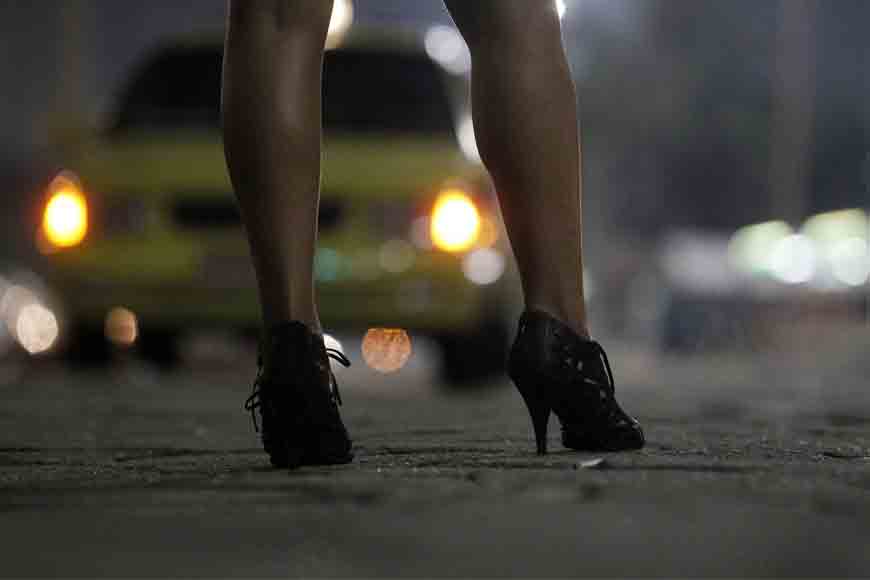 Way back in 1862, Kaliprasanna Singha penned Hootum Pyanchar Naksha (The Observant Owl Hootum's Vignettes of Nineteenth-century Calcutta) which occupies a special place in Bengali literature; it continues to be read for its witty sketches of people and places of the city. Through this book, Singha attempted to depict the chaos and the change all around him. A popular saying: Ajab Sahar Kalketa/ Ranri bari ghari gari/ michchey kathar ki keta (A strange city is Calcutta, whores and houses and carriages abound. And how fashionable it is to lie). Take another quote, Companir latgiri, parer dhaney poddari (Usurping wealth of others, the company's merchants have turned aristocrats). This was the Calcutta of yore.
Today its Kolkata, a new world, where old palatial houses have been replaced by swanky skyscrapers and horse-drawn carriages gave way to motor vehicles. But when it comes to prostitution, Calcutta remains where it was before, only more women have been compelled to come out of the safety of their home and hearth, to join the trade. A walk down the streets of the city at night is a revelation even for those who proudly claim they live in the City of Joy. The underbelly of Kolkata is as dark as hell.
Baroduari is a renowned thek (spot) at Janbazar (S.N. Banerjee Road) that serves country liquor. It is truly a "great leveler" of society, patronized by people from all walks of life. Intellectuals like filmmaker Ritwik Ghatak, artist/author Kamal Kumar Mazumdar, poets Sunil Gangopadhyay, Shakti Chattopadhyay, Sandipan Chatterjee had frequented this place. Even now, college kids, salesmen, insurance agents, rickshaw pullers and drivers hob-nob with bureaucrats, poets, authors, journos and artists. Men come here to get drunk. The double-storied building looks insipid, shabby and smoky and is forever crowded. During closing time around 8.30pm, many sozzled customers are physically dragged out of the shop.
Once these men come out in hordes and look around for cabs or any other transport available at that odd hour, garishly decked up girls emerge from the shadows and scout for prospective customers. This is the beginning of business time for them and as the clock moves and the darkness envelopes the now-deserted streets, sex workers move around.
The predecessors of these mobile sex workers operating in these areas had seen better days in the past, when they had their cubicles at Khali-Kuthi, a long stretch of single-room apartments with yellow painted walls and green windows that lined close to Free School Street. The quarter would be guarded by beefy musclemen and it was impossible to penetrate their sharp vigil and step in the forbidden area. But the apartments are now shops and motels rented mostly by Bangladeshi nationals who come to Calcutta round-the-year for medical treatment or on some other business venture.
From the chiaroscuro of cobbled Marquis Street, as one walks towards Park Street, there is again a sudden spurt of activities. The entire stretch looks bathed in neon lights though it is well past midnight. Rickety children with flower bouquets or strawberry packets rush to draw the attention of car passengers stuck in traffic signals. Once known as the party capital of India, the party spirit of the city is best evident here. Girls nattily dressed strut in front of pubs and night clubs waiting to be picked up. A turn towards Chowringhee and Indian Museum, brings one to a dark hole. Hookers are abundant here. Some of these girls were once upon a time movie ticket touts, but with closure of majestic single-screen movie halls in the locality including Globe, New Empire and Lighthouse, they had to resort to prostitution. These women do not have any place in the city nor can they afford so they take their customers behind the thick foliage at Maidan. They are regularly extorted by rogue policemen and local musclemen who demand a hefty amount from their meager earnings.
Walking past Lindsay Street and the Grand Hotel promenade, you reach the erstwhile Metro Cinema Hall. The illuminated globe atop Victoria House glows in the night sky. A couple of call girls roam the streets aimlessly. If you have ever taken a share cab northwards from here, and crossed Beadon Street, one will come across the age-old infamous Sonagachhi red-light area. There is a flurry of activities in the locality and the place resembles a fair ground. Musclemen move around but steer clear of any brawls with customers, especially in front of the cops. Beyond Nimtala burning ghat, is Bottola, the place synonymous with printmaking in India in the last quarter of 18th century, and Chitpore Jatra para (lane) aka Rabindra Kanan. On the left hand side is Natun Bazar, the main centre of wholesale milk sale in the city and Company Bagan.
Night fall and this place is full of sozzled pundits, blabbering hymns. Boats tied on the banks, swing gently in the water. Gradually the sky turns crimson and the footpaths suddenly seem to swing to life. The day's daily chores begin. A little girl nudges her sleeping mother constantly and nags, "Maa, I am hungry." The exasperated mother finally wakes up and thrashes the child first and then walks towards the ghat perhaps to get something for her starving child. Another never-ending tale of starvation and deprivation begins with dawn. But the night life and prostitution of Kolkata never dies.