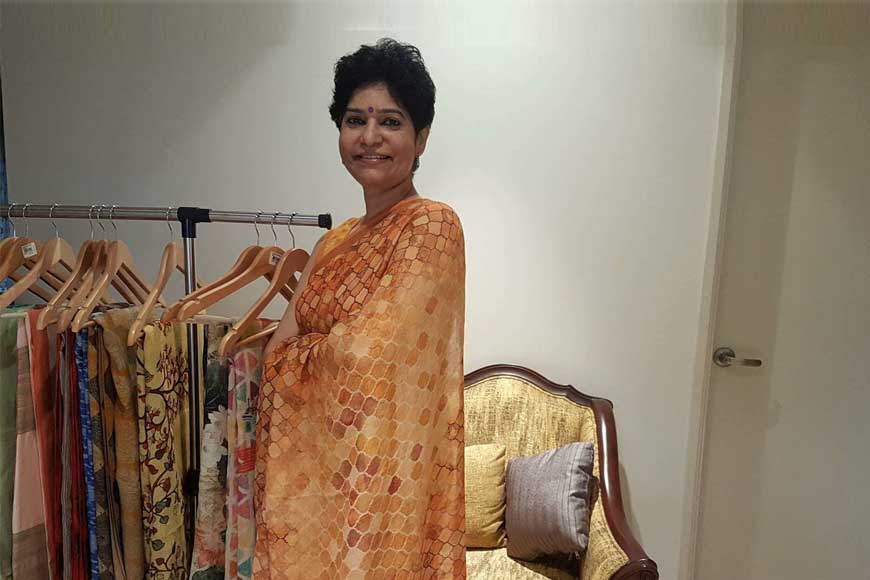 • Being a South Indian now settled in Pune, how much do Bengal's sarees mean to you? Why are they your favourite?
I lived in Kolkata for four years and Bengal and its people, art and culture have a very special place in my heart. Majority of my sarees are from Bengal. Not the traditional ones, but the new age kind, using traditional method of weaving. Apart from 'The Art' that I picked up there, I observed and studied different kinds of sarees, and fell in love with them.
• Which districts of Bengal do you get your sarees from?
I get sarees from all over Bengal. I get my best linens and silks from there. Despite the language barrier, I have developed excellent rapport with a few weavers and cluster heads. And I give and get my designs made for me, apart from selling the masterpieces they create by themselves.

• Do you stick to traditional Bengali sarees like Taant and Baluchori or you are more into fusion sarees?
My sarees are a fusion of traditional weaves with modern designs. A lot of young women are my regular customers as they can relate to my taste and choice of designs and colours. I have given a trendy touch to the traditional Bengal Handloom sarees.
• How has Weaves & Hues geared up for upcoming festive season? Any Diwali special?
My festive season started more than a month ago and will continue till Diwali. As Diwali is a Festival of Lights and colours, my sarees are of varied colours just like the name of my brand 'Weaves and Hues.'Digital prints on Linen is also a speciality this year.

• Any new fabrics chosen to capture the essence of Diwali through your brand?
Yes, there are new blends, like Tussar with Khadi, different kinds of Silk like Resham and Tussar silk blended with Linen.Tussar silk by linen in very classy design in different colours will be ready before Diwali. Many of these are brought from Bengal.
• What was your inspiration in starting Weaves and Hues?
Being an artist, I have always played with colours and textures on canvas. I merged that with my love for sarees and textiles. I have had frequent dreams of me in a room full of beautiful sarees and yardage and woke up feeling euphoric. I knew this is my calling.

For all those who wish to reach Aparna:
Whatsapp her at 919673991965 or look up her page at
https://www.facebook.com/weavesandhuesbyaparna