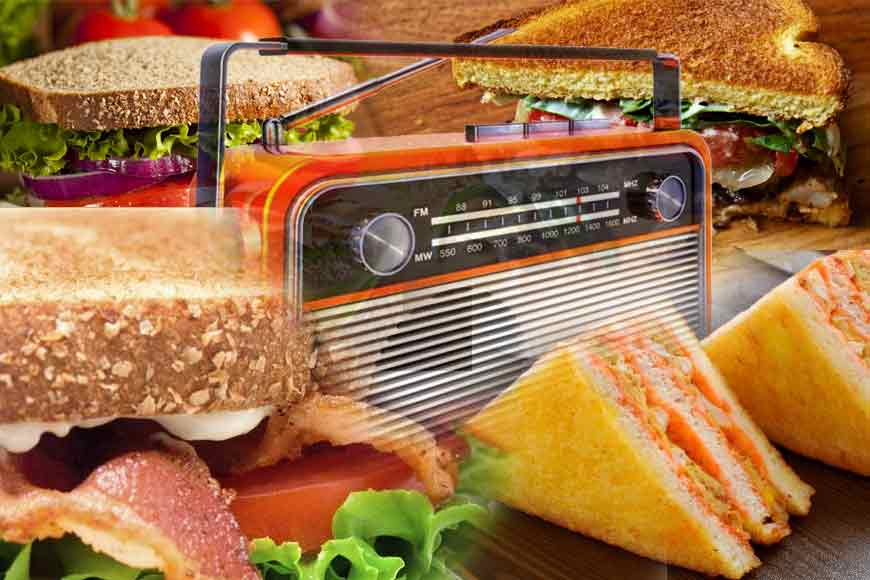 Radioactive zone in Jadavpur? And sandwiches are being polished off the rack in the blink of an eye! If you even happen to go near Jadavpur Vidyapeeth School, you will come across radioactive sandwich posters and handbills stuck everywhere. Two men are busy taking orders from customers, making sandwiches deftly and delivering them rapidly. They have named their kiosk 'Radioactive Sandwich.'
However, the sandwiches have nothing to do with atomic radiation. Agni Meer Basu, the owner of the stall has a radio attached to his cycle and that's his constant companion. It is perpetually switched on and musical programmes playing on various FM channels blare from the set. Customers are treated to a musical rhapsody while enjoying their simple yet healthy sandwiches. Hence, the name: a radio that's active! Some innovation, there.
A resident of Santoshpur, Agni had started his career as a photo journalist. Later he changed tracks and went to Purulia to start a food joint there. He had been contemplating of other business ideas and then suddenly the concept of making and selling sandwiches came to him. "Sandwiches are easy to make healthy grub that people from all walks would like. At this point, money was limited and renting a shop or stall was way beyond means," he says. So, the next best option was to sell his ware on bicycle. The idea has clicked and he already has a regular clientele base and they are his biggest support. The fame of his kiosk has been built mainly by word-of-mouth. Satisfied customers recommend their friends to try out the myriad sandwichessold from the stall.
Agni has plans to expand his business, but he is not going to sell his fare from any shop in the future. His 'Radioactive Sandwiches' will reach other corners of the city via bicycles. Two of his close friends, Writam Ghosh and Abhijit Das too, have joined him in this venture.The concept of playing music on the radio came to him from his experience in Purulia. While working there, he noticed people carried their radio sets on their bicycles and when they returned home after a hard day's labour, they switched on the radio and listened to music. Agni realized the power of music and how music was like an elixir for those men. He is also fond of Imagine Dragon's cult song, Radioactive. The name has clicked and curious people throng there to probe and in no time transform into loyal radioactive sandwich fans.